This Week Index
---
Fiction/Poetry
Non-fiction
Humor/Opinion
Comics
---
Classifieds About Archives Authors Blogs Books by Piker Press Authors Submissions Upcoming Issues
---
External Links Facebook
---
Syndication Feeds:



---
---
Concerns or Questions?
editor@pikerpress.com
Matthew Borczon
---
[Poem]

---
Poem
My Wife (2019-03-04) poem unrhymed PTSD#35 (2019-04-08) poem unrhymed I Was (2019-05-13) poem unrhymed
[Return to the Top]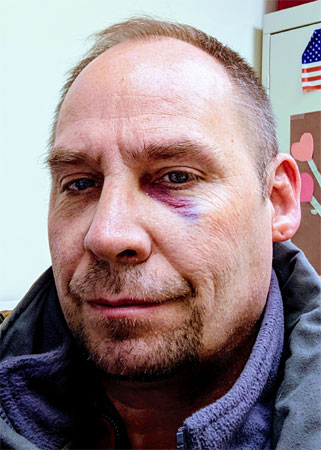 Matthew Borczon


---
Matthew Borczon is a nurse and Navy sailor from Erie, Pa. He has published ten books of poetry including, A Clock of Human Bones (Yellow Chair Review), Battle Lines (Epic Rites Press), Ghost Train (Weasel Publishing), Sleepless Nights and Ghost Soldiers (Grey Boarders), and The Smallest Coffins are the Heaviest(Epic Rites Punk Chapbook) Capp Road (Nixes Mate press ) This Many Years After the War ( Cajun Mutt Press ) Ghost Highway Blues ( Alien Buddha Press ). He was a recipient of the Emerging Artist Grant in his hometown of Erie, Pa. He was nominated for a Pushcart and a Best of the Net for poetry in 2016. When not writing he raises four children with his wife of 21 years.
---
By Matthew Borczon: