This Week Index
---
Fiction/Poetry
Non-fiction
Humor/Opinion
Comics
---
Classifieds About Archives Authors Blogs Books by Piker Press Authors Submissions Upcoming Issues
---
External Links Facebook
---
Syndication Feeds:



---
---
Concerns or Questions?
editor@pikerpress.com
Mather Schneider
---
[Poem]

---
Poem
The Two Guest Poets, Poetry Writing 101, Pima Community College, Tucson, Arizona (2021-01-25) poem unrhymed Furnace of Guts (2021-02-22) poem unrhymed Shit on My Shoes (2021-03-22) poem unrhymed Done to Death (2021-04-26) poem unrhymed
[Return to the Top]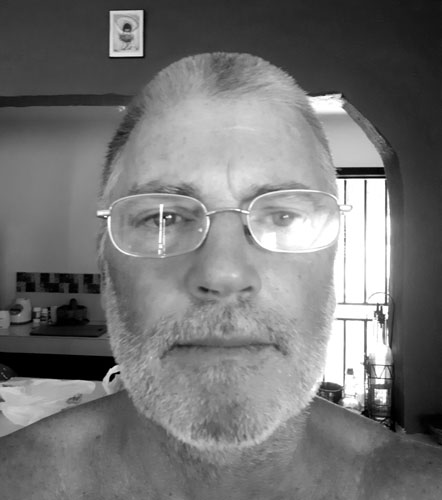 Mather Schneider


---
Mather Schneider was born in 1970 in Peoria, Illinois and is as white as they come. He barely graduated from high school and instead of going to college he lived a drunken, Bohemian lifestyle in imitation of Henry Miller and Charles Bukowski. He lived in Arkansas and Washington doing many idiotic jobs before settling in Tucson, Arizona where he lived for over 20 years, most of that time driving a taxi for a living.

In 1994 his first poem was accepted by a journal called Nerve Bundle Review. Today he has 4 full length books of poetry: "Drought Resistant Strain," (Interior Noise Press) "He Took a Cab," (New York Quarterly Press) "The Small Hearts of Ants" (Self published) and "Prickly" (New York Quarterly Press). His chapbook, "A Bag of Hands" placed runner-up in the 2018 Rattle poetry chapbook contest. His first book of stories, "6 to 6," was published in September of 2020 by Terrorhouse Press and is a black-humor picaresque chronicle of his 15 years driving a taxi in the desert. Terrorhouse Press will publish 2 more of Schneider's books in 2021: a book of poems, "Rhythm & Mucous" and his first novel, "A Sleeper's Truth," in which is told the story of a man who follows his Mexican wife to Hermosillo, Mexico, after she is deported. Schneider lives in Puerto Penasco, Mexico, for the time being, and barely scraping by.
---
By Mather Schneider: