This Week Index
---
Fiction/Poetry
Non-fiction
Humor/Opinion
Comics
---
Classifieds About Archives Authors Blogs Books by Piker Press Authors Submissions Upcoming Issues
---
External Links Facebook
---
Syndication Feeds:



---
---
Concerns or Questions?
editor@pikerpress.com
Chris Miller
---
[Short] [Poem]

---
Short
At The Public Library (2004-12-11) short fiction, contemporary The Procrastinator (2004-12-18) short The Crayola Kid (2005-01-16) short Dream Girl (2005-02-06) short fiction, contemporary Blame the Ducks (2005-11-14) cover story contemporary drama I Love Kylie (2006-12-11) cover story short fiction Cassandra's Quails (2014-04-14) short fiction contemporary
[Return to the Top]
Poem
Buttered Toast (2006-04-24) poem unrhymed
[Return to the Top]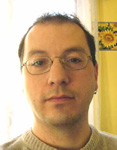 Chris Miller
chrismiller64@hotmail.com

---
Chris Miller, born in Edmonton, Alberta (the so-called City of Champions) in 1971, began writing short stories at a young age. Then Miller gave up writing altogether, opting instead for the world of work and bars. His 20's were spent roaming from odd jobs in coal mines and liquor stores to odd dwellings across Western Canada. Attaining his journalism diploma at Grant MacEwan College, Miller secured a job with the Wainwright Review, working as editor of the fledgling newspaper. It was a job that took no effort except for the strength to show up and the patience to perform mindless operations. In 2001 he took over as editor of the Cold Lake Sun. Now he has come out of literary hibernation and began to write fiction again. Miller's eyes are brown, his shoes are old and nobody loves him.
---
20 Stories of Drifters, Drunkards and Dreamers

http://www.lulu.com/content/108720

Edited by Chris Miller, this short story collection contains samples of fiction from some of the best underground writers in the world today, including Delphine Lecompte, Calvin Liu and Chris Millis. Many of the stories involve violence, heavy drinking and intense sexuality.

First edition.