Rain, Rain Go Away.
Alexandra Queen PG -- April showers bring what, again?
poem * ...to article.
Good Morning? 81
Lydia Manx PG-13 -- In the maze of tunnels in the magical prison, only one thing is on Emma's mind -- to get out of there.
serial fiction fantasy vampires werewolves * ...to article.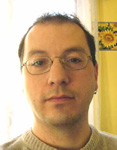 Cassandra's Quails
Chris Miller PG-13 -- At 39 years of age, Cassandra is tired of the patterns that define her life and ready to break free of the cycle of choosing the wrong man. But why she always ends up with subnormal partners isn't clear until she buys a small farm and begins raising Japanese quails.
short fiction contemporary * ...to article.