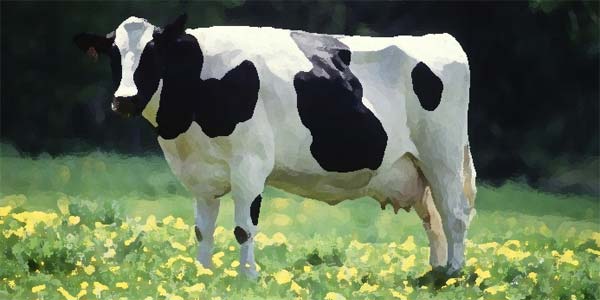 In early spring when the Wal-Mart bridal
registry gets busy, I purchased a
milk cow. Her name was Granny, soon changed
to Granny-cow after my sons, with a
granny of their own, made the meek request
upon hearing a graphic discussion
of Granny's tits one night at the table.
I'm of the generation when a girl's
not dressed until she's wearing makeup,
and nail polish with matching lipstick,
pearls with blue jeans, clean hair on shoulders.
Remember the 80s? My decade, my
ambition, my life in the city. Hurry!
Rush! Succeed! Money! Climb up the ladder!
Now Granny-cow brings ashes and dust to
earth. Her smell, feel, elemental presence
calms, grounds, flips priorities, changes me.
Now before going I only powder
my nose, hands callused from finger to palm,
and change my rubber boots for something more
fitting. I no longer climb but to pitch hay.
Granny-cow is moody, often cranky,
like your ex-wife, but indeed she has her
moments, like your ex-wife, which is really
why you married her (your ex, not the cow).
Any pain or upset goes directly
to her feet where she stomps, kicks, her version,
I guess, of upping the alimony.
Girl cows, also like your ex-wife, cycle,
Soon I must remember to ask whether
she prefers semi-sweet or dark, red to
white. Maybe Jack? Hiram Walker? Bud Light?
We can binge together, she on alfalfa
and me on ice cream, straight from the source,
so to speak.
Home made and high in comfort.
Originally appeared 2005-08-22.