MANTECA -- If warm weather has you looking for a gardening project with small-scale investment and big rewards, look no further than herbs. Parsley, sage, rosemary and thyme, as well as a host of other no-fuss, fragrant favorites are sure to please.
"Herbs are the most rewarding thing you can do," says Nursery Professional Nanci Nichols. "Even with low knowledge they grow well for you, and they all make beautiful plants."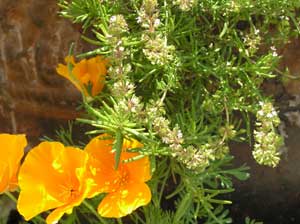 Kitchen herbs need little care and they tend to have similar requirements, making it easy to grow a wide variety of tastes and scents in the same pot or small plot of garden. Most behave well together in close quarters and won't crowd each other out, preferring poor soil that's a little on the dry side, in a sunny or even just partly sunny spot.
There are a few varieties that prefer cooler temperatures and moister soil, such as cilantro, parsley, angelica and sweet woodruff. They perform particularly well in our mild Central Valley winters, but Nichols points out even these varieties can be planted year-round in a shady spot.
All kitchen herbs produce beautiful flowers, which mark the end of the life cycle for annual varieties. Keep plants alive longer by pinching back flower buds as they form. Not only is it a pleasant duty, but the flowers make excellent sachets or tabletop bouquets. Herbs are typically available at retailers year round, so when annual plants do eventually flower and fade, just pull them out and replace them with fresh plants.
The many pockets of a strawberry pot make a fun, simple container garden. As the annual herbs go to seed, they can be replaced with fresh plants without disturbing long-lasting perennials. For best results, plant woody herbs like rosemary near the top and water-loving varieties like cilantro and parsley near the bottom.
Hanging baskets are another excellent way to take advantage of varieties with cascading habits. For a whimsical touch, use a moss-lined wire planter and plant trailing herbs like creeping thyme to poke through the sides and bottom as well as the top. Their rich aromas make pruning and shaping an agreeable task, especially when a pinched sprig is destined to be part of the evening's dinner.
Speaking of food? unlike vegetables where you must wait for fruit to ripen, herbs provide instant gratification. Clippings from herbs like basil or rosemary can be used at any point in the growing process. Most tags on nursery-bought plants will come with suggestions for foods the herb goes well with. "Remember to add herbs at the end of the cooking process to retain their freshness," Nichols says. "Not like dried herbs where you'd add them at the beginning."
Nichols' years of experience yield a few helpful lessons. "Use bone meal when you're planting in the ground, or at least a 16-16-16 fertilizer. Again, I prefer organics. Use some sort of slow release fertilizer when you plant in containers, like Osmocote Vegetable and Bedding. It really does make a difference."
Some herbs, such as rosemary and thyme, come in both upright varieties and as low-growing ground covers. In all such instances, Nichols says, the uprights will be more flavorful. The graceful growing habits of the ground covers might be worth the tradeoff in taste, though.
Mints are a favorite, but keeping them in containers or enclosed with some sort of boundary is a good idea. "If you plant a mint in the ground, it's going to travel," Nichols warns. "If you plant it, you're going to have it." They may be invasive, but mints are also useful. Not only do they make great teas and sachets, Nichols says, but chewing a sprig of mint leaves slowly and swallowing it is an excellent remedy for heartburn.
When planting in the ground, add plenty of garlic. According to Nichols, "It helps keep insects away. Organic pest controls do work, you just have to use them more frequently." One of her favorite organic pest controls is eight cloves of garlic to one pint of water, mixed in a blender, strained and then applied with a squirt bottle to repel any sort of sucking insect.
Nanci Nichols has been a certified Master Nursery Professional and an Advanced California Certified Nursery Professional in the Central Valley for 16 years. She currently works for Orchard Supply Hardware on Main Street in Manteca, where she is always happy to offer yard and garden advice.
This article first appeared in the Manteca (Calif.) Bulletin.