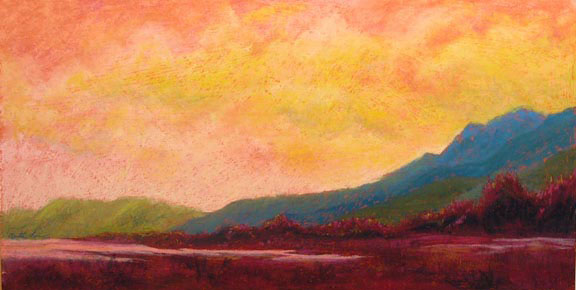 Pastel painting, "The Ajijic Playa," by Anita Lee, S.P.S.
"In my first private art class at the age of nine, I got a box of 48 pastels. I had those pastels for over 30 years as I moved around to three countries and six cities. Many other art mediums entered my life in those ensuing years. I spent years working in 3D, in both sculpture and jewelry. When my hands were giving me problems from all the hard work of these mediums I decided that I needed to do something that would be easier on them. I loved being out in the beauty of the mountains or by the ocean in California where I was living and wanted to do something where I could capture that beauty in my art. I liked the bold colors and easy portability of pastels and decided to give them a try. That was about six years ago that I reacquainted myself with pastels. I don't have those original 48 pastels anymore, I gave them to a nephew who loved art, but now I have more like 600 sticks of various pastels. With pastels I can take the beauty of the world around me and make it my own. Like the Impressionists who experimented with light and color, I am challenged by portraying the incredible light of Mexico with my own vision. Just before I started developing this body of work... I had started to experiment with the colors I was using. As you can see by some of the pieces... I have really gotten into coloring my world." -- Anita Lee
Be sure to check out Anita Lee's webpage!


**Do you have a photo or piece of art you'd like to see in "Peek of the Week?" If so, send your photo or file (unreduced) to peek@pikerpress.com. Please include what kind of camera was used, and a brief description of the picture, as well as your name and email address.