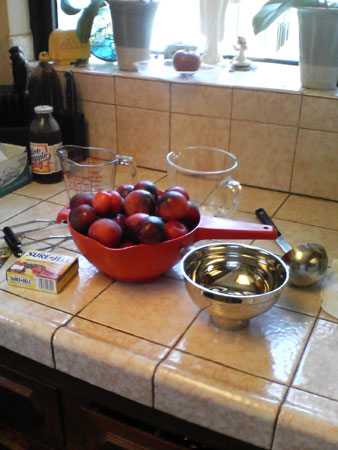 At first I thought I should write this article under a pseudonym. After all, most of you know me from my vampires, zombies, or slices of life around Southern California stories. Dare I confess to this darker side?
Yes, I know how to do old-fashioned things such as make jams. Sssh ... don't tell! That said, my dad's fruit trees decided to go nuts and produce tons of ripe Satsuma plums. They are lovely tasty bits of heaven. But it's hard to inhale pounds of the fruit before they spoil. So every few years I make jam. This year I am up to three batches. Yeah, three! I may even make a fourth batch if the birds don't get them first.
Here are my recipes and some pictures to enjoy of the process.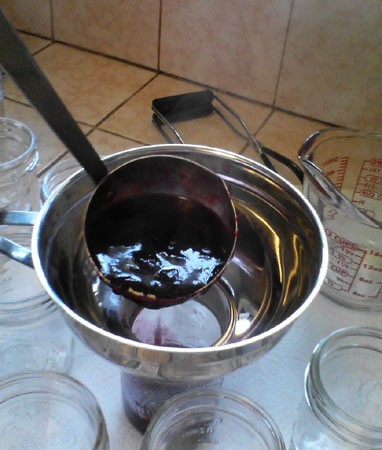 Plum Jam Recipe
Prep Time: 45 min
Total Time: 1 hr 10 min
Makes: About 10 (1-cup) jars or 160 servings, 1 Tbsp. each
6 cups prepared fruit (about 4 lb. fully ripe plums)
1/2 cup water
1 box (I use SURE.JELL) Fruit Pectin
1/2 tsp. butter or margarine
8 cups sugar, measured into separate bowl (MEASURE exactly!!)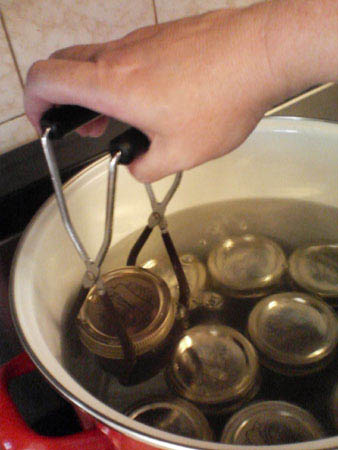 BRING boiling-water canner (or in my case I use a lobster pot with a cake cooling rack at the bottom), half-full with water, to simmer. Wash jars and screw bands in hot soapy water; rinse with warm water. Pour boiling water over flat lids in saucepan off the heat. Let stand in hot water until ready to use. Drain well before filling.
PIT plums. Do not peel. Finely chop or grind fruit. Place fruit in saucepan; add water. Bring to boil. Reduce heat; cover and simmer 5 min. Measure exactly 6 cups prepared fruit into 6- or 8-qt. saucepot.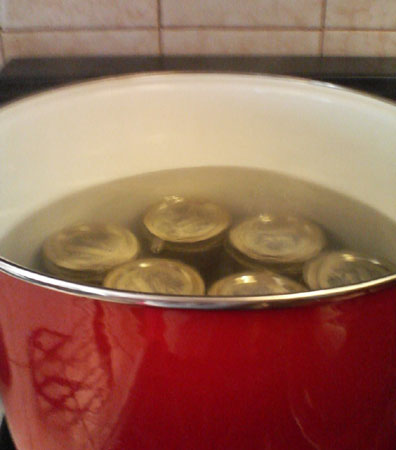 STIR pectin into fruit in saucepot. Add butter to reduce foaming. Bring mixture to full rolling boil (a boil that doesn't stop bubbling when stirred) on high heat, stirring constantly. Stir in sugar. Return to full rolling boil and boil exactly 1 min., stirring constantly. Remove from heat. Skim off any foam with metal spoon.
LADLE immediately into prepared jars, filling to within 1/8 inch of tops. Wipe jar rims and threads. Cover with two piece lids. Screw bands tightly. Place jars on elevated rack in canner. Lower rack into canner. (Water must cover jars by 1 to 2 inches; add boiling water if needed.) Cover; bring water to gentle boil. Process 10 min. Remove jars and place upright on a towel to cool completely. After jars cool, check seals by pressing middles of lids with finger. (If lid springs back, lid is not sealed and refrigeration is necessary.)
* * *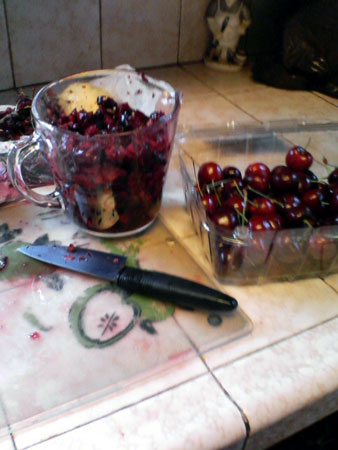 Cherry Jam
1 quart chopped and pitted sweet or sour cherries
1 package powdered pectin
1/4 cup lemon juice (only if using sweet cherries)
5 cups sugar

Combine cherries, pectin and lemon juice, if needed, in a large saucepot. Bring to a boil over high heat, stirring constantly. Add sugar, stirring until dissolved. Bring to a boil; boil hard 1 minute, stirring constantly. Remove from heat. Skim foam if necessary. Ladle hot jam into hot jars, leaving 1/4th inch headspace. Adjust two-piece caps. Process 10 minutes in a boiling water canner.
Yield: about 6 half-pints.