Insalata del Fornaio 5.95
Mixed greens, garlic croutons and shaved parmesan; house vinaigrette

Our menus are developed collectively by the company's two-dozen Italian chef-partners and are based on authentic Italian recipes. Emphasis is placed on simple, fresh ingredients and Italian cooking methods. Rotisseries are used for variety of preparations. Pizzas are baked in a wood-fired oven. Fresh pastas are made in-house daily and our dried pastas are imported from Italy. All meals are complemented by a selection of hand-made breads baked according to traditional methods.

Served at every Il Fornaio restaurant, the core lunch and dinner menus include a selection of antipasti, soups, salads, wood-fired pizza, house-made pastas, grilled and rotisserie roasted meats and a wide variety of desserts.
That said ... Let me tell about this place as I discovered it.
I have a great friend. She puts up with my insane hours and lack of time to do much more than grouse about life and all. We've known each other for over a half dozen years or longer. The past few months have been rough on both of us in our lives and we ran out of time to do our lunches and movies. Last week she called and talked about how we needed to get back to treating ourselves.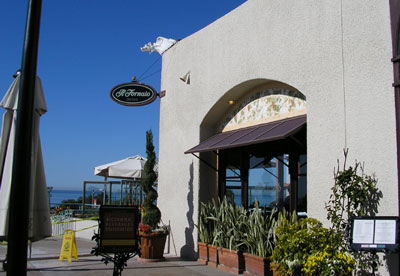 The January weather was currently lovely and we decided to head down to the Plaza and have lunch. After wandering around, we picked the restaurant with the best view and window seats. We asked to be placed outside and were led to a large window strewn room. Later on the restaurant's website I saw they tout it as a 360-degree view. I don't know if it was precisely that, given the restaurant and kitchen, which both take up the east side of the building, but the view was lovely.
I've never been to Il Fornaio before and was startled to see most of the menu was Italian -- with thankfully some descriptions. I had trouble picking something to eat and then decided to go with one of the chef's daily recommendations. At least I think that's what the sheet said. For all I know it said, "Stuff we need to get rid of fast".
My friend ordered one of their fancy adult beverages. Cranberry, vodka and juice of a lime I think. I wasn't sipping but it looked pretty. I had their fresh brewed iced tea. I appreciated it wasn't instant and not flavored oddly. The waiter came with a breadbasket, and filled a plate with olive oil and balsamic vinegar. Fresh bread, sliced, and long breadsticks made up the lush basket. I only tried the green olive slice filled fresh bread. Since I eventually picked a Panini sandwich, I settled for a few measly slices of bread dipped in the oil and vinegar mix.
I thought the Panini with chicken and grilled zucchini was interesting so I picked that with their house salad. My friend got one of their meal salads with chicken and didn't want the anchovies. I begged for them. She teased me naturally about the little fishies and I grinned and said they were so delicious.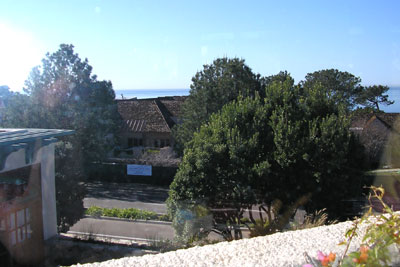 Wow, for under twelve dollars the meal was more than I could handle. The panini was actually pizza dough -- wood fired I think -- folded with a pesto mayonnaise, lettuce, tomato, chicken and some lovely cheese. Then they added French Fries! The waiters were great, and service fast and efficient. The offer of coffee or desserts was gracefully declined, and they didn't rush us off the scenic table.
Once I got home, I checked out their website and hoped that I would find the description for my meal, but it was just not to be. All in all, it was a great meal with a good friend, and I would go back again.