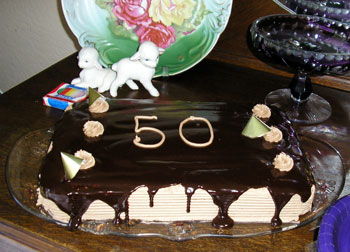 My neighbor turns fifty this coming week. She's a sweetheart and is always there to help my folks and my family no matter what we need. She and her family have lived next door for over fourteen years. Her oldest daughter grew up literally side-by-side with one of my nephews. So when her daughter told me over the holidays she wanted to do a surprise fiftieth birthday party for her mom, I told her to count me in. Her husband did the hard work and went to the exotic cheese shop and forced himself to try twenty-five different types of cheese. It was a close choice, but he found thirteen he could live with for a nice spread. Those cheeses were carefully wrapped and delivered yesterday and snuck into our fridge. My favorite was the truffle mousse that was a combination of truffle and paté that I am still remembering. He did a great job of finding some fine cheese and wine.
The wines were delivered, mysterious boxes hidden in our garage with glasses put next to the tables and chairs he borrowed. This morning the family -- grandmas -- began to make some lovely nibbles to add to the delicious cheese and fruit. I have been promised this one onion cheese ball recipe later: a lovely bite-sized hot appetizer with scallions, cream cheese and Parmesan cheese on toast baked in the oven. A dash of Tabasco kicks it up a bit while not overpowering the delicious flavor. My mom brought her Ramoki -- bacon wrapped around water chestnuts soaked in a soy sauce garlic mixture and broiled after being rolled in brown sugar. And I was in charge of the birthday cake.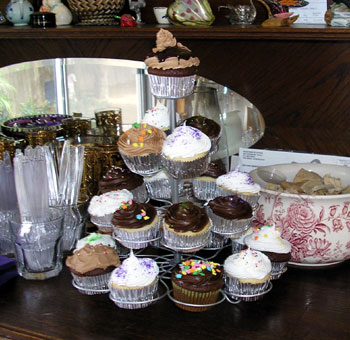 Her favorite cake is my Chocolate Mocha Dessert Cake. I find most folks skip the mocha frosting and leave it on the plate so I substituted my Danish Shop Chocolate Butter Cream instead. I also made two dozen cupcakes with various sprinkles and glitter. I put them on a cupcake tree and everyone seemed pleased. And the best part of this was that my neighbor was completely surprised.
CHOCOLATE MOCHA DESSERT CAKE
CAKE INGREDIENTS
1 1/2 cups milk
4 ounces unsweetened chocolate
1 1/2 cups sugar
1/2 cup butter
1 teaspoon vanilla
2 eggs
2 cups sifted flour
3/4 teaspoon salt
1 teaspoon baking soda
3 tablespoons boiling water

STEPS
1) Line bottom of 13 x 9 inch pan with waxed paper; grease the sides and bottom of pan. Pre-heat the oven to 350 degrees.
2) Place 1 cup milk, chocolate, and 1/2 cup sugar in top of double boiler. Place over boiling water; cook stirring constantly, until chocolate is melted. Remove and cool.
3) Cream butter and 1 cup sugar in large bowl. Add eggs and vanilla, beat well; beat in chocolate mixture.
4) Sift flour with salt; add to chocolate mixture alternately with 1 cup milk.
5) Beat 2 minutes at medium speed. Dissolve baking soda in boiling water. Add to batter; beat 1 minute.
6) Pour into prepared pan. Bake until done about 35 minutes.
Cool 10 minutes; remove from pan; cool on rack.

MOCHA BUTTER CREAM INGREDIENTS
1 cup butter; softened
6 cups sifted powdered sugar
3 egg yolks
1 tablespoon instant coffee
1/4 cup boiling water
2 ounces melted unsweetened chocolate
STEPS
1) Cream butter with electric mixer until light and fluffy in large mixing bowl.
2) Dissolve coffee crystals in boiling water and allow to come to room temperature. Add chocolate to coffee and blend with spoon carefully.
3) Add half the powdered sugar; beat until smooth and add yolks one at a time and blend slowly. Mix in remaining powdered sugar.
4) Add coffee and chocolate mixture and beat until well combined and fluffy.
SPECIAL CHOCOLATE ICING INGREDIENTS
1/2 cup light corn syrup
6 tablespoons water
5 tablespoons butter
12 ounces semi-sweet chocolate
STEPS 1) Combine corn syrup, water and butter in saucepan; bring to rapid boil, stirring until butter is melted.
2) Remove from heat and add chocolate. Stir until chocolate is completely melted. Cool to room temperature before using. Chill to set.
COMMENTS: Good for cake topping, petit fours or over ice cream.
TO ASSEMBLE CHOCOLATE MOCHA DESSERT CAKE
Trim edges from cake; cut cake crosswise into 3 equal portions. Cover 2 portions with Mocha Butter Cream; stack one on top of other and place on cake plate.
Top with remaining portion of Mocha Butter Cream; spread top and sides with thin layer of butter cream.
Pour most of the Special Chocolate Icing (half of recipe--use remaining for ice cream or whatever) over the top and down the sides of cake. Chill until firm. Drizzle remaining icing (from half recipe) over top of cake, if desired; chill until firm.
COMMENTS: I make this single 13x9 cake and do not split it...I cover with Mocha Butter Cream and pipe rosettes onto waxed paper to decorate top of cake after drizzling with semi-sweet chocolate icing.
DANISH SHOP FROSTING
INGREDIENTS
4 pounds sweet margarine
8 pounds hytop (Crisco)
14 pounds powdered sugar
salt
vanilla
1/4 to 1/2 gallon egg whites
Okay that said...I don't make this recipe very often. Here's what I did --
1 cup butter at room temperature
1 cup shortening (Crisco)
1/4 cup egg whites (I used powdered not real)
1/2 cup water
1 teaspoon salt
2 teaspoons vanilla
2 ounces melted unsweetened chocolate melted.
STEPS
Blend margarine and shortening on high; add sugar, salt and vanilla. Blend until fluffy;
Add egg white and whip long, until very fluffy and volume is increased.