Crab Cakes for Dinner
Lent comes once a year and traditionally on Fridays you serve fish. Actually the rules are 'meatless' Fridays while allowing fish and dairy. Over the years we picked up quite a few dishes that are family favorites. My dad loves Salmon Patties while my mom is good with any kinds of shrimp. I tend to go from basic like grilled cheese sandwiches to my more exotic dishes like Low Fat Fettuccini Alfredo with Asparagus or Crab Cakes.
CRAB CAKES
INGREDIENTS:
1 1/2 cups lump crabmeat
2 tbsp. mayonnaise
1 tsp. Worcestershire sauce
1 green onion, chopped finely
1 tbsp. celery, chopped finely
Garlic powder
1 egg white
2 tablespoons bread crumbs plus additional
Olive oil (I used Canola oil)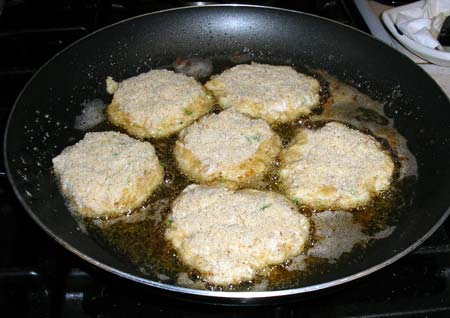 PREPARATION:
Drain crabmeat and flake with a fork, picking out any shell or cartilage. Put crabmeat in a bowl. Add the mayonnaise, Worcestershire sauce, celery, green onions, garlic powder and bread crumbs. Blend in the egg white.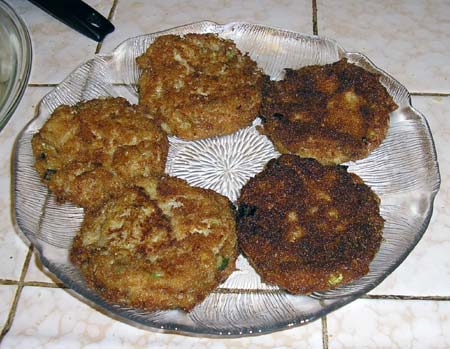 Shape into six cakes about 3 inches across. Chill in fridge on waxed paper 30 min to 60 min. Heat half inch of oil in large frying pan to medium temperature. I put a wooden chopstick in it and when it sizzles on wood without smoking the oil is read. Dip crab cakes in breadcrumbs and crab cakes and cook 5 minutes. Turn and cook 5 more minutes. Drain on paper towel. Serve hot with tartar sauce or cocktail sauce. Make 5 to 6 patties.



LOWFAT FETTUCCINE ALFREDO WITH ASPARAGUS
INGREDIENTS:
2 tablespoons finely chopped red onion
2 1/2 cups diagonally sliced asparagus
1 teaspoon (2 cloves) mashed and chopped baked garlic
1/3 cup nonfat dry milk
1 1/2 cups skim milk (more if need)
1 1/2 tablespoons Wondra instant-blending flour (you can use all purpose)
2 tablespoons light processed cream cheese (not nonfat)
2/3 cup grated Parmesan cheese
9 ounces fettuccine (cholesterol-free)
1/2 cup chopped arugula
STEPS:
1. Heat a medium-sized nonstick sauté pan. Remove from heat and spray with vegetable oil spray.
2. Add the onion and saut? over medium heat until limp, about 5 or 10 minutes.
3. Add the asparagus and the garlic, cover the pan, and turn off the heat. (The steam from the onion will cook the asparagus.)
4. In large skillet, combine the dry milk and skim milk whisking until blended. Add the flour, stir, and cook over medium heat until thickened.
5. In a small bowl, add 2 tablespoons of hot sauce to the cream cheese and stir until smooth. Return this mixture to the hot sauce in skillet.
6. Add the Parmesan and stir until melted. Keep hot. If the mixture becomes too thick, thin it out with small amounts of skim milk. The consistency should be like cream, not gravy.
7. Cook the fettuccine in boiling water according to package directions until it is al dente; drain.
8. Add the hot pasta and the garlic and vegetables to the sauce in the skillet. Stir and cook over medium heat until heated through.
9. Serve garnished with chopped arugula (which I find optional).
BAKED GARLIC
STEPS:
Oven preheat to 350. Place whole head of garlic in small baking pan. Drizzle one teaspoon olive and add 1/4 cup water to pan. Loosely cover with foil for 45 - 60 minutes until cloves are soft. Cloves will slip out of skin to mash, chop or serve whole. Use in side dish with roasted meat, mash into homemade mashed potatoes or use in salsa.
SALMON PATTY
INGREDIENTS:
can of salmon, drain liquid, set aside
1 egg
saltines, crushed or bread crumbs
oil to fry
STEPS:
1) Drain the salmon well, set aside juice to add to salmon if needed. Either remove the skin and bones or leave in depending on preference.
2) Beat egg and mix into salmon.
3) Add saltines or breadcrumbs to salmon to just moisten. If too dry in appearance add some of the juice from the can.
4) Coat lightly with more breadcrumbs.
5) Fry crispy in oil and drain.