I pretty much have salad in one form or another every day. The basic bag of mixed greens with slices of tomatoes if nothing else. The salad dressings can be the bottle sorts or homemade depending on how much time I have.
POMPERAN FRENCH SALAD DRESSING
INGREDIENTS:
1/2 cup olive oil
1/2 teaspoon salt
1/4 cup vinegar
1/8 teaspoon paprika
1 teaspoon sugar
1/4 teaspoon Dijon mustard
Pour ingredients into glass jar and shake.
MOM'S THOUSAND ISLAND DRESSING
INGREDIENTS:
Mayonnaise
Chopped white onion
Chopped celery
Salt and pepper
Chili sauce
Hard-boiled egg (optional) Blend and serve cold.
CAESAR SALAD WITH DRESSING
INGREDIENTS:
3/4 cup olive oil
Dash of Mustard
Crushed garlic (2 to 3 cloves)
1/2 teaspoon salt
Fresh ground black pepper to taste
Red wine vinegar to taste
Juice of two lemons
8 ? 10 drops of Worcestershire sauce
2 Raw or coddled eggs (boiled in the shell for 1 minute)
I first learned to make the dressing ahead of time in a glass jar and leave at room temperture for a day. Then toss with the following and served promptely. Some folks use steel bowls and others wooden. I don't know that it makes a huge difference once you serve promptly. You don't have to leave the dressing overnight but it tastes best in my opinion. (Editor's note: this is the original recipe, but Lydia and I highly recommend that the eggs be coddled, and the dressing used immediately rather than be allowed to sit at room temperature. HOWEVER, you can get that "steeped" taste by crushing the garlic a day ahead and letting it soak in the oil overnight, then adding it to the rest of the ingredients when you're ready to make the dressing.)
INGREDIENTS:
Romaine lettuce, two heads, cleaned and wrapped a few hours ahead in fridge, then torn into bite sized pieces
1/2 cup fresh grated Parmesan cheese
1/2cup freshly prepared croutons -- preferred, but you can use the kind bought in vegetable section of the store
Anchovies (I have used paste and whole)
FETA STRAWBERRY SALAD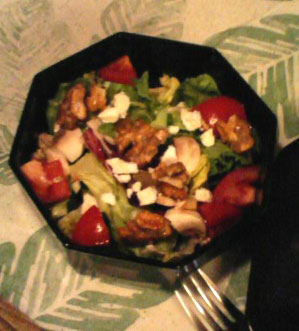 INGREDIENTS:
Mixed greens
Sliced strawberries (refrigerated and sugared very lightly)
Candied walnuts or toasted almonds
Fresh Feta cheese
Low calorie Raspberry dressing

This is an amazingly tasty salad. There is flexibility with ingredients I have seen over the past year since I first had this tasty salad. I have seen it made with fresh spinach and tomato instead of strawberries. Avocado slices and red onions added to kick up the textures and flavors. All in all a good summery salad.