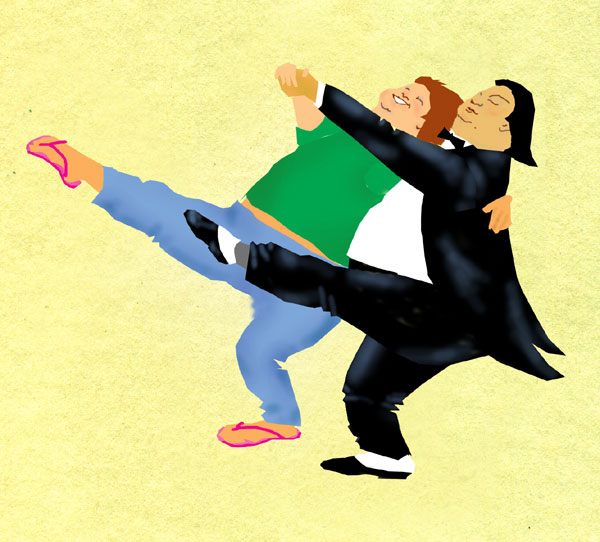 Jamie Kish always hated his androgynous name, especially when the bill collectors would call and ask to speak to Mrs. Kish, Ms. Knish or simply bitch, as in "Bitch, you owe me money." If they wanted his money so damned much, the least they could do was get his gender right.
Jamie spent most days taking life too seriously, brooding about global warming, pet euthanization, floods, corporate fraud, his father's affair, his mother's lesbianism, escalating gas prices, the decline of the middle class, crappy pop songs, Republicans in power, the Axis of Evil, starving Somalians, crazy North Koreans, wars, poverty, and erectile disfunction.
All of this moping landed Jamie with no job, no significant other, no family life, no style -- nothing. The bill collectors were the only human contact Jamie received on a regular basis. Sure, he'd interact with a bus driver every now and then when he'd leave his house, but after a day of seeing dismal human interaction, he'd give up and retreat to his efficiency.
In the comfort of this one room, Jamie focused on the single thing he thought he should be -- a dancer. It didn't matter that he was rotund and fifty-ish with a receding hairline. He knew he had rhythm. And blues. Jamie started dancing most nights right after dinner even though it made his sides hurt. He'd start with rumba to loosen up, then a tango with his blowup date, followed by a whirlwind of modern moves -- anything that Justin, Madonna, or Janet were doing made it into his permanent oeuvre.
One rousing boogie night, Jamie was summoned to his door by a light tap. Sweaty and deeply annoyed, he answered the door to find the love of his life, So Hiyaki, who was decked out in a suit, hat, and cane. So said he was an anonymous accountant by day, but at night he too became a dancing phenom. So saw Jamie when he was practicing his "Singin' in the Rain" moves on a lamppost on the street below Jamie's apartment. When their eyes met that night in the doorway, it was as if they were looking into a mirror or maybe they just recognized the crazy in each other.
Jamie invited So inside. He needed no explaining as to why this kindred spirit appeared. They twisted and twirled, bopped and waltzed, tapped and trotted well into the night, appearing more like Oompah Loompahs than Baryshnikov. They created a two-man disco looking for the right party.
The night ended when dawn approached and So had to leave for work. Promises were made that they would meet that evening to salsa or even try a few pirouettes. So said he'd call Jamie in the afternoon.
But the call never came. First, Jamie worried. He called all of the accounting firms in the yellow pages, finding none that had heard of So. He started hanging out at the lamppost by his apartment into the wee hours of the morning. So never showed. He even frequented local dance studios, hoping that So practiced his technique in public.
After weeks weaved into months of not hearing from So, Jamie added him to the brooding list, along with the electoral college, bad drivers, corrupt cops, spam (both email and the meat), HMOs, cocky athletes, autistic children, the rise of religion in the U.S., the Sierra Leone diamond trade, helicopter moms, alien invaders, earthquakes, typhoons, and people who think they're funny.
But Jamie never stopped dancing. It was the one thing that he was convinced would bring So back.
One evening, after the bill collectors called, Jamie relaxed with some television and discovered a new reality show of interest, "The Next Dancing Star." He checked out some of the dancers, knowing full well that his moves would prove superior if he were on the show. Resting in the zone of smugness, Jamie's demeanor changed to hyperventilation when So appeared on the TV screen. So danced away the competition, mainly using the techniques that Jamie had taught him that fateful night. The audience loved So. He was not voted off that night. Nor would he be voted off any other night, Jamie found out as he tuned in for subsequent shows. He was entranced by So's performances, enraged at his actions, and ultimately, doomed to do nothing about any of it.
After So won the show and hit the dance circuit with $1 million in winnings, Jamie thought he might see him -- that it had all been a clever plan from the beginning for them to spend the rest of their lives together.
Instead, the bill collectors kept calling, the brooding list kept growing, and the dancing ceased.