Pear Crumb Pie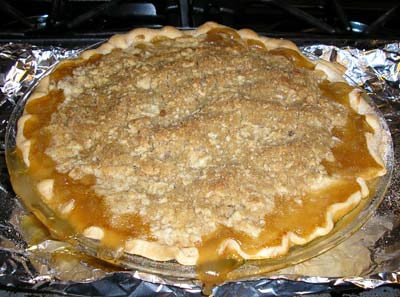 Ingredients:
9 inch pie crust unbaked
Filling:
1/2 cup packed brown sugar
2 tablespoons cornstarch
1/2 teaspoon ground cinnamon
1/4 teaspoon ground ginger
1/8 teaspoon salt
dash ground nutmeg
6 cups thinly sliced and peeled pears
1 tablespoon lemon juice
Topping:
2/3 cup all-purpose flour
1/3 cup packed brown sugar
1/3 cup cold butter

Instructions:

Preheat oven to 400 degrees Fahrenheit. Flute edges of piecrust in 9-inch pie pan. Combine filling ingredients and spoon into crust. I used an apple slicer to cut and core the pears then peeled and sliced thinly.

Bake for 25 minutes. I bake on a foil lined cookie sheet to catch overflow of the pie.

For topping, combine flour and sugar then cut in butter until crumbly. Sprinkle over filling. Bake 40 minutes longer. Cover edges with foil during the last 15 minutes to prevent over-browning if necessary.