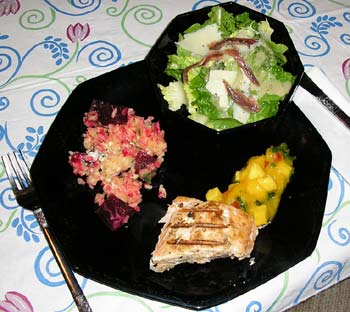 Let me start by saying I really like fish. If you glance over some of my recipes I've sent in you'll notice that. Sushi, crab cakes and now Salmon. I have tons of recipes I like but fresh fish is a love of mine. A buttery slice of fresh ahi is thrilling. Grilled shrimp or salmon -- a delight. I don't need excuses to make fish but find them.
Last May I was in a fish mood and found a great recipe. I also had a ripe mango so that pretty much pushed for the inclusion of the salsa. My garden had been decimated by an unseen invader, which may or may not have been a fox, or at least a raccoon. I had only a few beets but was determined to find a tasty side dish. I had intended on making pickled beets for my mom -- but only having a few beets that didn't happen. The best thing about the beet recipe was how to cook the beets. That was fast, easy and pretty impressive. Enjoy.
Salmon Filet with Mango Cilantro Salsa
Ingredients
4 six ounce portions salmon filet (used half a side of salmon)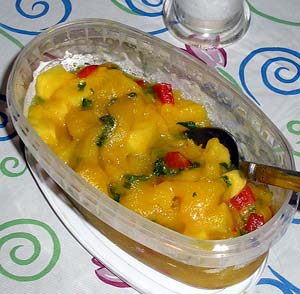 Mango Cilantro Salsa
1 ripe mango, peeled and diced to 1/2 inch pieces
1/4 cup chopped scallion, green part only (I used green onions)
1/4 cup diced red bell pepper
1 tablespoon finely diced fresh jalapeno
1 tablespoon chopped fresh cilantro
1 small clove garlic, minced
1 tablespoon freshly squeezed lime juice
1/4 teaspoon salt
1/2 teaspoon extra-virgin olive oil
Steps
Bake salmon filet at 400 degrees for 15 -- 20 minutes, depending on thickness (okay ... I bbq'd the salmon on the grill)
Salsa steps
Lightly toss all ingredients in a glass bowl and cover with saran wrap. Chill in refrigerator for at least an hour to allow flavors to meld. Serve with salmon.
Rosy Beet Risotto
Ingredients
2 medium beets (about 12 ounces total)
3 tablespoons olive oil
1 medium onion (red preferred but I used white) chopped
1 1/2 cups short-grained rice
2 tablespoons fresh basil snipped
2 14-ounce cans reduced-sodium chicken broth
1/2 cup crumbled blue cheese (I used gorgonzola) about 2 ounces
Salt and pepper to taste
Steps
Preheat oven to 350 degrees. Place beets in center of 18 inch square of heavy foil. Drizzle with one tablespoon of the olive oil. Fold together opposite edges of foil in double folds, allowing room for steam to build. Roast one hour and fifteen minutes or until tender. Cool thirty minutes. Carefully open the foil package. Remove beets; gently transfer liquid to measuring cup; add water to equal 1/2 cup. Pour liquid into medium saucepan. Cut beets into wedges.
In 3-quart saucepan cook onion in remaining oil over medium heat until tender; add rice. Cook and stir 5 minutes.
Meanwhile, add broth to beet liquid in saucepan. Bring to boil. Reduce heat and simmer. Carefully stir 1 cup hot broth into the rice mixture. Cook stirring frequently, over medium heat, until liquid is absorbed. Then add 1/2 cup at time, stirring frequently until broth is absorbed before adding more broth (about 22 minutes).
Stir in any remaining broth. Cook and stir just until rice is tender and creamy.
Add in beets; heat through. Remove rice from heat; stir in half of cheese, snipped basil, and salt and pepper to taste. Sprinkle with remaining cheese and a few more basil leaves.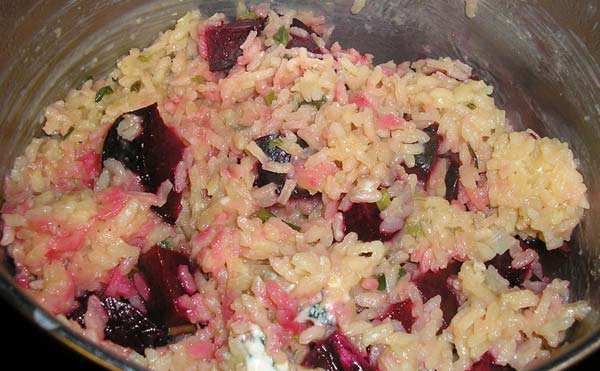 Originally appeared 2008-09-22.