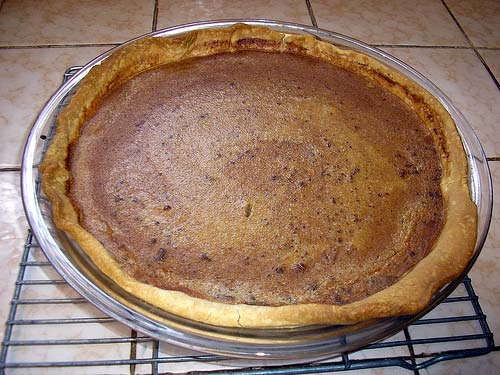 One of my post-Halloween tasks was to get rid of the pumpkin on the front porch. It wasn't carved and wasn't doing much but acting as a doorstop when I had to bring in groceries. I hefted that pumpkin up and thought, 'Hey I know what I need to do.' Okay, so maybe I was avoiding writing but I do some of my best thinking when I am cooking.
Martha Stewart aside, I do like doing some geeky girl things in kitchen. I look bad in prison stripes so I stuck to cooking, not stock insider trading stuff. I found a great site called Old Fashioned Kitchen that spelled out how exactly to cook pumpkin for pumpkin pie.
Directions for roasting a pumpkin
They say you can use a freshly carved pumpkin but I decided to use an uncarved pumpkin. Seemed a bit more sanitary and less likely to have wax inside.
I washed the outside and scooped out seeds and bluck. Yes, that's the best word for it. Pumpkin bluck. I did not roast the seeds because that was more of a commitment I was ready to give to the simple project. I had a novel to finish. That said, I made my nephew clean out the seeds and guts. I then put the oven to 375 degrees. I lined a large cookie sheet with heavy aluminum foil. The directions said to cut the pumpkin and place hollow side down add some water. I cut the puppy in half and put the halves on the foil, and stuck it in the oven for one and half to two hours until fork tender. I then let it cool to room temperature. I was tired and it was late so I put the pumpkin in fridge overnight covered with plastic wrap in large bowl. That made it easy to peel skin off the next day, so I don't think it hurt anything.
I used a food processor to puree the pumpkin, then slopped it into a cheesecloth-lined strainer over a bowl. I grew impatient waiting for the water to drip out of the pumpkin so I twisted the puree in the cloth and got out most of the water.
Here's the rough part. I snagged a recipe book for basic pumpkin pie and followed it. Instead of can of 15-ounce pumpkin I used the fresh pumpkin. I kicked in a little more spices and baked it according to the recipe.
Key Lime Pie
(never to be dyed green eat as is!)
1 14-ounce can sweetened condensed milk
1/2 cup Key Lime Juice (which is nearly a pound of the little limes!)
1 teaspoon grated lime zest (no white bits only the clean green skin)
3 eggs room temperature, separated
One 8-inch prebaked pie crust or graham cracker crust
1/4 teaspoon cream of tartar
1/2 cup sugar (I use baker's super fine)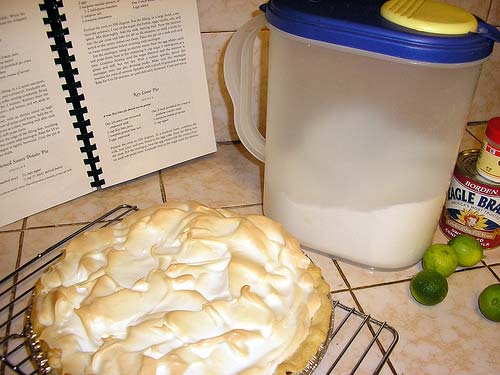 Preheat over to 325 degrees. In a medium bowl, combine the milk, (making sure to get out all the liquid with a scraper), the lime juice and zest, and then blend in the egg yolks. Pour the filling into the baked pie shell carefully.
To make meringue, beat egg whites in glass bowl (or copper) with cream of tartar until the soft peaks form (that's when you pull the beaters up and the whites are frothy and make peaks that fold back on themselves). Very gradually beat in the sugar until it forms stiff peaks. I tilt the bowl and use high speed on the beaters. Some folks use whips and others whisks. Whatever makes ya peak! It's critical to put the meringue over filling to touch to the edge of the crust all the way around so the meringue doesn't shrink back when cooked. Bake the pie for 12 to 15 minutes or until meringue is golden brown.
Important note...Key Lime Pie is NOT a sugary sweet pie to most folks. The limes create a tart flavorful pie. Most kids do not much care for it. Some folks prefer it with whipped cream. I think the meringue with the lime blends well. So cut small pieces and make them beg for more.
* * *
Now the other fun food was green beans. I am not a fan of the cream of soup with crunchy stuff on top of overcooked green beans. My sister-in-law and I are fans of Buca di Beppo and made green beans according to their idea.
Lemon Green Beans
1 pound fresh green beans, ends clipped
1/4 cup butter
Juice of 2 medium lemons (strained for seeds and pulp)
Salt to taste
Melt butter in large sauté pan on low heat and add lemon juice slowly. Raise temperature to medium and reduce to sauce. Don't let the butter brown.
Place beans in boiling water for two to three minutes. Don't overcook. They need to be crisp. Strain and then toss in the sauce. Season with salt and serve.
Bon apetit!