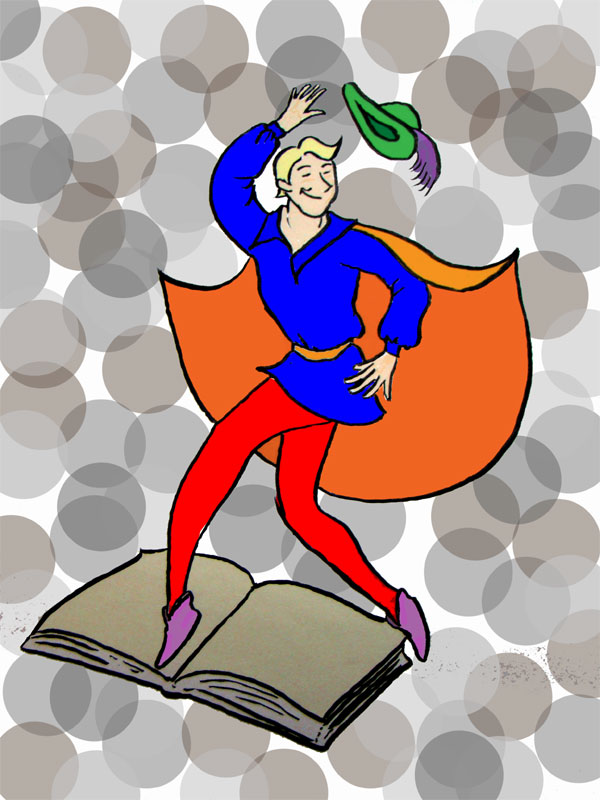 In the small town of Graytown all the people wore gray,
There's no need to ask why, things were always that way.
If you went to the Hall, maybe just for a look,
You would see all the rules in a quite massive book.
"On the matter of color," it began on Page One,
"Gray sets the tone for the work to be done.
While we are sure colors do have their own places
We would rather not see them all thrown in our faces.
"Thus we deem it wise all should wear this one tone
Realizing, of course, many questions are known.
Gray should be simple, blend with no other hue,
Not with red, not with green, not with violet or blue.
"Also avoid grays too dark or too light,
And the clothes should be neither too loose nor too tight."
These words just set up the law's opening stages,
All this nonsense went on more than five hundred pages.
Then one day a stranger wandered in unaware,
Probably noticing people did stare.
He wore a loose shirt that was blue and so bright,
He wore a green cap, purple shoes, and red tights.
"Hold it right there, sir," said the town cop,
"Your clothes are all wrong, I must ask you to stop."
The man in red tights looked at him quite askew,
"You tell me to stop, tell me, what did I do?"
"Sir, your clothes," the cop said, "are a big violation,
Our town will not stand for this great indignation.
There is red, there is blue, there is violet and green,
Such abuse of the law not before has been seen.
"But being a reasonable man I refrain,
and I give you exactly five minutes to change."
But the man in red tights only seemed to get riled,
So the cop took him down to the judge for a trial.
The judge's jaw dropped when he saw this strange man,
The bailiff half-fainted and needed a fan.
"Sir," the judge said, "your guilt only makes sense,
Have you a thing to say in your defense?"
The man in red tights stepped up to the stand,
And he said, "There's no sense in this harsh reprimand.
For colors are simply a joy to the eyes,
From the greens of the grasses, the blues of the skies.
The sweet taste of oranges, the reds of warm fire,
To greater things silver and gold do aspire.
My shirt is quite loose, but goes well with a cape,
My tights show off nicely my legs' shapely shape.
You say my attire breaks your legal code,
and prefer I be dressed like a chirping gray toad.
I tell you that your law's as unfair as can be,
For it violates all of my rights to be me."
"Guilty," said the judge, and he called for that book,
Turning the pages his fists quivered and shook.
For all five hundred pages of minute attention,
Nowhere were penalties here ever mentioned.
They took it for granted that folks would comply,
Such a serious law no one would dare defy.
So the man in red tights was allowed to get out,
But for those in the court this all did raise a doubt.
Maybe colors, they thought, might not be all that wrong,
Although grays can be nice, this has gone on too long.
Let's use our own judgment for things that we wear,
Let that book gather dust, for it's only hot air.