Buppo da Peppo. Yes, that is incorrect. No need to comment on it -- I know. But for the longest time that was what I thought this family style Italian restaurant was called. My favorite sister-in-law (FSIL) raved about it and a few summers ago we got to go 'family' style. The food was delicious but the noise from the customers drove me crazy -- okay crazier. Then I found out that they did 'to-go'. I was thrilled.
Coupons clipped I'd plot out meals to bring home and share. Calamari that was crisp and flavorful. I nibbled on their snappy green beans with a light lemon sauce. At times I'd snag a tasty salad and mouth watering main course. It was hard to choose just one thing. They had fresh pasta and lush sauces to tempt anyone.
Times got tough and I didn't have so much disposable income. I'd used up all my hoard of gift cards and coupons. One afternoon I was lamenting the loss with FSIL when she and I decided we could probably figure out some of our fave recipes. Then another thought crossed my mind and I snagged my laptop and googled recipes. And boy was that a treat. We printed out a few and together made a family style meal on our own. My brother and niece helped. And some baked yams worked to make the dinner a delight for a fraction of the cost. Enjoy.
Almost-Buca-Di-Beppo Green Beans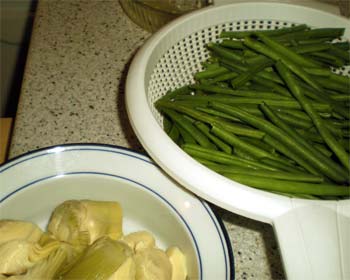 Note: Using fresh beans and keeping them crisp during the prep are critical for this simple recipe to work
Ingredients:
Directions:
Prepare the green beans by clipping off the stem end.
Melt the butter in a sauté pan on low heat. Squeeze the juice out of two medium-size lemons. Strain the pulp and the seeds out of the lemon juice.
When butter is melted, carefully add the lemon juice to the pan.
Raise the temperature to medium and reduce until the lemon juice and butter become a sauce. Do not brown the butter.
Place the clipped, fresh green beans in boiling water for two to three minutes. Do not overcook. The green beans should remain crisp.
Strain the green beans and add to the sauce in the sauté pan. Toss the green beans in the sauce and season with salt to taste. Serve immediately.
Almost-Buca-Di-Beppo Chicken Saltimbocca
45 min | 15 min prep
Ingredients:
4 (5 ounce) chicken breasts
4 slices prosciutto ham
1 tablespoon fresh sage
ounces olive oil (extra virgin)
1 ounce all-purpose flour
5 ounces artichoke hearts, (canned is fine) quartered
1/2 ounce capers
4 ounces white wine
2 ounces fresh lemon juice
2 ounces heavy cream
1 tablespoon butter
1 tablespoon salt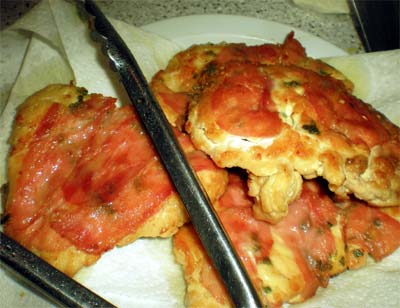 Directions:
Lightly salt chicken breasts.
Sprinkle evenly with chopped sage.
Place sliced prosciutto on top the chicken and pound it into the breast until the thickness of the chicken measures 3/8-inch.
Meanwhile, heat olive oil in a sauté pan.
Lightly flour chicken pressed with prosciutto.
Place in heated oil, prosciutto side down.
Brown one side, turn and brown the other side.
Remove chicken to a warm plate and cover.
Drain off excess oil from the pan, and deglaze with 4 ounces of white wine.
Add artichokes, fresh lemon juice, cream and butter and cook until the sauce is thickened.
To serve, top chicken breasts with the reduced sauce and garnish with capers.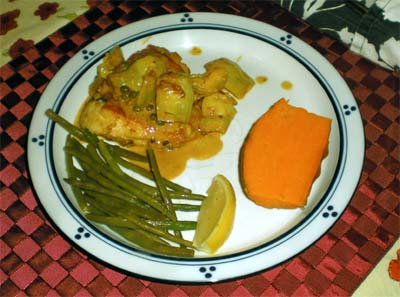 .