Awhile back, inspired by Chas (this review in particular), and bored at the mall while T got a haircut, I decided to buy a fountain pen. The managing editor of the Press knows this, in part because I keep sending postcards to her house, just as an excuse for using my nice pen for something besides scribbling sticky notes at the office.
When the nice folks at Jetpens offered to send her some inks for review, she kindly passed one of them along to me, with the disclaimer, "I think it's green." That was okay with me. I have wine, turquoise and purple inks in my small collection, and green would make a nice addition.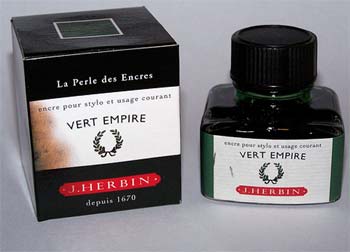 The ink she sent me is J. Herbin Vert Empire. Empire Green, I determined from my rusty college French. J. Herbin should know about empires. According to their web site, this French company has been making ink since 1670. Louis XIV used their ink, as did Victor Hugo. Judging from the color sample on the top of the box, this ink would be a deep, solid, green.
The bottle is square and squat. Unlike some other ink bottles, I felt confident that this one was not likely to tip over if the cat whacked it with her tail while I was mid-fill. It also has an indentation at the front of the bottle -- a pen rest. If you are using the ink with a dip pen, that is probably quite handy.
As I started writing with the pen, I was a bit disappointed in the color of the ink. It was a little more grayed out than I expected, more of a dark olive green. It wasn't a bad color, just different.
After a few days, though, the color started to grow on me. Sometimes it looks more gray than green to me. In fact, it was hard to photograph the writing sample so that the green showed very clearly. It photocopied well, and the color was subtle enough that I had no qualms about using it to sign documents or write checks. The ink is water-based, but it survived my low-tech attempt to remove it from a piece of paper. It is also supposed to be light-fast.
Feathering and drying times varied, depending on the paper. In the sample above, it feathered far less than the black Uni-ball in the comparison. On decent journal paper, it dried within a second or two, but on regular office copier paper, it took six or seven seconds.
This seems to be a good-quality ink, and if you are looking for a signature ink color that is not too flashy, Vert Empire might do the trick.