A whimsical look at the life and death of a pet beetle, told in the style of Dr. Seuss.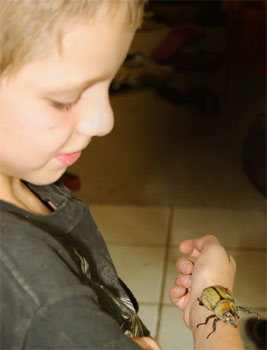 Heinrich was a beetle Jonah befriended one day,
On a late summer walk near the woods where he played
He was flat on his back with his feet in the air.
And he stopped just to look, to touch and to stare.
Then Heinrich woke up! Jo jumped back in surprise,
Heinrich wiggled his legs and rubbed at his eyes.
Jonah quick picked him up and he carried him home,
Where he became his new house bug, no more would he roam.
Jonah searched on the Google, for Heinrich's family name.
Google called him Hercules, a name filled with fame!
Jonah just called him Heinrich, his insectile friend.
And he kept him and fed him right up to the end.
For beetles you see, at least for the most,
Live only one year, till they give up the ghost.
So likewise died Heinrich, one day in his cage,
Turned his legs to the sky, it was death of old age.
Jonah mourned and remembered, and cried many tears.
And prayed that a friend like his Heinrich would find him next year.