My mother loves the Food Network. She's been hooked on quite a few of the shows over the years, and when I moved back home a few years back I enjoyed many of the same shows. My mom kept talking about this daytime gal named Paula. Having not had cable for years, I kept nodding and saying, "Okay, sure, fine." I was completely clueless about this 'Paula' my mom kept talking about when I would walk through the door after work. I was sick one day, and home in time to get my first dose of Paula Deen. Now I was hooked. The Food Network began to run her shows at times I could watch.
I ordered my mom a few of her books during the years and her autobiography, It Ain't All About the Cookin', which shared a slice of her growing up, and the challenges she faced with agoraphobia and hard times raising her two sons in Savannah. Every now and then I'd dip into her cookbooks and make something tasty. It became a joke about a cup of butter and sugar starting most of her recipes.
Growing up with money tight, we weren't allowed to throw away the heels on bread because that was waste. I remember more than once being the recipient of a sandwich as a kid that my mom had carefully crafted with the heel side inside so I didn't know until lunch time. (*shudder*) I found the end pieces often to be stale and too chewy. Some things you can't escape from childhood.
Even though I rarely eat an end slice of bread I always end up using them. Usually bread crumbs, stuffing and occasionally tossing some to birds that decorate my car. For some reason I kept thinking I wanted to make Bread Pudding. I used to make it weekly at the French restaurant I worked in back in my early 20s. It was made with scalded milk, eggs, heavy cream, and raisins. I didn't much care for the taste of that recipe, yet folks would rave about it and pay obscene amounts of money for what to me was little more than leftovers.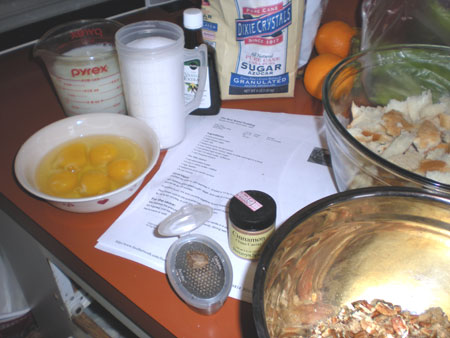 With the internet filled with information and recipes so prevalent and easily available, I searched on Bread Pudding Recipes. I found three I liked and went home to see what I could do. One of them was by Paula Deen. I took a bit of hers and some of my own ideas and came up with the following recipe.



Ingredients
2 cups granulated sugar
5 large beaten eggs
2 cups milk (fat free)
2 teaspoons pure vanilla extract
5 cups cubed Italian bread, (or other assorted pieces)
1 cup packed light brown sugar
1/4 cup (1/2 stick) butter, softened
1 cup chopped pecans
1 teaspoon cinnamon
1/4 teaspoon grated nutmeg
For the sauce:
1 cup granulated sugar
1/2 cup (1 stick) butter, melted
1 egg, beaten
2 teaspoons pure vanilla extract
1/4 cup brandy
Directions
Preheat the oven to 350 degrees F. Grease a 13 by 9 by 2-inch pan.
Mix together granulated sugar, eggs, and milk in a bowl; add vanilla. Pour over cubed bread and let sit for 10 minutes.
In another bowl, mix and crumble together brown sugar, butter, and pecans.
Pour bread mixture into prepared pan. Sprinkle brown sugar mixture over the top and bake for 35 to 45 minutes, or until set. Remove from oven.
For the sauce:
Mix together the granulated sugar, butter, egg, and vanilla in a saucepan over medium heat. Stir together until the sugar is melted. Add the brandy, stirring well. Pour over bread pudding. Serve warm or cold.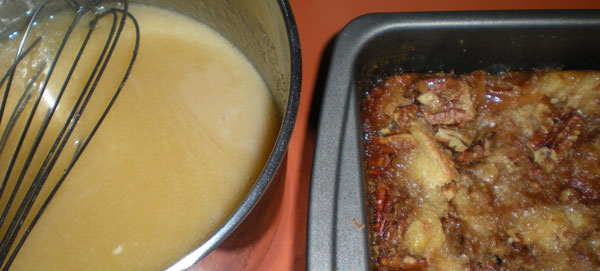 .