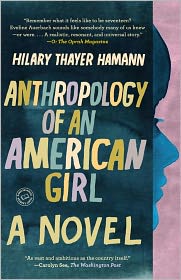 Anthropology of An American Girl, by Hilary Thayer Hamann.
But in fact there are infinite subtleties to identity -- that is to say, there is the way that you are, which the sum of the way you are becoming and the way you have been, and which does not take into account the way you secretly wish to be. - from Anthropology of an American Girl, page 80 -
Eveline "Evie" Auerbach is growing up in East Hampton, New York in the late 1970s. She is a philosophical young woman trying to uncover who she is as she navigates the uncertain waters of her senior year in high school and the transition to college in New York City. Anthropology of an American Girl opens in the fall of 1979 as Evie enters her final year of high school. Her best friend, Kate, has just lost her mother to cancer and is living with Evie and Evie's mother. The two girls have a close relationship which is being tested by loss, grief, and the simple fact that they are growing up and apart. Evie is struggling with her relationship with her boyfriend, Jack -- a boy who is angry, cynical, and a bit possessive. Evie and Jack seem to be perfect for each other -- they are both artists (Jack a musician, while Evie likes to make sketches and create art) and they love to have deep and intellectual discussions, but their relationship is soon strained by an older man named Harrison Rourke. Predictably, Evie ends her uneven relationship with Jack and begins an affair with Rourke which is doomed to fail. Anthropology of An American Girl is a coming of age story which follows the life of one girl as she grows from adolescence into young adulthood.
I had heard a lot about this book before deciding to read it -- and it seemed as though I was the perfect target audience for this novel since I came of age during the same time period as Evie. I graduated from high school in 1978 (a year before Evie does) and went on to college, graduating in 1982. But, I had a hard time relating to Evie who comes across much older than her years and has a flair for the melodramatic. Perhaps it was Hamann's tendency to liberally pepper her writing with metaphor, but I grew tired of being inside of Evie's head.
The novel is not without merit. I enjoyed some of the insights into aging. The idealism of youth is perfectly encapsulated through Evie's unique view of the world.
You're old when you learn that needs are to be eclipsed by civility. You're old when you join the sticky, stenchy morass of concealed neediness that is society. You're old when you give up trying to change people because then they might want to change you too. When you're young, needs are explicit, possibilities are endless, formalities undiscovered, and proofs of allegiance direct. - from Anthropology of An American Girl, page 17 -
I also enjoyed some of the late 1970s references which catapulted me back to my own youth, like the reference to "Pappagallo purses with the wood handles and the button-on fabric covers" -- yes, I owned one of these!
Despite these positives, I found myself rolling my eyes when Evie falls into her angst-driven monologues and melodramatic depictions of love.
I knew his nearness was miraculous. It was nothing I could explain; it was an old knowledge. My feelings for him were like memories rising up, dormant things revivified, regaining dimension, spinning to life. To be near him, the world turned alive. -- from Anthropology of An American Girl, page 121 -
I know teens can be overemotional about life, love and everything in between, but I don't necessarily want to spend 600 pages reading about it.
I really wanted to love this novel. I pushed myself through it hoping that it would come together for me. But in the end, I found myself wishing that it had been half its length. I think my disappointment stems from characters who I could not relate to, and language which was just a bit too flowery and overwrought to satisfy me.
Don't take my word for it, however. There have been many positive reviews of this book. You can find some of them by visiting the TLC Book Tour page and clicking through the links.
Quality of Writing: Three stars
Characters: Two and a half stars
Plot: Two and a half stars
Overall Rating: Two and a half stars out of five.


Catch all of Wendy Robard's reviews in her fabulous blog, "Caribousmom".

.