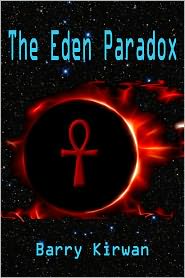 The Eden Paradox, by Barry Kirwan.
From the first paragraph, Barry Kirwan takes the reader on a journey spanning space and time in a fluid, action-packed flow of images, thoughts and words. His cast of characters are dimensional and with the backdrop of an alternate -- perhaps future -- universe, the characters ring true with their own life stories and personalities, creating memorable men and women fighting the good fight for all of humanity. Threads of misdirection and well-crafted chapter cuts bring the reader easily into Kirwan's Eden. When the reader arrives into the world, Earth's dying is just a matter of years, centuries or days depending on which character is talking. He catapults the reader between Earth and discovering Eden -- the light at the end of the tunnel for humans.
Micah and Blake are strong men in different walks of life who find themselves entwined through chance and science. There are teasing images just out of reach in Micah's scientific landscape that bring him to choices -- hard choices -- that ultimately pull him from his day-to-day life into the real world. Blake, a world away, finds himself fighting the unseen and his own soul's hauntings to lead his team through surprises and challenges unplanned for or desired. Slowly they both head towards each other unknowingly to save humanity.
Mr. Kirwan gives humanity hope while still preying on our fears. Science battles fundamentalism. Humanity pushes against individualism and fanaticism. The reader is pulled into an all too real future with memorable and thought-provoking men and women leading the way. An excellent story with so many possibilities leaves the reader craving more.