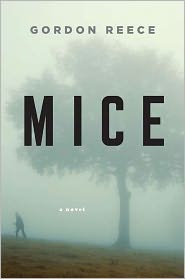 Mice, by Gordon Reece.
It had to be quiet. It had to be private. We were mice, after all. We weren't looking for a home. We were looking for a place to hide. - from Mice, page 1 -
Shelley Rivers and her mother, Elizabeth, are emotionally battered and bullied -- Elizabeth by her ex-husband and Shelly by the schoolmates who nearly kill her. No one seems to be interested in protecting them. Justice for the wrongs leveled against them is elusive. What they both want is to escape to the country and hide. They purchase a English country home called Honeysuckle Cottage -- a place which is remote and private -- and enjoy their evenings together drinking hot chocolate, playing duets and watching television. But on the eve of Shelley's sixteenth birthday, their quiet world is shattered when a creaking floorboard signifies that someone uninvited is in the house. As events unfold, Shelley makes an impulsive decision that will forever change their lives.
We think we control the course our life takes, we think we're the captain of the vessel with our hand on the wheel, but in fact it's luck (or fate or destiny or God or whatever we choose to call it ) that's really in control. We might as well take our hands off the wheel and go to the back of the boat and sleep, because it's this other force that really decides whether we make it to the shore or we sink without a trace. - from Mice, page 314 -
Gordon Reece's debut novel is narrated from the first person point of view of Shelley, whose self-esteem is at a low point when the book opens. She is awkward, overweight and brainy -- the perfect target for bullies at her school. Reece reveals the worst that bullying behavior involves -- teasing, physical aggression and a system that does little to protect the victim. And the narrative asks the question: What defines the bully vs the victim? Is it personality? Is it appearance? What is the crucial defining moment at which a person makes the decision to lash out at another human being?
Does the way we look affect our personality? Or does our personality affect the way we look? Does the warpaint turn the tribesman into a fierce warrior? Or does the fierce warrior put on the warpaint to advertise his cruelty? Does a cat always look like a cat? Does a mouse always look like a mouse? -- from Mice, page 18 -
As the plot unfolds, both Shelley and Elizabeth will begin to re-evaluate who they are as they are driven to the breaking point. Decisions they make and the consequences of those decisions drive the narrative. The novel is certainly plot driven vs. character driven. Elizabeth and Shelley could be anyone who has suffered emotionally (or physically) at the hands of another.
Clearly, Mice is a psychological thriller, but I was surprised to see that it also became a black comedy of sorts. There were times I found myself laughing and then realized that what I was reading should not be funny ... but it was. Twists and turns of plot keep the tension high until the final page.
I read this book over the course of one day -- a very speedy read for me. Readers looking for a fast-paced, roller coaster of a ride will definitely enjoy Mice. This is not "great" literature, but it is highly entertaining genre fiction. The perfect summer read.
Recommended.
Quality of Writing: Four stars
Characters: Three and a half stars
Plot: Four and a half stars
Overall Rating: Four stars
FTC Disclosure: Many thanks to the publisher who sent me a copy of this book for review on my blog.


Catch all of Wendy Robard's reviews in her fabulous blog, "Caribousmom".

.