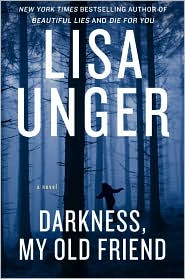 Darkness, My Old Friend, by Lisa Unger.
He was a grave robber, waiting for the night watchman to drift off once and for all. Then, and only then, could he dig his fingers into the earth and exhume the truth. - from Darkness, My Old Friend, page 82 -
Jones Cooper has walked away from his job as a police officer and is struggling with his past when a psychic shows up at his door with a chilling prediction. Eloise Montgomery has been seeing things psychically for years, ever since the car accident that killed her husband and daughter and left her comatose for several days. Eloise and local PI Ray Muldune are teaming up to try to uncover the mystery surrounding a local woman's disappearance many years earlier. The woman's son, Michael Holt, is now an adult and wants to find the answers to what happened to his mother -- his memory of her last day is full of blank spots that he seems unable to shed any light upon. Fifteen-year-old Willow Graves and her mystery writer mother, Bethany, have recently moved from New York City, looking for safety and peace in small town life. Willow is angry and confused about her parents' bitter divorce, and has a tendency to run when things get uncomfortable. All these characters' lives cross in The Hollows, a tiny town with dark woods and even darker secrets.
Darkness, My Old Friend is Lisa Unger's latest thriller and a follow up to her last novel, Fragile. Unger assumes some knowledge of her characters, so if you are like me and have not read the prequel to Darkness, My Old Friend, it takes a few pages to be brought up to speed. Even still, I found myself quickly drawn into the lives of the characters. Jones Cooper is clearly the primary character around whom the plot turns. Struggling with his marriage and not sure what to do with his life, he becomes embroiled in the town's most talked about mystery -- that of the disappearance of Marla Holt. Tough, smart and skeptical of anything that cannot be proved, Jones is a likable character. The other characters are carefully fleshed out as Unger writes from multiple points of view in order to reveal their histories and motivations.
I enjoyed Unger's writing style which reminded me of some of Laura Lippman's later novels. The plot is drawn from the complexities of the characters' lives and is actually not really much of a whodunnit (I figured out the "mystery" long before I got to the end of the book) -- but, more of an exploration into motivation and the dark side of human nature. Thematically, Unger explores the mother-child relationship, self image, and identity. All the characters are faced with re-examining their past in order to find a balance between personal fulfillment and obligation.
Strengths of the novel include sharp dialogue, believable characters and an interesting psychological study of human behavior. If there is a weakness in the book it is a tendency to wrap the plot up a little too neatly.
Overall, a good read which will appeal to those who enjoy psychological thrillers.
Recommended.
Quality of Writing: Four stars
Plot: Three and a half stars
Characters: Four stars
Overall Rating: Four stars out of five.


Catch all of Wendy Robard's reviews in her fabulous blog, "Caribousmom".

.