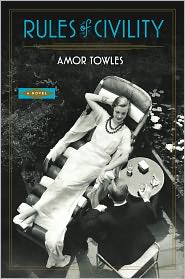 Rules of Civility, by Amor Towles.
Like a cart horse, we plod along the cobblestones dragging our masters' wares with our heads down and our blinders in place, waiting patiently for the next cube of sugar. But there are certain times when chance suddenly provides the justice that Agatha Christies promise. We look around at the characters cast in our own lives -- our heiresses and gardeners, our vicars and nannies, our late-arriving guests who are not exactly what they seem -- and discover that before the end of the weekend all assembled will get their just desserts. But when we do so, we rarely remember to count ourselves among their company. - from Rules of Civility, page 252 -
Katey Kontent and her effervescent roommate Eve are spending their last night of 1937 in a Greenwich Village jazz bar. By chance, they cross paths with Tinker Grey who is handsome, wealthy and charming. Both young women find themselves irresistibly drawn to Tinker, an attraction that threatens to divide their friendship. When a night out on the town goes horribly wrong, Katey must use her spunk, wits and intelligence to overcome poverty and betrayal and find her way through New York high society.
Rules of Civility is narrated in the voice of Katey nearly thirty years after her first encounter with Tinker when she was a twenty-five year old secretary trying to work her way to the top. Katey introduces the reader to a large cast of memorable characters which include a manipulative widow named Anne Grandyn, the honorable and sweet Wallace Wolcott, and Katey's power hungry boss Mason Tate. Amor Towles creates a party-like atmosphere of young adults crossing paths, finding love (or not), and uncovering family secrets. Characters move in and out of the narrative with Katey as the pivotal character around whom they all spin.
Towles keeps the tone of his debut novel lighthearted and sharp, and seamlessly integrates the atmosphere of New York City in the late 1930s.
Sitting in that seat, in the span of a sandwich you could pay witness to the pilgrimage of New York's devoted. Hailing from every corner of Europe, donned in every shade of gray, they turned their backs on the Statue of Liberty and marched instinctively up Broadway, leaning with pluck into a cautionary wind, gripping identical hats to identical haircuts, happy to count themselves among the indistinguishable. With over a millennia of heritage behind them, each with their own glimpse of empire and some pinnacle of human expression (a Sistine Chapel or Gotterdammerung), now they were satisfied to express their individuality through which Rogers they preferred at the Saturday matinee: Ginger or Roy or Buck. America may be the land of opportunity, but in New York it's the shot at conformity that pulls them through the door. -- from Rules of Civility, page 39 -
Filled with literary references, clever dialogue and intriguing plot, The Rules of Civility is an engaging book. Towles explores the idea of fate or chance vs. being the maker of our own destiny. Katey meets Tinker by accident, but realizes early on that she must find her own path despite what cards fate deals her. Even with this knowledge, she struggles to understand the consequences of not only her choices, but the choices of others.
There is an oft-quoted passage in Walden, in which Thoreau exhorts us to find our pole star and to follow it unwaveringly as would a sailor or a fugitive slave. It's a thrilling sentiment -- one so obviously worthy of our aspirations. But even if you had the discipline to maintain the true course, the real problem it has always seemed to me, is how to know in which part of the heavens your star resides. - from The Rules of Civility, page 230 -
Katey Kontent is one of those characters who begs the reader to travel with her along her journey. We want to see her succeed. We want her to find love. Our hearts ache when she stumbles, and rejoices when she overcomes adversity. Vibrant, smart and with just enough innocence to make her believable, Katey is a heroine who readers will not soon forget.
Amor Towles has written a wonderful first novel. He is an author to watch.
Recommended.
Four stars out of five.
FTC Disclosure: This book was sent to me by the publisher for review on my blog.


Catch all of Wendy Robard's reviews in her fabulous blog, "Caribousmom".

.