One of my favorite folks down here had a birthday last week. Her friend and I were coy and found out a week prior what her favorite cupcakes were. She confessed with a laugh and a smile, "Red Velvet!" I shuddered and smiled nicely back. The plotting began. (I had to assure her friend I wouldn't flake, and promised to deliver said cakes. I don't say things I don't mean as a rule but I understood. Many folks say, "Oh, yes I'll do it." Then make excuses when they don't deliver.)
The only time I can recall having a slice of Red Velvet cake was a few years back. At that time, I grimaced and pretended like it was delicious. It was anything but! Bright red, dry, vague taste of chocolate and slathered in an overly sweet cream cheese frosting. I didn't get it. It wasn't 'cake' nor was it a 'treat' as far as I could tell.
But then I was in Southern California.
Now I am far closer to the true South and I dug a little deeper into the myths and tales about Red Velvet Cake. And like any good recipe there are tons of tales and no true agreement. From everything I read, it seemed that the cake came about as a recipe from around the 1870s in Dr. Chase's "receipt" book. There were a few concoctions in the papers of the doctor that were 'velvet' in nature. The Velvet label meant a fine crumb cake and later, supposedly the red velvet was for brown sugar. Neither recipe I had at hand used brown sugar. But there were a few hints to why red velvet was named from the research. The combination of buttermilk and vinegar react with cocoa and create a reddish hue. I knew that from making a recipe when I was a kid from the back of the Hershey's cocoa can.
CHOCOLATETOWN SPECIAL CAKE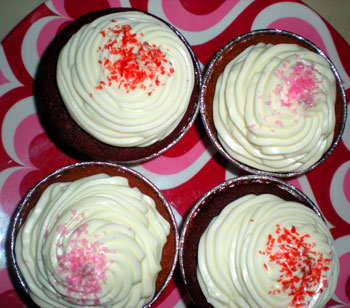 INGREDIENTS:
1/2 cup Hershey's cocoa
1/2 cup boiling water
2/3 cup shortening
1 3/4 cups sugar
1 teaspoon vanilla
2 eggs
2 1/2 cups unsifted flour
1 1/2 teaspoons baking soda
1/2 teaspoon salt
1 1/3 cups buttermilk
STEPS:
Preheat oven to 350 degrees. Prepare either 3 8-inch round pans or 2 9-inch round pans (I just heavily grease and layer waxed paper on bottom of pan).
Stir together cocoa and boiling water in small bowl until smooth; set aside.
Cream shortening, sugar and vanilla in large bowl until fluffy and light. Add eggs and beat well.
Combine flour, salt and baking soda; add alternately with buttermilk to creamed mixture. Blend in cocoa mixture.
Pour into prepared pans and bake; 25 to 30 minutes for 8-inch pans and 35 to 40 for 9-inch pans. Test with toothpick until inserted comes out clean. Frost as desired.
Hmmm ... I was intrigued. I started skimming the net and looking for a recipe. I found many and landed on a few that interested me -- one by Paula Deen and one by McCormick's. They both were very different. I'd read Paula Deen's autobiography; and I had visited Baltimore many years ago and enjoyed the McCormick factory aromas. The harbor was laden with scents of exotic spices and rich cinnamon smells. Which was something that doesn't diminish with time -- even decades later.
So as I delved deeper into the mystery surrounding the cake, I found there were some strong opinions and many recipes. One of my favorite bits was that John J. Adams came along and was a nice nepotistic child with a family in both the food coloring business along with the flavorings. He pushed into the Midwest and the South the cake recipe that up-sold both the coloring and his flavorings. He suggested butter flavoring, vanilla and a lot of red food coloring. Both recipes give a nod to the muddied history of the cake.
I baked both recipes in cupcake form and kept the icing recipes with the offerings. I found Paula Deen's cupcake to be a tad 'slick' for me. I think it was the oil instead of butter. Her frosting was tastier than the McCormick icing, but I wouldn't bake the cake again. Everyone who nibbled enjoyed both cupcakes, and most of them preferred the McCormick's, but I think that was due to a thicker batter with butter and more cocoa. I wouldn't use the dye again because I'm not a fan of dye. But overall it was fun to create a treat for my friend.
The Paula Deen Recipe for Red Velvet Cupcakes
Ingredients:
2 1/2 cups all-purpose flour
1 1/2 cups sugar
1 teaspoon baking soda
1 teaspoon salt
1 teaspoon cocoa powder
1 1/2 cups vegetable oil
1 cup buttermilk, room temperature
2 large eggs, room temperature
2 tablespoons red food coloring
1 teaspoon white distilled vinegar
1 teaspoon vanilla extract
For the Cream Cheese Frosting:
1 pound cream cheese, softened
2 sticks butter, softened
1 teaspoon vanilla extract
4 cups sifted confectioners' sugar
Chopped pecans and fresh raspberries or strawberries, for garnish
Directions:
Preheat the oven to 350 degrees F. Line 2 (12-cup) muffin pans with cupcake papers.
In a medium mixing bowl, sift together the flour, sugar, baking soda, salt, and cocoa powder. In a large bowl gently beat together the oil, buttermilk, eggs, food coloring, vinegar, and vanilla with a handheld electric mixer. Add the sifted dry ingredients to the wet and mix until smooth and thoroughly combined.
Divide the batter evenly among the cupcake tins about 2/3 filled. Bake in oven for about 20 to 22 minutes, turning the pans once, half way through. Test the cupcakes with a toothpick for doneness. Remove from oven and cool completely before frosting.
For the Cream Cheese Frosting:
In a large mixing bowl, beat the cream cheese, butter and vanilla together until smooth. Add the sugar and on low speed, beat until incorporated. Increase the speed to high and mix until very light and fluffy.
Garnish with chopped pecans and a fresh raspberry or strawberry.
Cook's Note: Frost the cupcakes with a butter knife or pipe it on with a big star tip.
McCormick's Red Velvet Cupcakes
Makes 30 (1 cupcake) servings.
Prep Time: 20 minutes
Cook Time: 20 minutes
2 1/2 cups flour
1/2 cup unsweetened cocoa powder
1 teaspoon baking soda
1/2 teaspoon salt
1 cup (2 sticks) butter, softened
2 cups sugar
4 eggs
1 cup sour cream
1/2 cup milk
1 bottle (1 ounce) McCormick® Red Food Color Advertisement
2 teaspoons McCormick® Pure Vanilla Extract Advertisement
Vanilla Cream Cheese Frosting (recipe follows)
Preheat oven to 350 degrees F. Mix flour, cocoa powder, baking soda and salt in medium bowl. Set aside.
Beat butter and sugar in large bowl with electric mixer on medium speed 5 minutes or until light and fluffy. Beat in eggs, one at a time. Mix in sour cream, milk, food color and vanilla. Gradually beat in flour mixture on low speed until just blended. Do not overbeat. Spoon batter into 30 paper-lined muffin cups, filling each cup 2/3 full.
Bake 20 minutes or until toothpick inserted into cupcake comes out clean. Cool in pans on wire rack 5 minutes. Remove from pans; cool completely. Frost with Vanilla Cream Cheese Frosting.
Vanilla Cream Cheese Frosting:
Beat 1 package (8 ounces) cream cheese, softened, 1/4 cup (1/2 stick) butter, softened, 2 tablespoons sour cream and 2 teaspoons McCormick® Pure Vanilla Extract in large bowl until light and fluffy. Gradually beat in 1 box (16 ounces) confectioners' sugar until smooth.