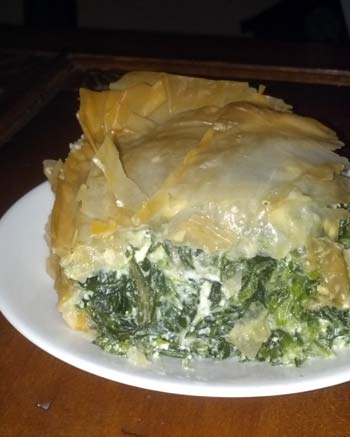 Admittedly I grew up with eclectic tastes in foods. My mom would experiment on us ... I mean with dinner ... yeah, that's what I meant. So as I got older and went to my friends' houses and their moms cooked odd stuff I didn't know I was supposed to squee and shake my head. After all I thought asparagus was ambrosia and what was not to like about spinach? My mom served canned spinach to us with vinegar to drizzle on top. Fresh spinach didn't make it to the table for years, because we all were little pigs with the canned stuff and it takes pounds of fresh to feed us. And this was long before triple washed bags of spinach were readily available at the grocery store. We had to hand wash the spinach bunches, making certain to get all the sand out of the leaves. Yes, dirt is where spinach is grown and back in the day the farmers didn't exactly steam wash the stuff but sent it to market with bugs and all.
So when I first heard about 'spinach pie' I thought, why not? My friend made it with hummus and a tray of veggies on the side. Add to the table the silky black Greek olives with pits and some pita bread and thus I was hooked on Greek food. Feta cheese served with a drizzle of olive oil would long be a nibble I never easily resisted. Gyros with the lamb meat, sliced thinly after being carved off a spit. The fresh tomato slices slathered with tzatziki sauce wrapped in a pita pocket rounded out the taste sensations.
As I got older the Greek places weren't always close to where I lived, so I learned to make a few of my favorite dishes. My 'spinach pie' recipe I had for years grew tattered and somewhere between the past and here it disappeared. So I was craving Spanakopita last month and started looking for my recipe. I went through the usual flash drives and stained pages but didn't find it. Grumbling, I plugged the recipe title into a search engine and found a few recipes that seemed similar. It must be said that the one I finally used (with some minor alterations) turned out pretty good and as it fit into a 9 by 9 inch pan it wasn't too much. I made the recipe twice in the past two months -- once using cottage cheese not ricotta -- and every last bit was gobbled up. So enjoy.
Spanakopita (Greek Spinach Pie)
Prep Time: 30 Min
Cook Time: 1 Hr
Ready In: 1 Hr 30 Min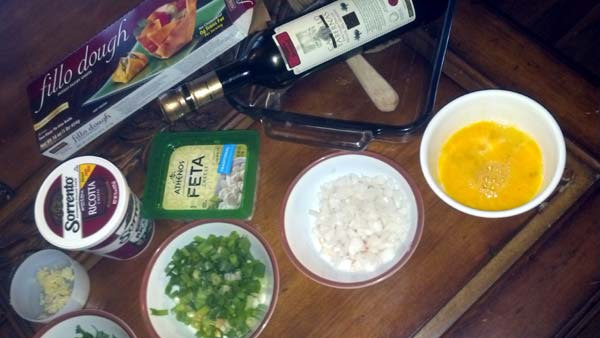 Ingredients:
3 tablespoons olive oil
1 large onion, chopped
1 bunch green onions, chopped
2 cloves garlic, minced
2 pounds spinach, rinsed and chopped
1/2 cup chopped fresh parsley
2 eggs, lightly beaten
1/2 cup ricotta cheese
1 cup crumbled feta cheese
8 sheets phyllo dough
1/4 cup olive oil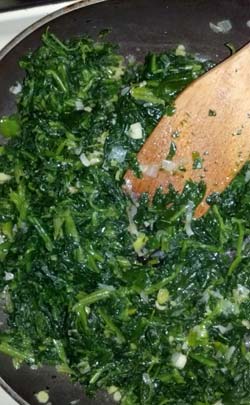 Directions:
Preheat oven to 350 degrees F (175 degrees C). Lightly oil a 9x9 inch square baking pan.
Heat 3 tablespoons olive oil in a large skillet over medium heat. Sauté onion, green onions and garlic, until soft and lightly browned. Stir in spinach and parsley, and continue to sauté until spinach is limp, about 2 minutes. Remove from heat and set aside to cool.
In a medium bowl, mix together eggs, ricotta, and feta. Stir in spinach mixture. Lay 1 sheet of phyllo dough in prepared baking pan, and brush lightly with olive oil. Lay another sheet of phyllo dough on top, brush with olive oil, and repeat process with two more sheets of phyllo. The sheets will overlap the pan. Spread spinach and cheese mixture into pan and fold overhanging dough over filling. Brush with oil, then layer remaining 4 sheets of phyllo dough, brushing each with oil. Tuck overhanging dough into pan to seal filling.
Bake in preheated oven for 30 to 40 minutes, until golden brown. Cut into squares and serve while hot.