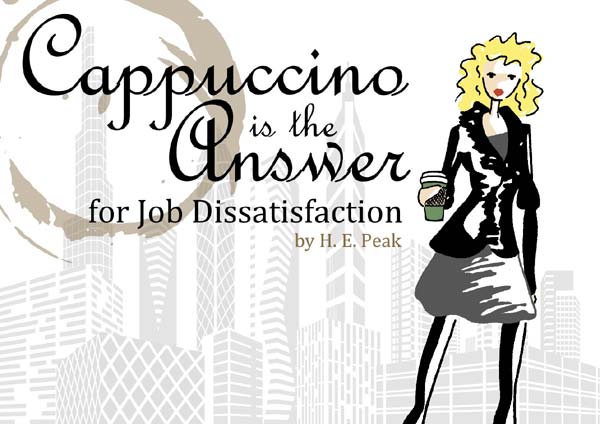 Chapter 7
That weekend was wedding gown shopping. My mother had driven up from my hometown to find "the dress." We went to the most exclusive boutique in town to begin our search. Initially, a weird alter-ego took over, and I had the crazy notion to try and keep my spending low on the dress. After all, I was only going to wear it once, right? I explained all this to my mother, so since there were some gowns on sale, I thought we should look at those first.
I took a couple of pretty ones back to the dressing room. I put one on that was snow white with bows at the shoulders and a four-inch hem of satin at the bottom. It was very pretty, and only four hundred dollars.
"This one is nice," I suggested to my mother.
"It just isn't you," she complained. "That isn't what I envision you getting married in. That looks like Audrey Hepburn in Funny Face."
So we moved on. The sales clerk brought in four more gowns -- white, ivory, pale pink. We tried on one after another -- some with puffy sleeves, others with beads. Nothing seemed just right. These inexpensive gowns didn't seem to have much flair. After the seventeenth wedding dress I put on and discarded, I looked at my mother.
"I'm exhausted and hungry. Let's have lunch and then start again in a couple of hours."
My mother nodded her consent, too exhausted to put it into words.
"Thank you," I smiled at the sales clerk, "we'll be back after lunch."
On the way out, we stopped by a glass case full of the designer gowns. Casually, we opened it and started looking through. As my hand touched fox fur, I knew I HAD to try this dress. I pulled it out.
My mother made a sound somewhere between an appreciative sigh and a clutching gasp, "That is some dress."
It was beautiful. Candlelight silk, trimmed at the scooped neck and bottom of the wide A-lined skirt with fox fur. Then, there was a coat with a train and long sleeves trimmed with the same sumptuous pale cream fur. I ran back to the dressing room to try it on. When I walked out, every clerk and customer stopped and stared. If it could stop the entire store, I knew I had found my dress. It fit like a glove. The only problem was that it was a May wedding. Well, I had always wanted a winter wedding, I would go with what I liked. I didn't care. It was my perfect dress.
In honor of the special day, we went to an elegant little Mexican restaurant around the corner for lunch. Maria Teresa's is a New Mexican Victorian-type home, full of antiques and great food. The maitre'd sat us at a lace-covered table by the window.
"We should use this for something," Mother commented as she looked around taking in the surroundings. "It's lovely."
"We could have the brunch here. I know they have brunch on Sundays."
"I love it! When we've finished lunch, we'll ask to speak to the person in charge of group events."
I ordered the shrimp fajitas, my favorite. Mother had their chicken enchiladas with sour cream sauce. We talked about whether or not to have the wedding earlier, but decided to stick with the dress and the date, after all it had a coat that could come off. I would just be hot. What was important was having that dress.
We toasted our decision with glasses of Sangria.
When the waiter brought out our lunch, the tortillas for my fajitas were missing.
"Excuse me," I called to our waiter. "Can you bring me tortillas?"
"Of course." He disappeared to the back.
A few moments later, I saw him coming back. His hand was open, and he was almost dancing on his way to the table. When he reached us, I realized why. He had the hot tortillas on his open palm. They were burning his hand.
"Here you go," he replied handing me the tortillas. I was trying desperately not to laugh, holding my breath, although tears were trickling out of the corners of my eyes. I nodded to him.
Suddenly, a man appeared at our table. "Madam, I am so sorry. I am mortified that he would bring you tortillas this way. A hundred apologies. Of course, lunch will be complementary. Let me get you some tortillas that are in a proper basket." Snapped his fingers at the waiter with a very nasty look, the maitre'd looked like he might keel over from the shock and embarrassment.
I started laughing hysterically. "Thank you," I managed to get out. My mother and I laughed the rest of the way through lunch.
Back at the office on Monday, Bennett himself assigned me to work on a large product liability trial. What a great opportunity for me! I was excited about it. The trial was about a one-car rollover where the vehicle had skidded on ice going from Albuquerque to Santa Fe when the passenger in the front seat had fallen out of the car and hit his head causing severe brain damage. Our claim was that the door latch was faulty and gave way allowing him to be thrown from the car.
"Jessica, I want you to deal with the experts -- prep them for trial, coddle them through their appearance. If I'm lucky, the jury will award more than they did in the McDonald's coffee trial! We have a good chance of it, since it is the same court." Bennett patted my shoulder and smiled.
"This is it." I told myself. "You can make a big break here. It is time to do the best job you can." A jury award that large would guarantee me exposure on Court TV, at least, if not MSNBC or I crossed my fingers, the Today Show. I could see myself doing a weekly spot on the Today Show dealing with people's legal issues. I could wear great clothes, live in New York City. Sam and I could spend our nights toasting Taittinger at that perfect champagne bar in TriBeCa where we went on our weekend there last fall. Maybe we could live in a loft in SoHo. I could see us there already. So, I threw myself into the trial. I was going to get to know these experts and make sure they sizzled in front of the jury.
The first expert, whose field was vehicle safety, was a cowboy from Texas, Nick Sanchez. He was not to talk about seatbelts or airbags, but about the frame on the vehicle and how it keeps the people inside safe. Seemed simple enough.
The other expert, Norman White, had worked in Detroit for over thirty years designing and manufacturing door latches. His job was to show how and why this latch had failed. In other words, he was the proof that the latch was faulty. If he failed, we couldn't prove that it was product liability, and Sam and I wouldn't be living in New York drinking champagne, and I wouldn't get my weekly spot on the Today Show.
I called Nick on the phone two weeks before the trial to introduce myself, wanting to be on good terms with both the experts since they would be dealing with me for their needs during the trial. We talked for a long period each day over the two weeks prior to the trial speaking about his testimony. I also got to know about his personal life -- what he was worried about, things that might come up and look bad when he was cross examined. In other words, I became his best friend. He was very knowledgeable about his subject, and I was quite pleased with what he was telling me on the phone. I was certain that he could sell the jury.
I spoke to Norman on my first day. He sounded older, a little slower. But he was a nice guy, and we had nice chats. I was less comfortable with his testimony, but when I expressed this to Bennett, he told me not to worry about it. He would get it all ironed out before he put Norman on the stand. Although I had a nagging in the pit of my stomach, I went with what Bennett said, after all, he had thirty years of experience and he was the boss.
The day before the trial, Bennett came up to me.
"I have something to tell you." He sounded very grave.
"What's the matter?" I was worried something had happened to Norman or Nick.
"You cannot wear that engagement ring to trial. We want the male jurors to be attracted to you. If they know you are taken, they won't feel like helping us as much."
I was going to laugh until I looked at his face. He was totally serious. Oh my gosh. That's why he brought me in to help? He thought the male jurors would think I was cute and vote for us. Boy, I felt stupid. I thought it was because I was good at my work. I took a deep breath. You can still make a good impression, Jess. "Stick with it," I chided myself. Don't give up now. Show them that you are not just a pretty face, you have a brain along with it. Besides, there won't be any TV time if you make an issue over something like this.
"No problem." I tried to smile. I knew I had to suck it up and do what he asked. I didn't have another choice. As Bennett walked back to his office, I wrinkled my nose. I don't like you, I thought. I don't like this place. I was so frustrated by the entire environment. This was really starting to grate on my nerves. But, if I played my cards right, we could be in New York right after the wedding.
That night, I told Sam. ""Bennett asked me to be part of this trial because I would appeal to the male jurors." I had gotten progressively angrier throughout the day. Now, I was livid. How dare they treat me as an object.
"You will appeal to them." Sam was teasing me, but I wasn't in the mood.
"Aren't you outraged?" I knew he hadn't been serious, but I wanted affirmation of my anger.
"You know I am. But Jessica, the best thing you can do is show them what a great job you do. They will take you more seriously based on your performance. There isn't a thing you can say. You are going to do great. Bennett and everyone else will see it and be impressed."
I felt a little better, but I was still mad.
When Nick arrived the day before the trial started, we sat in the conference room for all day. People were coming in and out, peppering him with questions and working on exhibits. Other lawyers came in and cross-examined Nick on his testimony. By the end of the day, we were confident that he was going to do a great job -- the exhibits were professional and his testimony was right on target.
Bennett gave me a smile, "Seems you did a good job with Nick." I wasn't sure if that was a compliment or not.
However, when Norman arrived for his day or preparation, it was clear there was a problem. He was very slow answering questions and seemed confused when trying to explain the workings of the door mechanisms. It was never clear to any of us that the latch mechanism was faulty through any of what Norman said. We all knew what we were trying to prove and we couldn't understand him. What hope would a jury have? I was becoming concerned. I spoke to Nick about his being able to talk about the door mechanisms. I thought he could do it, but Bennett said no.
Bennett did not seem that worried about Norman or his testimony. But when Norman came back after lunch with his "exhibit" -- a board with the locking mechanism parts pasted on it -- no labels, no explanations, just parts that could have been to anything -- unless you actually knew what parts go into a door latching mechanism. Everyone stood up and took notice. "Worry" was the word of the day.
It was clear that Norman did not know what was required for him to get across to the jury so that we could win. Try as we might, and we did, let me tell you, he just looked at us.
"Norman," Bennett boomed, "we need for you to clearly represent to the jury that the locking mechanism on this door was faulty. That way, the jury KNOWS it was the company's fault that our client fell out of the car and received that nasty head injury. Do you understand?" I could feel the desperation quivering off of Bennett's body. This was a very serious problem.
Norman nodded and said, "You can see this little part here went click when it shouldn't have." He flicked our model of the locking mechanism. "This thing should be longer. This here should be forward not back."
His explanation made no sense to anyone in the room, and we all knew what the problem with the lock was. Thus, we also knew that no one in the jury box was going to grasp any of what he was saying.
"Norman," Bennett sounded really desperate, "You can't explain it with this and that. We need the names. We need an explanation of what would have made it correct. We need you to show what is specifically wrong with this device. Can you do that?"
Norman nodded. "I am showing you. This thingamajig here is too short. This thing is too springy. It isn't right at all. It would be better if this whose-it was longer and the springy was tighter."
Bennett's head dropped, shaking ever so slightly. It was quite clear that Norman was never going to be able to offer the necessary explanation. We were dead in the water. OK, I thought unhappily, this is it -- Court TV is not going to come and discover me.
The next day at trial, we put Norman up on the stand because we had to. Sadly, it was just as we feared. He pointed and thingy-ed his way through the explanation, but the puzzled looks on the faces of everyone in the room -- judge, jury and lawyers was obvious. You can't win when you can't explain the problem.
We closed our case. The jury came back in less than an hour for the car manufacturer. We all drooped as we left the courtroom. When we saw the jurors on our way out, they told us they sympathized with our client.
"We really wanted to find for you," the foreman said, "but that expert didn't explain that there really was a problem. I'm sorry for your client."
Not half as sorry as we are buddy, I wanted to yell, but I knew that it was our case, not the jury that had the problem. I didn't want to do this anymore. I couldn't believe that Bennett had ignored me and pooh-poohed me when I said there was a problem. If he had listened, we might not be in this spot -- we'd be on Court TV with our zillion dollar jury award. He doesn't have any respect for me. I couldn't believe I hadn't seen it before. He never thought of anything but having me sit here and "appeal" to the male jurors.
When I came out to my car, I stood there. I didn't want to go back to the office; I wanted to blow them off -- just want to go shopping or something. I made up my mind to stop and get a cappuccino at least. That wasn't quite as good as shopping, but at least it was some consolation.
I went to this very chi-chi place. There were so many nice choices. I wanted a real treat. I deserved it! There were at least a dozen "specialties."
"What is the best?" I asked the guy behind the counter.
"Cowboy coffee." He was very definite. "It is chocolate syrup, coffee, cream and cinnamon. Delicious."
"I'll take one of those. A large, to go."
As soon as I took a sip, I felt a little better. He was right. This was fabulous. I had found a new treat for myself. I sipped it for a little while, trying to work up the energy to return to work. I so didn't want to go back. After ten minutes, I figured I couldn't justify being gone any longer -- someone would miss me soon. With a heavy sigh, I started back.
At the office, we all sat around depressed and frustrated by the whole thing. It could have been avoided if someone had been keeping up with the experts months ago, making sure they knew their stuff.
This is the end -- I have to get a new job. I had been certain that the win in the case would mean TV exposure, a new job and a new city, but that was no longer a possibility. I had to get a new plan -- one that didn't include sitting through depositions, dealing with difficult clients, or putting up with crazy co-workers. There was no way I could change the world from here. I needed something new!
Sam wasn't in love with his job either. I wanted something really new -- not just a new job, but a new city. I'd always wanted to live in Washington, D.C. Sam once mentioned working in the government. Maybe I could get him to start applying for jobs in Washington, D.C. That would be such fun for us. For sure I could find a way to change the world there. I'd get a job on the Hill, in no time I'd be writing legislation, making those lawmen stand up and take notice. Or I could be a lobbyist. I would fight for fewer taxes (I couldn't believe how much I had to pay this year. It took quite a hunk out of my shopping budget.) and justice and other good stuff. That's what I would do. Perfect -- we could move after we got married. I needed a plan of attack.
"I know it was really rough to lose," Sam consoled me, rubbing the tension out of my shoulders. "Let's go somewhere fun to take your mind off of it."
He was the best, always doing a little something for me.
We headed out to my favorite Chinese restaurant, ordered plum wine and sat there sipping it with our spring roll appetizer.
"Have you been looking at any of those jobs with the Securities and Exchange Commission again?" I tried to make it seem like an innocent question.
"You know, I have. I can't decide that I want to apply. Washington is so far away."
"I really think you should. After a couple of years there, you could go anywhere."
"I suppose it can't hurt to send a resume in."
Wow, this was far easier than I had anticipated. I figured I would leave the subject alone for now and ask him about it again in a couple of days.
At the end of the week, as we sat on the floor stuffing our beautiful cream with gold filigree invitations into their cream peau de soie lined envelopes magnificently addressed in matching calligraphy, I broached the subject again.
"Did you send in your resume to the SEC?"
"Yeah, I faxed it yesterday. I hope it made it in time. The deadline was yesterday."
I crossed my fingers for it to make it on time.
Not two weeks later, they called for an interview. Sam was dubious. "I don't know if this is really what I want."
"Well, you don't like your job now." Trying to find the appropriate argument for going. "There aren't enough opportunities for you here in Albuquerque. It can't hurt to go for the interview. If they aren't going to pay you enough, or you don't like what they offer as a job, you just don't take it."
He nodded, lost in thought. "I suppose so. It can't hurt to hear what they have to say."
Sam went a few weeks later for an interview, and they offered him a job on the spot. The pay was the minimum he was willing to take. I told him it was a sign, but he was skeptical.
"I asked them for a week to make my decision."
"Good! That gives you time to weigh the pros and cons." I figured I could come with lots of pros in that amount of time.
I started working on it right away, telling him what a good career move it was, how much more experience he would gain. I told him how I would get a job on the Hill and make a change in the world. I came up with something new each and every day. Over the weekend, we had dinner with some friends. Carol was from the Washington area.
"Oh, you should definitely go," she attested. "I would kill for that job. It is the ultimate in our field. Take it!"
This seemed to sway Sam more than anything. Someone else wanted the job, that must mean it is a good one.
"Plus," Carol went on, "my uncle has a house in Old Town Alexandria for rent. It's close to the metro. I think it would be perfect for you guys. I'll call him and set it up if you want me to."
When we got home, I told Sam, "I think this is destiny. We have a house. You got the salary you had to have. I can get a job when we get there. It is perfect."
Sam was less certain, I could tell.
"You know, if you don't like it, we can always move back! We'll plan on going for one year."
That was the cinch. "OK, I suppose we can do anything for one year."
I smiled. Now I could quit the firm. We would live somewhere fun and new. This was great. I was so proud of myself. My plan had worked. We were just a few steps away from something really great.
We got married a few weeks later. It was beautiful -- the choir, accompanied by harp, cello and flute, sounded like angels singing. Trumpets enhanced the organ's rendition of The Prince of Denmark, heralding my entry, just like a princess. The bridesmaids and groomsmen were radiant: a dozen of them stood together spanning the entire length of the altar. Sam was so handsome. When I walked up to the altar, the minister whispered, "Stunning, absolutely stunning." All was right with the world.
The reception was a blast -- the music was great, the food was incredible, and the alcohol flowed like a river during a flood. Our friends were drunk and having the time of their lives. Everyone said it was the best party they had ever been to.
When we returned from our honeymoon, we prepared to move to Washington, D.C. I was so ready to go; I just knew it was going to be the best, and I would finally get the job of my dreams. Now I was going to make it in the world.
We finally got everything from our apartments packed into the moving van. We strapped ourselves into the Jeep and started driving -- through Texas, Arkansas, Tennessee and on into Virginia. We drove for four days, just stopping for food and a night's rest. At nine o'clock at night on the fourth day, we could see the dome of the capitol. It was the fourth of July. The fireworks began to explode over the Washington Monument. We had arrived in Washington. I was going to change the world!