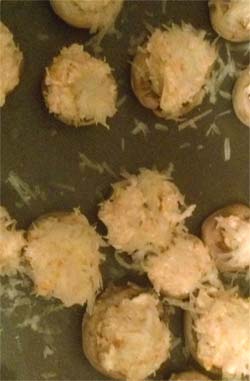 Ever since I was a kid I watched my folks entertain. It didn't matter if it was a fully fledged family event or just a small gathering of friends. At times people dropped by unexpectedly and naturally drinks and appetizers magically appeared. We ran the gamut of fancy posh nibbles to slices of salami and hunks of cheese with butter crackers. Fast forward a few decades and we had an annual holiday open house that was just that. My parents invited co-workers, family and friends to stop by for a cup of holiday cheer, desserts and appetizers. It was easier to invite everyone than for my mom to make plates and trays to deliver around the neighborhood.
My mom was slightly wrong (as we found out over the years) and the simple little open house became a rather big deal. What started out as about two dozen people popping in ended up with over two hundred the year my dad decided that little annual event needed to end. Later he replaced it with an annual Super Bowl party and the numbers never got as high.
Necessity made mom make some great appetizers on the fly as time passed. A quick and easy favorite was to slice up a linked sausage or use the small sausage links and brown them in a skillet. Once they are hot and cooked through, you add grape jelly and let it liquefy. Pour the mess into a crock pot and put toothpicks next to the dish -- they disappear. Another nosh she liked to do was a bit more time consuming, but loved -- small meatballs oven-baked with sweet and sour sauce. In the 'old' days we made both the meatballs and sauce from scratch, but big box stores like CostCo, Sams Club and Smart 'n Final made that easier.
When I lived with my folks we had a weekly event called "Five O'Clock Fridays." Outside during the summer months, we all gathered and sipped adult beverages, sodas, tea -- what have you -- while chatting. A couple neighbors joined us and it became a new tradition. My mom's neighbors are a delight and they took pleasure in finding new recipes for the appetizer portion of the evening. What started out as crackers and a cheese and fruit plate ended up with us all digging through our recipes. Mom's green olives covered in cream cheese and crushed walnuts gave way to little pastries and fancy dips.
Moving away to a warmer climate, I find many of those fun appetizers don't work most of the year. When it's ninety degrees before figuring in the heat index means cheese plates quickly become a gooey mess. So I began looking for new offerings. I found a nice taste treat I served over the 4th of July holiday. The traditional stuffed mushrooms gave way to something a bit different. Shrimp Stuffed Mushrooms called to me. Gone are the breadcrumbs and half cup of melted butter, and instead a creamy combination of shrimp and cream cheese. I made them a day ahead of time and cooked to order. The little bites of fresh grated Romano cheese on top were a nice taste variation from the usual Parmesan cheese out of a can. The recipe called for whipped cream cheese and chives but I went for the soft cheese and found the flavor to work. Enjoy.
Shrimp Stuffed Mushrooms
20 large fresh mushrooms (2 to 2 1/2 inch)
1 4 oz can shrimp, drained, rinsed and broken up
1 4 oz container whipped cream cheese with chives (I used soft kind not whipped)
1/2 tsp Worcestershire sauce
Dash garlic powder
Dash hot pepper sauce
Grated Romano Cheese
Remove stems from mushrooms. Simmer caps in boiling water for 2 minutes, drain inverted caps on paper towel and cool.
Combine shrimp, cream cheese, Worcestershire sauce, garlic powder and hot sauce. Spoon mixture into caps. Place in shallow baking pan, sprinkle with Romano cheese. Cover and chill 3 to 24 hours before serving. Uncover and bake in 400 degree oven for 15 min.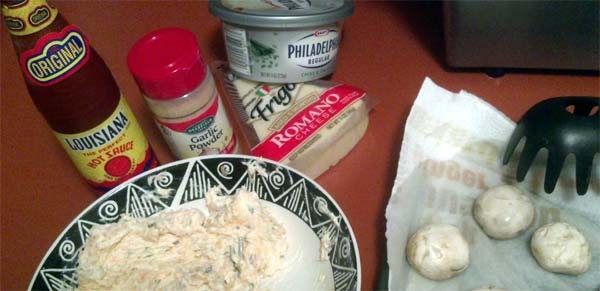 .