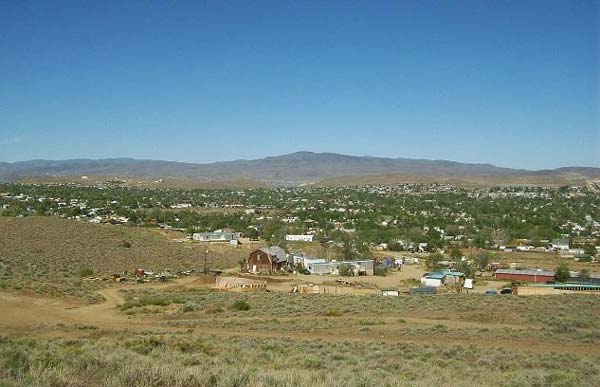 Positioned near the capital city at the base of the Sierra mountains on the western border of the state -- a perfect 20 mile bike ride to California -- Reno, Nevada, is not, to say the least, held prestigiously in public opinion. Known mainly, outside of the Johnny Cash song, as a poor man's Vegas where old defeated white men drag their unfortunate families to slop along our downtown strip of failing casinos to eventually melt into comfortable chairs under disorienting lights while playing 8-bit blackjack and drinking complementary well martinis, Reno is a harbor of depression, at least per the statistics: Reno is behind only Fresno as the drunkest American city, and Nevada as a whole is one of the most suicidal states, and partners up with Mississippi reliably as the state with the worst education. I have only one friend who I know graduated high school, and he's currently in the hospital after attempting suicide (if you sought anecdotal evidence.)
Tucked away conveniently out of view is a suburb of Reno where I grew up and still live, Sun Valley, and if you thought Reno's drunkenness, suicide, and failed education were impressive, check this tidbit out: Sun Valley is the record-holding largest trailer park in the world. Despite the new "legitimate housing" developments over the last fifteen years -- you know, homes with foundations instead of wheels -- Sun Valley is still comprised mostly of trailers, and as one would imagine, where poor people exist in excess and are trapped in small, mobile rectangles, there exists desperation, and desperation begets drugs -- methamphetamines, in particular, which are as cheap and easy to manufacture as the homes we live in and the slot machines our city depends upon.
Here's the kicker about Sun Valley: those within the city of Reno, despite the city's foundations in depravity and general classlessness, still scoff at Sun Valley, or should I say, as they do with a clever smile, "Don't you mean Scum Valley?" Sun Valley can't even catch a break from Reno, and that's saying a lot.
Sun Valley's reputation is rooted in its history: After my grandfather started putting homes out here in the mid 20th century, Sun Valley was co-opted by bike motorcycle gangs, which is evidenced by our abundance of bars and, of course, methamphetamines. Sun Valley was considered at one point a sort of no-man's land, and where the pavement on Sun Valley Boulevard gave way to dirt, the police would stop chasing the fleeing and turn around, and to be fair, even I can see the ease in which humor is created with subject matter such as Sun Valley, a suburb rooted in motorcycle gangs that caters now to methamphetamines, poor white people and as of late, Mexican immigrants. A joke that wrote itself, right?
Sun Valley Boulevard is now paved and runs straight through to our neighboring suburb, which is ironically among the the most wealthy of the entire city, Spanish Springs. The notion still remains, however, of the no-man's land in Sun Valley, which surrounds the entire area in veins of half-trekked dirt roads, rotted by the snow's run off and traversable only by trucks or depending on the urgency of the escape, any vehicle with a sacrifice-able underbody. In a house-fire last year, for example, which may or may not have been the result of a chemical explosion, driven through the sagebrush and over the boulders and brush -- scratching and banging along terribly through the brush and boulders -- was a small red Pontiac Grand Am, and from its window a man, feeling obliged I guess to explain himself, yelled only, "I've got a warrant!" as he made his way off into the mountains.
It's these mountains where I find myself on a daily basis, and it is here I experience a curious phenomenon: trash piles. Oh, where do they come from, I ask. Who is this sneaky devil leaving these piles here? On any hike through any of the foothills encapsulating Sun Valley one can find well over twenty random piles of trash and this begs the question: Who collects all of this useless garbage and decides one day, perhaps while examining their yards full of rusting car bodies, sheet metal, and greasy piles of wire, that they no longer want this garbage and need to dump it somewhere in the mountains where I walk my dog?
I can see them now, shirtless and bloodshot, standing on a wooden porch next to a metal house, "I need to clean this place up." From there they load up the bed of the truck and, after night has come, drive into the mountains where they leave, almost guaranteed, a somewhat sad mixture of baby strollers, shoes, children's toys, pornography, tires -- worn, bald, torn, and plentiful -- and red sand, the remnants of a methamphetamines cook.
But I need no convincing that these mountains and trails remain beautiful despite the garbage, despite the piles of trash dumped in the middle of the night, despite the faded VHS tapes and always tires. (Seriously, who has this many tires to get rid of?) If I ignore the trash piles, I can see the colors of spring wildflowers growing purple and yellow and peeking through the monotonous dusty brown of the desert sagebrush. Reno, with the glorious Truckee river, Lake Tahoe nearby, and the creeping green forests working their way from California through the mountains and into the city, is a peculiar mixture of the relentless forest and the friendless, lifeless -- save for jack rabbits and coyotes -- desert. I wonder why this little plot of Western expansion is so riddled with drugs and desperation when it is among the most beautiful in the country? And I wonder why the people in Sun Valley insist upon dragging their desperation out into the mountains? Are those tires in your acre lot behind your steel home really dirtying up the place?