Handling the Truth, by Beth Kephart.
If you want to write memoir, you need to set caterwauling narcissism to the side. You need to soften your stance. You need to work through the explosives -- anger, aggrandizement, injustice, misfortune, despair, fumes -- toward mercy. Real memoirists, literary memoirists, don't justify behaviors, decisions, moods. They don't ladder themselves up -- high, high, high -- so as to look down upon the rest of us. Real memoirists open themselves to self-discovery and, in the process, make themselves vulnerable -- not just to the world but also to themselves. - from Handling the Truth -
This past weekend I was blessed to be able to spend some time with Beth Kephart, a most talented writer with a beautiful heart and a yearning to teach what she knows about the writing of memoir. The workshop Beth taught at The Book Passage (a wonderful independent bookstore in Corte Madera, California in Marin County), was exactly what I thought it would be -- interactive, introspective, brimming with wisdom and the chance to play with words and memories. For a long time I longed to take a class from Beth -- and so this workshop was a dream fulfilled for me.
Beth traveled to California to promote her newest book -- Handling the Truth: On the Writing of Memoir. For those of you who have read and loved other books on writing (Stephen King's On Writing and Annie Lamott's Bird By Bird spring to mind), Beth's work is not to be missed. She was inspired by her students at the University of Pennsylvania who thrill her with their writing and sensitivity, who embolden not only themselves, but their teacher who has the privilege of teaching them.
Audacity was the wrong word; you see that now. The word, in fact, is privilege. Teaching, after all these years, is the marrow in your bones. Truth is your obsession. - from Handling the Truth -
Don't be fooled by the slimness of this book -- it is thick with knowledge and shared wisdom, plump with book recommendations, and fat with the kind of observations which I have come to expect from Beth Kephart's writing. She starts by telling the writer what memoir is not -- amongst others it is NOT: "A trumped-up, fantastical idea of what an interesting life might have been, if only. A web of lies. A smudge. A mockery of reality. There is a separate (even equal) category for such things. It goes by the name of fiction." -- and then shows us what IS memoir. Through a series of chapters which include color, tense, smell, empathy, grief, landscape ... and much, much more ... Beth Kephart teaches the interested writer how to create real memoir -- not self-absorbed autobiography, but something larger. Something that makes a difference.
What readers want is meaning. They want a story so rich, complex, thought through, and learned from that it can't, in fact, be revealed by a headline or two; it can't be satisfactorily summarized. Readers want to be able to participate. They want to discover, with the writer, those images at the edge of the frame, or over to the side, or just a tad blurred that have, as it turns out, something rich to say. Something powerful and universal. - from Handling the Truth -
Maybe you don't want to write a memoir, so you think this book is not for you. But I encourage you to read it anyway, because within its pages are truths, "aha" moments, and beautiful writing. And if you only read it to get to the appendix of book recommendations -- that is also worth your time. The research for this book was huge. Beth culls her formidable list of titles she read down to the best -- many of which I have read and loved myself.
It was hot in Marin this past weekend -- the day was heavy with sunshine, thick with an intense heat that had people rushing into shade -- but sitting in the air conditioned environment of The Book Passage, the day fell away behind me. We were a small group, each of us there for different reasons and at different points in our writing abilities. We sniffed spices, shared photos, and scribbled down bits of memory and detail in short bursts of time. We shared. And we listened. We had the opportunity to get a glimpse into a writer's soul and her passion, and reap the reward of doing so. It is not an experience I will soon forget.
Many thanks to Beth Kephart -- to her willingness to share herself so completely with others, to fly through the dark, starry nights in order to touch the lives of her readers, and for her beautiful words of which I never tire of reading. You are a treasure. And so is your latest book -- Handling the Truth.
And for the readers of my humble blog, I will give you a rating of the book, just because you have grown accustomed to that. It is a ★ ★ ★ ★ ★ read on every level. Don't wait. Go get yourself a copy.
FTC Disclosure: I received a copy of Handling the Truth from author Beth Kephart with whom I have the immense pleasure of sharing a special friendship.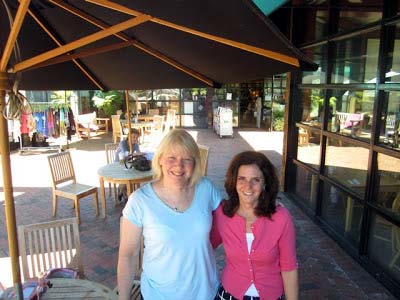 Catch all of Wendy Robard's reviews in her fabulous blog, "Caribousmom".

.