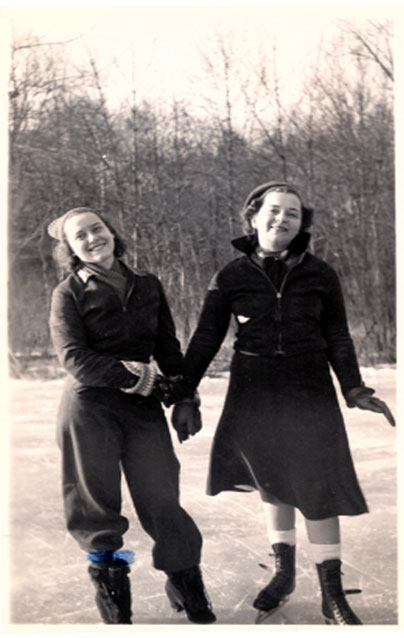 Betty's Education Interrupted:
Betty: My father went into the butter and egg business, [delivering] to New Brunswick. And Jean helped Pop with the butter. Every night. Two or three times a week, my father took me out of school to sit on the truck. Winter, summer. My father had a crank-up truck. He'd bring me lunch. Sometimes, later on, he'd let me deliver a few [orders].
Estelle: I can imagine why he took the girls. He was chauvinistic. And I think it was particularly so in the Jewish religion.
Betty: Imagine missing your classes, and then having to go back to take the test! I used to pass by the skin of my teeth. And, luckily, I graduated from the eighth grade. By that time, I was able to catch up a little, because Jack was going [to New Brunswick with Sam]. They complained in the school, and they called my parents in. And then, they took Jack, instead of me. I was an average student. And Jack wasn't as good as me. And Jean was a poor student. She quit in the lower grades.
At first, my mother seems proud of having been asked to help her father with the deliveries. But after Estelle's comment, as so often, she changes her tune, deferring to the opinion of her clever younger sister.
A Brief Life of Sandy (Sam), The Youngest Child:
Estelle: Sandy and I were in the same class. He was a year younger, but because of our birthdays ... up until the third grade. Then, Miss Applegate, our teacher, she was so annoyed -- he was the class clown -- that she left him back. And when you think back, he was a very bright child. To be left back because he was amusing the class sounds pretty archaic.
Sandy's life was dogged by misfortune. The cause seems to have been a mixture of softheaded-ness and bad luck. After being jilted by a beauty as a young adult in the Bronx (so the story goes), he moved to Texas. Sandy was a pharmacist, by profession. In Texas, he later told me, he was swindled by a partner, and lost his business. He also married a southern girl, not Jewish. Dying of a heart attack in, I think, his fifties, he was buried in her family cemetery, someplace in Louisiana.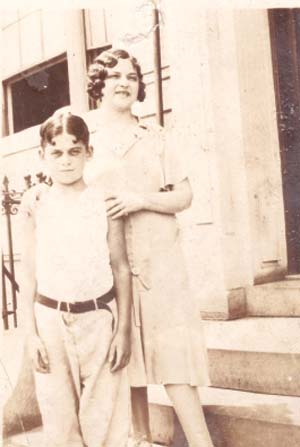 Betty and Her Brother Sam (Sandy), date unknown.
Our family was always bitterly divided about whether to accept Sandy's, and other, "mixed" marriages. To my father's credit -- at least, in my eyes -- he never questioned these marriages. But the Singers were a pack of atheists, both the anarchist and socialist varieties.
THE DEATH OF THE FIRST-BORN:
As for Sam and Bessie's oldest son, (also) Harry, a promising start in life ended in horror. He married a Canadian first cousin, and after a daughter (Ann) was born with a congenital illness, he turned the gas on, killing her and his wife. What happened after that diverges in family accounts, but they all include Harry's own early death. He may have suffered from what is now called bi-polar disorder, the disease that afflicted my sister.
BETTY AND ESTELLE BEGIN TO SPREAD THEIR WINGS:
Betty: I was about fourteen. I got out of school, and instead of going to high school, he [Sam] took me to take up Beauty Culture in New Brunswick. [Sam suggested a trade because the other option was for his daughter to work in a factory.] So I took up the course, and I did pretty well. And then I went to New Brunswick by bus for a few weekends, and I got a few jobs.
A few years later, to make more money (and probably to become more independent), my mother moved to New York. Once she had a job and an apartment, she began to help three of her siblings -- Jean, Jack and Estelle -- as they also tried to make their way in Gotham.
Estelle Follows Her Big Sister:
Estelle: I didn't see any prospects for me in Jamesburg. It was dead. So, in my junior year, I decided to come to New York and stay with you. I registered at the George Washington High School. And the only way I could go to that school -- because geographically Betty wasn't living in the right area -- I was able to give my uncle's address as my home. We had the same name, so it was okay. He was living on 33 Riverside Drive.
Betty: When did you take up Beauty Culture?
Estelle: I took up Beauty Culture ... while I was living in New York with you and going to George Washington High School.
Betty: Where did you take it?
Estelle: White Academy, on 42nd Street.
Betty: So I sent her to Beauty School. At least, she had a trade.
Estelle Completes Her Education (1):
Estelle: So I stayed in George Washington High for the whole of my junior year and six months of my senior year. My grades were very good. However, I had no Regents credits. And you know, New York State requires Regents, whereas New Jersey doesn't. To get Regents credits, I would have to review courses I was already finished with, like Algebra. So I went back to Jamesburg. By that time, my family had moved from the Possum Hollow house to an apartment on Hooker Street, where the bowling alley was. By that time, he was not doing the butter and egg business. It was the Depression. So he opened a[nother] luncheonette.
Betty: They didn't need a big house, anymore.
Hooker Street:
Sam owned the Hooker Street building. In addition to the bowling alley on the ground floor, and a big room rented out for dances, and such, there was the apartment, upstairs. This was the last dwelling where any of the children lived. It was from here that Estelle left, to join Betty in New York, and where she returned, to finish high school. After Hooker Street, Bessie and Sam moved to the Bronx for a few years, where Sam owned a food store. After that, the old couple moved back to Jamesburg, exact location unknown.
The Hooker Street building, with a large wooded lot behind it, became "the family property we're always talking about"-- possibly the property Grandpa lost during the Depression, possibly because his rich brother, whom we called "Uncle," would not, or could not, lend him money to meet the mortgage payments. Possibly, too, Uncle still owed Sam money for helping him get to the U.S. Like many such stories, this one seems incapable of verification. (My cousins claimed never to have heard it, until I told it to them,) More certain is that, on both sides of my family, most roads lead back to the Depression.
Estelle Completes Her Education (2):
Estelle: The Principal reviewed my courses and my marks, and said, "You could graduate with your class." In fact, I was taking three languages, French, Spanish, and English. I have a funny report card from my last year. All A's and A+'s, but no Math or Science. Then, I went back to New York.
Estelle's ardor for education descended diagonally to me. However, with a Ph.D. in Renaissance English, and eight books under my belt, it would be disingenuous not to note once again the influence of my father's people. Although, in those days, thwarted education ran on both sides of my family, the Singers overcame more obstacles than did the Kaufmans. The former were widely read leftist intellectuals, whereas the latter tended to stick to the one Good Book -- the Bible -- and, even more narrowly, the Pentateuch, or Torah -- i.e., the first five, so-called Mosaic, books of the Old Testament.