Fourteenth Poem
(Shovel)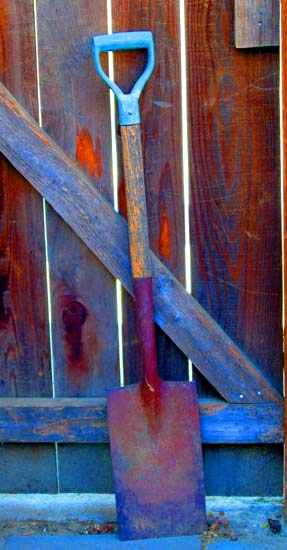 Dig deep into your subconscious mind.
Lose yourself in the daily grind of push and shove poverty and the public humiliation going along with it.
Always keep in mind celebrities are not your friend and that Twitter will bite you in the ass every time.

Go out on a limb only when you're prepared to hit the ground like a Squidfish hopped up on horse tranquilizers and vacated dreams.
Go forth and prosper only when you've run out of condoms and everything on your shopping list is affordable or at least can be bought with food stamps.
Go down to the corner saloon and show those good for nothings just what a real bottom feeder looks and smells like when they've been thrown out of Mississippi and the next stop is the city morgue.

I'll never forget the last time I believed in myself. I was an inch taller and still believed in taking showers more than once a month.
I'll never forgive myself for all the hard knocks I perpetuated against myself and how I enjoyed the self-persecution and bowl of soup that went along with it.
I'll never forgive you for turning me onto religion and then turning out to be one more false prophet with a head full of empty ideas and a heart as cold as the Antarctic.