Literature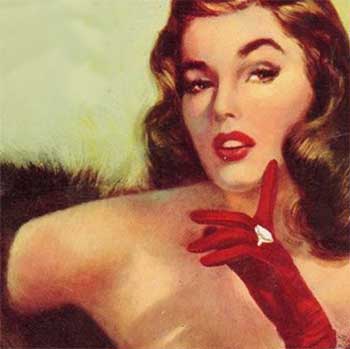 Anytime anyone anywhere
mentions great books
I think about my Uncle Dom,
his crutches and braces,
his throne-like chair padded
with strips and lumps of Styrofoam
padded around his humped,
twisted by polio, back
and the wall to wall bookcase
that towered behind him.
The top shelves were lined
with hard-spined volumes
of Hemingway and Steinbeck,
He'd grab his nearest crutch,
maneuver it like a deli clerk
and pry, slide one from its slot,
drop it into my open arms
to read by next weekend.

But mostly I remember the paperbacks,
thirty-five cents each and tucked
in the bottom left hand corner
with big breasted women spread
across the covers and the first time
I jerked off. I was eleven and a half
and Lust League was my favorite.
Hank Crimson played center field,
hit clean-up for the Mississippi Hens
while I leaned against the couch
with my legs stretched across
the carpet and my dungarees
unzipped. In odd chapters, Hank
pounded game winning doubles
into the gap or made perfect pegs
to nail sliding runners at the plate.
In the even ones, road trips ended
with Hank and the star attraction
of some strip club humping loudly
in the bathroom stall or Hank opening
his motel room door to find
the team owner's wife and virgin
daughter lying in his bed naked.

It wasn't too long before I walked
down stairs to the dimly lit basement
of my first girl-boy party, stood
in a circle watching a bottle spin
and took my first steps to maybe
someday getting laid and met
Regina Rowland in the middle.
I never thought about my uncle
sitting in his chair and reading,
watching all the girls walk beneath
his window in thin summer skirts
and tube tops. I never wondered
if he ever kissed a girl, felt her
mouth all over his tensed body,
sat back as she mounted him,
slid up and down until he shut
his eyes tight, made some kind
of wounded animal sound.

Me and my uncle never talked
about things like that. He died
before I wrote anything
I wasn't afraid to show people
and he never knew that I wanted
to write words that move people
like The Grapes Of Wrath and Lust
League, words that would open
eyes wide, make you try
to go out and change the world,
make a quiet man take his hand,
his limp fingers and open his pants,
touch himself until he feels
like he was making love to,
fucking, the trashiest, most
beautiful woman in the world.



First published in THE LAST LIE