Under the Caldera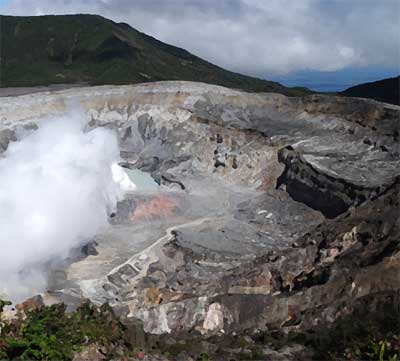 We enter nature, refugees from society's whirl,
to aerate our hopes and fears
in the shadow of a mount set to eruct
at a moment's notice, if we're lucky.
Peons with palms caked in humus
moil in a cento of greens and browns below
while we spiral up scree and lava volutes,
the air redolent of roasted shoat and manure.

As questers we attain altitude steadily
en route to the lofty crest of success,
with every step leaving far behind
niggling concerns and gnawing doubts,
the narrowed world making ogres of trifles;
instead we attune to gentle wind melodies,
a lambent scherzo easing our limbs
and encouraging our aims.

The incline tapers towards the summit
and soon we peer into the cuplike vent
of steam and ashes, effluent orifice
of the good earth. Gaining the peak,
we crown ourselves with weed chaplets
and chuckle, footsore and sweating,
subject to light and distant vistas of ocean,
grateful for intimacy even amid
wide open spaces, knowing that
love, like light, is its own dividend.