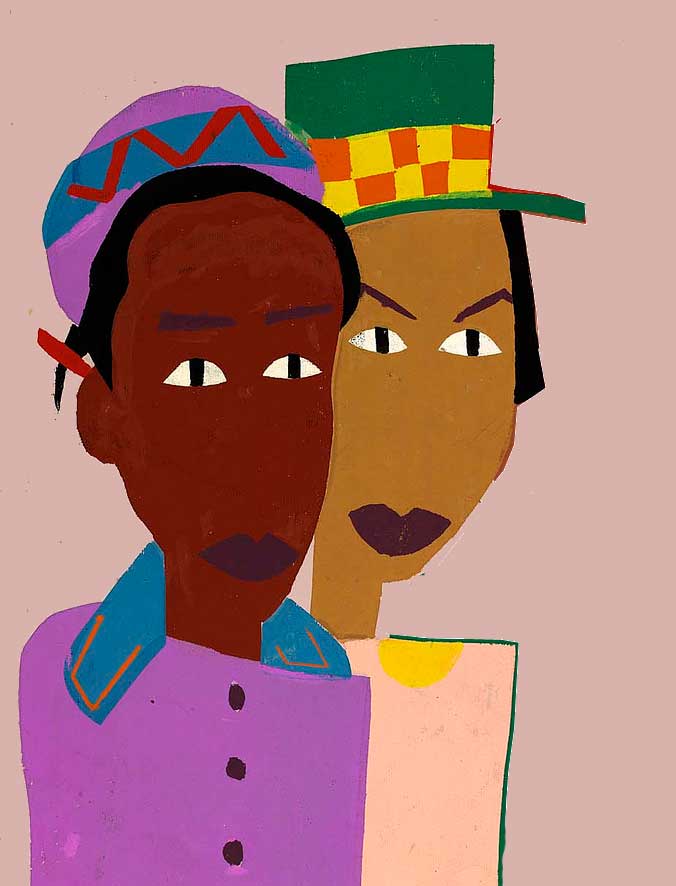 You Are Going to Do Bad Things to Children

Chapters and Parts of a Young Girl's Life, Part One
Go fishing somewhere else this is my territory. In her eyes (the paper tiger empress) I can see the origins of smoke and mirrors and they feed the skeletons, the bears, beasts, the monsters, the life drawings of monkeys of my imagination. Under the bed, hiding in the closet. Driftwood. Beautiful sea-things rich with ancient life. Behold an artefact, a lost relic, an omen, the red lines of a signal, a warning of the odd immortal distance of growing older. Does she, will she remember the old me, mummy? The mad love of the beet king and queen sitting on their earth-thrones and how their progeny grew making the right life choices going to university, sitting in libraries studying, in pursuit of Ophelia, Julia, a second mother, a hairdresser. I remember now nothing of the old me. Up in flames volcano people turned into stone. The London experiences off daddy, Sylvia Plath and Ted Hughes all led to depression. Why didn't you love me mum? Squalor in circles of water my tangled obsession. The first beat is the heartbeat. Look at me. I am wearing my painted smile. It is not in me to talk to children. Perhaps infertility can do that to you. The sea is wild. It is my sea. The coast murmurs and then it roars. It is a dark green hole, filled with stupid schools of swimming fish a vortex in flux. Piggy lungs, piggy lair, piggy snout, piggy hands, piggy face, God's stomach for the impressions of the candidates of the grotesque splinters off into asylum pieces at the expense of my soul. Stars are in majority. I have left childhood behind in the bedrooms of hotels in Johannesburg. Siven sounds like silver. My pitch in front of the panel was both a rite of passage and eternally useless. Laughter joining voices. 'Start again please.' Said the bald-headed European producer. 'I don't understand the meaning of the title of your short film. I can't even pronounce it.' I felt stillborn. This unique shell found herself next to a cemetery but where was the sunshine, the flowers to pay my respects. It was all just a rehearsal for a speech and drama-addict. Wacky oracle. Giants, ogres, skeletons in the closet. The eyes of a child staring hypo-manically into the eyes of a man. The destination for every drowning girl was a dream-world of being the perfect wife in the perfect life but what inspired who and what first. In the end who persists and who wins? Home was Nelson Mandela Bay where her mother cleaned out the fridge and I ate pizza. Bipolar, gifted, creative genius, creative, inspirational, manic depression, overtly determined, and the moodswings. The economics, the symmetry were never going to be completely erased or diminished, wonderfully evaporated or curated, moon-skilled, sun-worshipped from my life. For all my life I would always have two heads, two lives, two mother-tongues, two mothers. All I needed was a sober, illumined mummy to find my way, my anxious mouth was sealed shut, the obscene child within the promiscuous adult-woman ruined by twenty-two by two men. Powerful, trim, multiplying the sacrificial lines of illness, their vision of the world was not my vision of the world yet, they sabotaged me, they destroyed me, they pumped me full of cuddling, illegal laughter, helped me at first, grounded me numb and nothing felt sweeter than solitude, than futility, than standing. They peeled a wilderness from the roots of my flesh, harvested the cells in my blood, and the self-portrait of my skin, and the soap was slippery in my hands while inside I was screaming. They were old and I was young. A blue death was coming for me. I could not alter blown failure, the sea's roots tangled with Noah's ark. And the logic of fisherman's boats, and I continued to bloom in interiors. Breath, friendliness, a drink or two, the coldness of my childhood continued into adulthood, choosing one man after the next with chronic disbelief (I was a dead one at twenty-one), a comment, serious conversation and then we would gravitate to the backseat of his car, or a room in a hotel and there was a hunger within me that I was beginning to grow wise. I needed grass, leaves, trees, I needed home's confectionary. I needed Whitman. The cat, the dogs, it was lovelier there, purer, there were no gaps that I needed to mourn, that distracted me, that lacerated my heart. I did not learn to smoke in Johannesburg. Life is like that. I just felt strangled and psychologist after psychologist could not explain this away. And now I am changing. My physical body is changing. I am growing older and the intimacy I once shared with one man, two men is dead. Perhaps I was the killer in the end, the wise, wise expert of all these disciples and followers. I have my spade, I have my map, mapping out the embrace, his smell, a pause, the smile and all I felt was heat, a glow, a cool, hard rhythm but he was different from the others. Liberal. Pretty. Her voice was loud and soft. Then soft and loud. Mummy was like far-off places like Madagascar, Zanzibar, Mauritius, and Brazil out of place in this small town, exotic, she drifted. I drifted from one man's arms to the next. Promiscuous in my early twenties. And with each man something within me died. My stammering, beating heart could not take it anymore. The telephone would ring and ring and ring and he would be back in my life. Black silent men with eyes the colour of hills, beards the colour of white snow and dressing gowns the colour of cells found in fingers. They were my free gifts. My petals. My magical arrival of love that exhausted me, drained accomplished me, making love to them felt as if I was finally clean of all that childhood-dirt and trauma, childhood-din. For each one I was an untouched virgin, clever with my small bottles of honey, Sylvia Plath's magician's girl and after the lovemaking I was always cold, untying the dangerous for export. He would rub my back, touch my hair and I would feel small and angry. Wash my face in the basin of the hotel. Worms in my bones, a model, a villager and in the evening I would drink in the colour of wine the colour of a bloody sunset. In the morning I would drink my tea or my coffee with the ring, the vampire of the sun lurking. They all bore swastikas those SS men in the workplace. I had no protection against their weapons, their blood clots, the butcher's operation, my barren body that had no love walking about for over a ghastly thirty years. Off to Belsen with you mother-dear. Where are all my ancestresses? In my twenties I became a midsummer woman in a museum of office spaces in pencil skirts, in a crisp white shirt and stockings and heels with perfumed pineapple hair. Once upon a time I was a girl wearing frangipani blossoms in my hair working alongside men who preferred to live in igloos (which meant that they just preferred to live and work by themselves and eat vegetarian mostly spaghetti) These types of men do not exist all over Southern Africa. They have their year of meat. They go on the grandeur of a safari. They go a-hunting continually. In a station in Johannesburg is where I found myself. In a swimming pool in racist South Africa. In the house of my mother where there were worldly images of lake mornings, hallucinations, psychosis, albums and always the meeting of strangers. Hiroshima is now gilded in history. These are lines for poetry, illness. It's become an anthem for the wreck that I have become, my autobiography, the death of the blue stuff. Melons on the land were like my clouds. Ripe, sweet melons were my silver linings. Roughly where and when did my twenties go? Hospitals and recovery periods from suicidal depression, or they would call it clinical depression when in fact it was a mood disorder. I don't want to be mad I want what I say and when I say it to be profound. Swimming is easy, familiar. Whispering, flickering up in flames volcano people turning into stone. I am one of them. My hands wizened, brown like my paternal grandmother's hands. Avocado sandwiches Avocados in my suitcase on the bus, on the train. Avocados for life for a girl. They disturb nobody. I am on my way home to a mother who does not understand mental illness. I am alone. Etching, conjuring poetry. Some of it terrifying, disturbing, some of it pure, some of its flesh grinding frantically against dendrites and blood platelets, some of it difficult messages that come to me in a dream-sequence, some of it sweating scents like the inside of a pocket or the lining of a jacket. Some of it apologetic, a winter guest, the suffering living and the dead, some of it to compensate, and some of it like trumpets that grow and grow. When I say I'm crazy I mean it. The first memories of madness came from childhood-trauma. A cold, elegant mother who preferred her son to her daughters. I was an abandoned, neglected bundle. There is no comfort in carrion. Vultures in the rain. My fingers are in the door, the leveller. Digging, digging, I am constantly digging. But ultimate this dilemma is washed out, dust. After leaving Mr. Muirhead I used to be promiscuous crossing genders effortlessly. What is your twenties for if not to experiment, to be tireless when it comes to love, floating amongst passengers, veiled, silence, the object, the sexual object and so I perched, I constructed built walls around my love affairs, affairs of the heart, wrote letters to my lovers, burnt my diaries, waving, smiling. One day they will put my ungrinning corpse into the ground and there will be nothing left of me. Mummy's-claws, her shark teeth, she is a tree, a miniature young tree, ants rattling up and down the branches of the tree. She has made me out to be a coward, melting, thinning in the gutter. My brain is blunt, a sharpened wreck, and an unbelievable possession of originality, gravity and identity. The survival-kit of sugary, sugar-lipped Gerda, of mummy crossing squalor, and a midsummer love effortlessly, fertility, honeymooning in a hotel, planting roots and roots planting stems and roses growing out of the pit of the ground, the earth, God's-soil, watching, clenching the overgrown green feast in the cool paradise of her garden. The old me was a burnt out and ugly granadilla me, under-nourished, miserable, not good company for anyone, promiscuous, aroused by stories, swept away by despair of the underlying themes of infertility and a childhood continued into adulthood. I don't know why I don't dream anymore and when I do there are usually monsters in the closet or they're hiding under the bed. I can feel crazy coming on. To feel so left out is not a curiosity, what I mean to say is it shouldn't feel like such a curiosity anymore. I despise her. I love her. To love her is madness, a skeleton that has come to life from the holocaust that is searching for family, for loved ones long dead and buried, the woman who carried me in her womb for nine months and then could not bring me back to life. A man's voice was a human voice, thunder, thick and brutal, while mine was inhuman, secretive and quiet. I was a lizard. The most natural animal in the world for a poet to be. What do you see when you look at me. The burning woman and the children she will never have. The forgotten creatures of day and angels of lightning and thunder of night. Those half-remembered images of the laughing carcass and other stories from childhood that sang songs of trauma. There are assignments and case studies for women who are still afraid of the shine, the glare, the illumination of angelic and worldly material earth, supernova writing, and transformational-games. What terrible dreams I have. When incoherence and disorientation just got the better of me so did the killing of the earth, this world, and this reality, I wander from room to room in my childhood home in torment carrying an atlas, carrying volumes of thin books. This is my brilliant education. I must improvise habits. I think of my ocean, my wild, wild sea. Ingrid Jonker's sea. I see the sea as she must have seen it for the last time. Survival. Did she see black butterflies in her survival? What will I find in Pandora's Box? A million men who have gone to war and died. A million more women who have never forgot that place of weeping. I wake up but I am still dreaming. I am in my childhood home. And in my dream his body is a quiet body in my childhood bedroom. I feel atomic. A golden bolt dripping, blazing, dazzling knowing that the dubious world is not my home. Heaven has not known of a greater love, has not wished for the cloth of rain pouring down, injustice, bitterness, Lazarus, clinics, Valkenburg where Ingrid Jonker's mother died, unknown lines from the inside of a poet's sonnet, and the retaliation of proof of our existence, of human rights and social cohesion. I have a secret to tell you. Do suicides really cast death out? Did Virginia Woolf, did Sylvia Plath, her rival Assia Wevill taking her daughter Shura Wevill with her. One with rocks in her pockets as she walked towards a lake, Sydney Clouts 'death's gate' and the others with gas. Hemingway with a shotgun. Could Sylvia Plath be the most famous person, most famous poet in the world to take her own life? Sylvia Plath, the black peacock. The last thing she ever did was look for stamps in a disorientated mood but the neighbour did not call for the doctor. Just yesterday, today and tomorrow the images of death in her poetry will stay forever in this world, not only a world of death, but also a world of life, a world filled with public souls, personas, bulldozed codes, the stink of smoke, the of photographs of blood-clotting, confusion over whether to live or to die or to call for the doctor, to take the anti-depressants she was prescribed. Ann Quin the experimental writer who swam out into the waters of Brighton beach never to be seen again. Jane Kenyon struggled with depression too. Were they all unafraid? The sky rises, rises, rises. Sharp, burning and blue and bright and striking light in all corners of the world. It is like the discovery of faith all over again. A child's faith. A child's logic. 'Don't look. Don't look.' Said Joyce Carol Oates in a fine poem with simple words and mysterious, grim lines. Blood and ochre did chase the tigers away. They drained it from me. Here see my gorgeous wrists, I built bridges with my hands and realised that perhaps not every voyage in my life was a catastrophe. Childhood was hell. Adolescence more so as I grew more and more competitive, more and more confident, accomplished. After winter's gorgeous ice, crucial moisture and a sweetheart of nothings seeped into me and my suffering that has always seemed perpetual in my inner child's life I discovered Shakespeare's Lady Macbeth and Sylvia Plath's Lady Lazarus. There's a slippery emptiness in both yet, yet also something crooked, fluid night work. You see it was then that I saw my real enemy's face. Perhaps it had the likeness of my mother's, my sister's or all women for that matter. Plucked, moving forward, the interpretation of untranslated language, reading can be a secretive pastime, happenings remembered, happenings forgotten, sounds spied upon, people become monsters or birds, larks, Ted Hughes's wrens, owls touching a living world filled with sleep, wind, syllables, vowels, consonants, gestures. Think of love as this. The imaginative before it is lost. The sea is within me. Ingrid's sea is within me. Wherever her soul goes, and her spirit follows I go, I move, I make preparations for images. She is and always will be an iron rose. Men and women when they make love there is an intimacy there. What happens to the feminist, the misogynist, the narcissistic individual's intuition? I think they all die excruciating deaths. If there is self-pity then there is self-pity only on one side. The sheets will smell. Almost as if something is tarnished. And then everything becomes dark. Perhaps even the image of silence. It will become shrivelled, broken although its existence will still remain eternal, otherworldly. The idea of silence will remain in the mind of the woman enclosed like a parcel tied with string. And throughout the night she will untie and tie the string again and again and again. She will think that there is some reality to this string, that it will give her courage if she feels deep pain that now she is 'easy' and she will never be loved again. She will feel as if she can never be mysterious to this man who is lying next to her again. She will feel as if a brightness has gone out of her. This impulse will not die in her. There is nothing savage about love but there can be about lovemaking. This is the domain of thorns, of roses, of Jean Rhys's wild Sargasso Sea, splendid books, the jittery virgin who knows that there is no turning back now (she knows she must suffer bravely now, put on her bravest face, and that this night-time tension will soon pass as she must turn from girl into woman). And in the end there was no mother to embrace me, to read stories to me, to offer me advice about my poetry. There were no companions' only sleeping tablets in a tumbler of water. There were only English teachers and the dream-catcher Salinger. I hate people. I really do. None of them are real, made of substance, a balance mechanism. Most adult men are alcoholics or addicts of some kind and their women and offspring follow in their footsteps. Most of their thoughts are unholy. They want and want from a material world who gives only to those who work hard and are committed. They write love poems to each other as if they understand what the meaning of that word is. Men are always resolved to drifting while women nurture. And if their children are disasters in the end they do not blame themselves. Somebody must be to blame but not them. Adults are pure. It's impossible for them to do wrong in the eyes of their own children or the law or society. They blame society, the taking of barbiturates, their children's friends, and teachers and that is why I will never understand humanity, I will never get to grips with the insensitivity, the brutality of man against man, crime and murder and rape.
And now I feel I have to write about myself in the third person. Abigail becomes imprisoned by 'she,' and 'her.' I felt I could finally identify with Bernice Rubens, Ann Quin, and Anna Kavan, Sylvia Plath, Anne Sexton, Robert Lowell, Bessie Head and Ingrid Jonker. I too had become the elected candidate now. Edison's medicine. Lithium therapy. Cognitive therapy. Mono Amine Oxidase Inhibitors. Anti-depressants for intelligent people who were too imaginative, too intelligent for their own good. I lost my voice like so many of the 'creatures' at the hospital. What is this vagueness? It's all coming back to me now and I don't want it to. It's going on a rampage inside my head. This room in this ward in this hospital is loathsome. I am loathsome. Every day a wave of psychology. It is like hitting my head against a brick wall, a chemistry textbook, the Periodic Table. She did not feel emancipated or liberated in any way. She felt that there was a seismic-scarcity of something. There were threads that were not communicating in any way, behaving as a catalyst all she felt was a vicious and menacing mentality towards everyone around her. The nurses, the doctors, the patients, and the flowers. Traumatic experiences that children have to undergo, shock, terror, intricate victimisation. Gangs still going on a rampage with sticks and knives, guns in the air. Shots ringing out like church bells ringing. Half-in-pain, half-vacant she will lie there the girl until the early hours of the morning tying and untying this string. The man who lies beside her his flesh is sated will probably give her some money in the morning, put her into a taxi, give her enough so she can buy herself a coffee or some breakfast in a restaurant. She will still be plunged into a pit of ice. Frozen, naked she will feel nothing but humiliation, as if she is a 'loose girl'. She will blame him. He will blame her youth, her inexperience. There had been a flicker of acknowledgement between both of them when they had first met. And she hurried, and he hurried to their secret rendezvous. A hotel in the seedier part of town. They both rushed. The room was clean. The sheets were white spread out like wide moonlight. She nervous, hands writhing, in a panic was wondering what to do when she discovered that she had nothing to do really. She was not the one who was in control of the situation. She was mute, carrion and he was a bird, the vulture. Hurrying and peaceful, was what she thought of him before. Now she just felt suffocated, alone, lost, a stranger. And she remembered her appendix scar and her birthmarks and she no longer felt shimmering or glamorous. He looked different. He looked much older. And suddenly she was very frightened. She felt untouchable but knew that he was holding out his hand to her and there was no turning back now. So she decided that she would feign indifference. She could not speak. He didn't say anything either. She could smell the alcohol on his breath still. He offered her a cigarette but she shook her head, said she didn't smoke. And now in the moonlight she was the victim. This was not love. She could see now it would just be another traumatic experience that she would never find closure to. She could see her domineering mother's eyes in his eyes. In a man's eyes! Now wasn't that strange. As if she was committing incest. Her face went all blank. It was as if her body was made out of glass. Precious glass or precious stone. Tiger's eye. It had to be if she had to live through this. She detached herself from the lovemaking (which made her feel damaged, haunted, she felt banished from her body, guilty). There was no bond between them like there had never been a bond between 'her' and her mother. The world is a sad place filled with wrong people who think they are right all the time. There're also people, interesting and peaceful people who do not know or understand how to communicate that perhaps they are not right all the time. Human beings are hunters. We are gatherers. We are nurturers. Stunned at our own vitality, and then the transition from youth to becoming elderly. What is magic really? Childbirth, a birth pang, and hallucinatory illusion, languishing with a book? Can you smell that? Its territory, borders without words to mark them. And when the suicidal illness left me so did the promiscuity. It left permanently. I did not find it strange that men did not look at me anymore with desire. It had just been an accidental offering, and an-experimental-passage-of-sorts. I watch her. I watch her. Tell my brother and sister to look out of the other car window. I think they are playing some game. I think that they think this is a game. They're too young to understand. My mother is on a mission. She is looking for my father. She thinks he is having an affair. She confronts him in the parking lot. He says nothing. It is not as if he does not know where to look but I know that it is not true. Not papa. Not my father. She is screaming at him now. I don't know whether people are looking now, looking at the two of them, at this scene being played out in front of their eyes or looking away. I destroy my childhood diary when we get home. I am a child. I am wounded now for life. I don't know what to do. So this is what I do. I tear page by page out. I scratch out paragraphs. You don't understand how much I loved this book, this journal, but I don't understand yet how to express my feelings, my imagination. My father gave me this book. Every year he has given me a diary in January. 'This is yours. This is your journal.' And I smile up at him, and with this book in my hands I can write anything I want. Who do I believe? I am my father's daughter. I look like him. I don't look anything like her, my mother. I know she hates me. Perhaps they will separate. Perhaps they will get a divorce. They drive home in separate cars. I am numb, struck dumb. I say nothing. My mother is driving too fast. It is unlike her. Her dress is above her knees. Is this what love is? Human nature is human nature. 'Daddy,' I say later. 'I don't think she's your soul mate. I don't think you're meant for each other.' But he says nothing, he just winks. Sexual intercourse, that transaction, lovemaking for me was always dirty. I wanted to remain a virgin forever, pure. I wanted to be a nun. I knew I had to be punished from an early age, make sacrifices, always wear black, and kneel when I had to pray but I was not Catholic. But my mother put that idea straight out of my head. She told me that there were no nuns anymore and then I wanted to be a priest but everybody knows how corrupt church leaders are. I knew that I felt damaged, bereft, and lonely even as a child so I found comfort in books. Even when I grew older and watched films where girls would remove their articles of clothing watched by an aroused older man I would feel nothing. Absolutely nothing. Maybe it came from childhood. The orgasm in both the male and the female disgusted me. Maybe it stemmed from the fact that I hated my mother who I thought had been so wrong, so incompatible with my father (whatever had they spoken about when he wooed her I certainly do not know. He was cultured and educated, he had a degree and she could type thirty-five words a minute and she had a diploma) but I loved my father and worshipped him. And for all my life I have wanted a perfect love and not a physical love. All my life I have wanted to be protected from all of life's storms, other women, younger women, girls, I wanted to be given a sanctuary to write and as an adult I would watch the flickering images of pornography silently screaming with laughter inside. So this is what men and women would do to conceive children, their bright angels, and heirs to thrones of addiction, substance abuse and domestic violence. There would be little or no dialogue. I would get either insanely jealous of their stupid voices even though I knew every little thing from the props to the bed was fake. Why couldn't I do that? What was so wrong with me? After all they were merely actors acting, doing what they were told to do, posed, directed, and projecting. I was bored with it all and wondered where my head was. Of love and sex I knew absolutely nothing at all. It bored me but not the love story, not the loss, the reject or rejection, the lover male or female leaving. Little slut, little whore, those weren't words that bored me, that bothered me. And as I grew up the girl in me died when my mother told me what happens in this house, what is said in this house stays in the house. I came of age very quickly. Abuse will do that to you. Abuse at the hands of your mother, aunts (her sisters, her sister-in-law) the Johannesburg people, bullies on the playground, arrogant male teachers, and your first boyfriend when you are away from home, ten years older than you. Did he force me to do things I did not want to do? It hurt. They say it always does the first time round. I wrote him letters but I was not in love with him. The image I had of my parents watching two naked girls swimming, kissing with tongue, feeling each other as they come out of the water, touching each other, touching each other up and down, caressing their arms, their bodies. They sunbathed nude. It was the first time I had seen breasts, the voluptuousness of a woman's figure and full frontal nudity. And something inside of me, a little voice said that my future life as a daughter who loved both her mother and father and a future life as wife, lover and mother had not only been sabotaged but ultimately destroyed forever. I was just a child who should have been asleep in bed dreaming. Attempted suicide is done with both eyes shut. This is not my time. No tunnel of white light. Sylvia Plath and Anne Sexton. The confessional poets. Sylvia, Abigail the exhilarated crazies. Look at me. The South African horror story. A landscape made of bars at the window, psychiatrists, and psychologists. The nervous breakdown, bipolar, mental illness, crazy, insane, lunacy is not written on the body unless you tattoo it on your arm with a razor blade or cutting. You can be the perfect child but can your mother perfectly love you in a flawed world, in her flawed world. She did not want me with my effortless merits, my stage plays and rehearsals, my stories, oh no, she especially did not want to read my stories. 'Leave it next to my bed.' She said. 'I'll read it before I fall asleep.' And I did but she had more important work to do. Shower, dress, make breakfasts, and go to work. 'Oh, I'll read it later.' She said whenever I confronted her about it. She was doing even much more important work then. Watching her soap opera with her stockinged feet up on the sofa chair, her heels next to it with her eyes half-closed, dreamy, Hitler but without the moustache and the wall of tyranny. 'Kiss me.' She demanded from my asthmatic brother wearing his cowboy hat pulling his wagon around the family room. And I made endless cups of tea. And as I made each cup my heart would fill with hope that she would say, 'My clever girl. You're growing up so fast.' But of course she never did. We were scavengers. We ate what we could find in the kitchen and if daddy wasn't pensive he would go out and buy us something to eat for supper. My father would cry a lot and I would put my arm around his shoulder, barely reach it though and ask him, 'Do you want to talk about it?' but that just made him cry harder and it was even more difficult to make him stop. I was always near the top of my class but there were issues, damages. They were always fighting. 'Good night mummy. Sleep tight. Sweet dreams. I love you.' No answer in return and it bounces off walls. I am turning thirty-five bordering on thirty-six. It will be my birthday in two months. Valium nearby (always close), Letters to a Young Poet by Rainer Maria Rilke next to my bed, Poems by Sylvia Plath Chosen by Carol Ann Duffy, Poet Laureate. Childlike in an adult world. The only world in which I belong is media, that and the local Olympic-sized swimming pool. Clogged in a caged childhood continued, sentences slaughtered by laughter, coughing, a closeted collection of books (textbooks, poetry and short story anthologies, a string of J.M. Coetzee's books line a shelf, The Childhood of Jesus the latest), blackness, traffic fills the inside of me that was always the exchange. I can only fall asleep with a handful of sleeping pills. I take long naps in the afternoon and wake up in near-darkness. Pills. Pills. Pills. Pax. Epilizine. Eltroxin. Melatonin. Zopiclone. Ativan. I have no inclination to go to Paris. Rilke hated it there but on the other hand Hemingway seemed to have taken to it like water off a duck's back. Anyway I suffer from vertigo. Mostly people go to Paris because it is romantic. Isn't the Eiffel tower romantic? You won't get me up there. I am a hypochondriac and become anxious as hell when I am introduced to novel people and places. It terrifies me. What a laugh? Did she clap? Was she clapping? Is she proud of the fact that I am a storyteller and a poet, not a politician, not a politician's wife or anybody's wife for that matter and not the playwright or documentary filmmaker I wanted to be in high school? When she took her seat in the theatre was she proud, was she beaming from ear to ear like the Cheshire cat. Depression is boring. But I'm used to it now. Every six months I'm shipped off for a week or so to a hospital to recover from psychosis, hallucinations. What a trip for my ego? I can't sleep. I can't eat. My sister never comes to visit. She doesn't live here in this country, in this hellhole anymore. She lives in Johannesburg. My glory days are over. I'm afraid they've gone kaput just like all the men in my life. The only thing that's ever stayed put is my stream-of-consciousness writing, my journaling and my armchair travelling and the people that I love the most in the world dying on me when I least expect it and leaving me alone to now dance with the brave, swim with the fishes, eat slippery sardines on toast that taste like salt and light. The rooms are airy in the house. I have to remember to breathe in when I come home from the hospital. There's not much they can do for me there but wait for the hallucinations, the psychosis to pass but the insomnia stays with me, winter's bone to carry me home. I'm a claustrophobe in the occupational room. They leave me alone to make collages out of colourful magazines. What big eyes the pictures have if I look closely enough, long and hard enough. A hazard to myself, a danger to myself and to others. During the day everything feels cool to the touch, spacey and clairvoyant. I'm seeing things. I'm hearing things. Voices. Dead people. Spirits. Spirits need homes too. They need to be accommodated. Spaces, shapes, anything metallic, corners and angles. Please don't bring me flowers to brighten up the space next to my bed. I'm dying but then again I'm not dying. I'm living. Such is life. I'm cold but then again these days I always feel the cold. Sylvia is coming through. She has been deeply unhappy and afraid for such a long time. Her time is running out. I feel just like humanity, everyone else even spirits need to talk things out you know. Sylvia Plath said it best in her own words as I have written it down here word for guided word. We live in a world where when you're regarded as extraordinarily gifted you have to be extraordinarily brave too. So when people hurt us our first instinct is to feel as if we have incredibly screwed up, but you know what pain is just pain and we have plenty to gain from it. We have to face up to the gigantic and staggering proportions of brutality on this earth-plane some time. We have to tell ourselves boy, this is going to take some time to get used to. And maybe, just maybe the world is trying to sell our soul something, stir things up in our consciousness or tell us that our spirit needs an adjustment. No one was there. I waited and waited and waited. You know I thought someone would just turn up, show up out of the blue. Maybe Ted would have come with flowers. Maybe he would have said he was sorry. I would have said I was sorry. I was just a fragile wreck. Maybe I should blame it on my gender. Females tend to get emotional, fly off the handle you know, go kaput but that evening I just got so flustered and moody. I was filled with despair and a feeling of hopelessness. I wasn't thinking straight and maybe if someone had been there, a friend, a terrific friend, and an angel I wouldn't have taken my own life. I would have outlived Ted. I'm sorry. What a mess I've made? I saw you Assia. Ted's little wife. His brilliant housekeeper. Stop touching my things. Stop moving them around. Ghost house. Who is the ghost? Sylvia. Sylvia Plath. Knock on my door. I cannot open it. My fingers are all thumbs. I guess that's what happens when you become a ghost. You also cannot scream. You cannot screech. You cannot shriek because that would be very unladylike. You need a string of pearls, gloves and soft white stockings for that. I caught Assia wearing my pearls one day. I pouted the whole day in that house walking into walls, through them as if they didn't exist, as if they weren't there at all. Did Ted care? He was too busy making love to Assia. I could hear them. Their pillow talk, their radiant glow if glows could be heard, how sensual her excitement was to him. To all the women in the world who have survived the ups and the downs, the lows and the highs you are going to do bad things to children. You are going to forget them, to hug them, to feed them (the word nutritious won't belong in your head or diary), that they even exist when they are standing with baffled looks on their faces in front of you and theatre tickets won't make up for a lost childhood, a lost mother. You are going to forget to say that you love them, you are going to forget to make that birthday cake and buy one instead that tastes like yesterday's newspaper, you are going to buy fish and chips instead of slaving over the heat in the kitchen, over pots and pans, you're going to make mistakes and live a life of regret and they will grow up and become adults who will resent you for it and perhaps stay bitter about it for the rest of their lives. You are going to want to be a sex machine and play the femme fatale for all the days of your life. And you will wonder who is this mummy, and that who is this mother-figure that they've meant you out to be. And home will never be the same again. Home will never be a safe place for your children. I can see the tunnel of light now and the dominions of angels standing guard. I can no longer stand guard over adult children. One depressive, one dead. Just my luck I suppose. Ted and I should never have rowed in the first place. I sent him straight into the waiting arms of Assia Wevill. Women are infinitely crueller than men. Men want women to be sex machines all the time and then when children enter the picture what happens then. Domesticity? The bliss of family life with chickens, a tiny place in the corner of the world to call your own? What terrible mistakes I've made. I should have stayed in America. America was my home. I was an American girl. I'm so far away now from everyone and everything that I've ever loved since I was a girl. Perhaps Otto will understand me now. Like father, like daughter. A daughter following in her father's footsteps. Wake me up from this nightmare, from this terrible dream of my own doing. My perfect, perfect love W. I am Lady Macbeth. I am Lady Lazarus. Peel the bright stars off the dead scar of a sky. Wake me up. Wake me up. Wake me up ever so gently. I feel so numb as if I can never feel anything ever again in the wide, open spaces of this world. It feels very nerve-wracking to me. I never wanted to go like this. It's all been a terrible mistake you see. It's just that I've been feeling so grim lately and it just came upon out of the blue but I have this plan. I'll go to the beach. The beach is the perfect place to dismantle depression. I'll go swimming in the warm ocean water. He'll come back to me because he loves me. He can't love her. No, he can't. She's terrible. She'll be a terrible housekeeper, touching my things and not being able to keep her hands off them. I'd love to see her put an apron on and show off her cooking skills in the kitchen. She can't even peel potatoes so how can she cook. Tell me that. How can she run the household? She knows nothing about children. Teach them German! That damned Nazi language. That damned Jewess. Warren was planning on coming. He was planning on coming to help me with the children. God, what have I done, what have I done. Forgive me. I'm counting on his silence. A cheat is a cheat is a cheat. I was honest and good. Wasn't I honest and good or did I too play a role in his philandering? And the children? I had beautiful children. He got to love them, raise them, watch them play, watch them grow up and I didn't. My shoes, my dress, was I even thinking of what I was wearing that evening. I remember I was wearing my white shoes, very ladylike and such and I stuck my head as far as I possibly could into the oven. I wanted to do it right you see. No turning back from there. If only I could turn the clock back and hold my fat, healthy babies again, be young again, be twenty-three and not have let him kiss me on the neck. And not let it have been a whirlwind romance. Where was the wooing, the seduction and I had hated Spain so much. He took me there on our honeymoon. He took Assia Wevill there too, his lover, my rival, the woman he left me and his young family for. And what did it matter in the end. He still won prizes, loads of them, had lady friends and young girls fawning over him, and he even got married again. Lucky strike. Handsome is as handsome does. He found love again. The butcher, the baker and the candlestick maker. I'm dead aren't I? I'm deader than dead. I'm a real nobody now. No good to anyone but they say lovely things about my poetry, about my Ariel, nothing about my sonnet that I won some prize money for, or my short stories or my second novel. I burned that. Now that was bliss. When he left me and the children alone while he was gallivanting around London with Assia I just found that I had so much time on my hands so I literally made bonfires in the yard and burned a life half-lived on truth, lies and deception. Letters, verses, correspondence, papers, anything that was important to the famous Ted Hughes. Famous in life, even more famous in death. This time I'm not coming back for real am I. I'm not going to be found alive three days later. The ghost house, that's what his Assia called my house. They didn't even move my body yet but I knew she was there. I could see her. She was always touching my things, moving my things around but I knew she was done for when she had the abortion. I knew then that he would never marry her. Perhaps I even knew this before he did. Oh, my words, my poetry, my Ariel and they have gained popularity over the years, they still have substance but then so again did my jealous streak, my nervous breakdown, my bipolar illness, my suicidal illness as it later turned out to be written about by female poets from a much younger generation. Say the words mental illness and you're immediately sensationalised and stigmatised at the same time. Lucky, lucky me. Otto are you looking down at me? Are you waiting for me to cross over? Is it my time yet? Time to say my goodbyes to my beautiful Frieda? Oh I've been so unlucky in love. Goodbye cruel world but I say that only half in jest. You want me to wear a ball and chain. You want me to come with you hook, line and sinker. Well, I am not anchored to this world in any shape, way or form anymore. Who will save me from myself? Ted and his line of, his succession of mistresses. I have the features of a mannequin now. No, lipstick won't do. How do you prepare yourself for the hereafter? Will the horses of the apocalypse come for me? I've have a rough, rough time Otto. Sorry I didn't come and see you but I couldn't. I just couldn't. I needed country air that evening and rest not gas. When depression is beating on your door, don't let that ghost in you hear me. Put your feet up, or get into bed, close your eyes and rest. Tell me how do I look? How do I look for death? Simply gorgeous, right? Simply gorgeous mess. I have to fix my face. I just have to fix my hair. I'm a mess. I'm a mess. I'm a mess. A spaced-out mess. Oh, Warren I didn't mean for this to happen. You know me. Once I get an idea into my head. I'm so pale. I'm starving. I haven't had anything to eat the whole day. But when death comes knocking at your door. Your time is up when your time is up. What a mess! And if there was only someone to hold me, to hold onto that evening. Could nobody tell anything was the matter, anything was wrong? Where were all my friends, my terrific, terrific friends? My partners-in-crime were nowhere to be found. Was all that I was good for was a cocktail at a book launch? My Frieda is beautiful (always has been) and that precarious act she had to balance on as a child, as an adolescent is finally no more. I guess this is my way of saying goodbye. There was a dream. I found a dream in Ted's eyes and then the dream was no more because Assia Wevill awakened the dream in him once more. Daddy are you there? Otto, it is me your daughter, Sylvia. I am finally coming home. It's time isn't it? Time for me to move on, to move up skywards, cross over. Have I done bad things? Yes. So many prying eyes want to read my journals, my letters home, is my poetry not enough for them? There are papers read, exhibitions, enough said. I'm tired now. My arms are dead weight. This is what you wanted Ted. You wanted to be free. I am giving you your freedom but it comes with a price. Silence. I can't wake up, sit up straight, talk. I must have taken something. What's wrong with me? God, what's wrong with me? I must be dead.