While You Waited on My Return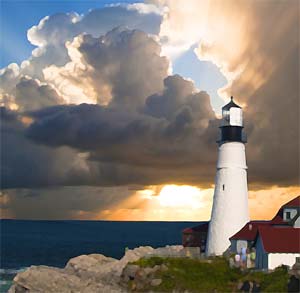 We talk of travels to grass huts in Tahiti, Bali
and beyond, hiking rugged, rocky trails
off the Ring Road in Iceland; to Tucson, New Orleans,

and the train to New York City. But that's as far
as it goes. "I hate airports," you say, "all those
unfair restrictions on smoking. Not doing it,"

and you don't. My parents gave me the genes
for expressing myself en route. I go. I must.
Stifled genes play nasty tricks on those

who deny those folded bits of proteinous
information their destiny. Uber to the airport,
stripping my dignity at security, inviting them

to search me. Horizons open up like fresh envelopes.
"I don't hear much about Connecticut," I observe,
and find the wooded state parks with long-legged

water birds, sail boats, small castles and turn-of-
the century opera houses. "I never knew she looked
so good," I say. Discovered fudge and taffy shops

along the boardwalks on the Atlantic, proud but
crumbling lighthouses on rocky crags in Maine and
Oregon, and tacos made with ground grasshopper

meal in Taos. Kissed the Blarney Stone, and hung
onto my life with a rope at the Cliffs of Moher on
a gale-embedded day; ate fresh cod-and-chips in

Cornwall and hiked to Doc Martin's surgery. I made
pasta with a chef in Naples and ate bouillabaisse
with Teli Savalis on the shores of Lago Maggiore;

met Brian Keith at the train station in Luxembourg,
Danny Glover at a Parisian bar, and David Sedaris
eating tapas in San Sebastian. And then there was

the incident in Amsterdam where I got robbed and
missed a few trains. The police were not interested
in opening up a case that they probably could not solve.

I arrive at home on time and gather my baggage, praying
thank you to the travel gods, who protected me, led me in
and out of loops of perilous throngs of people who glared

at me as I walked past them, a preferred traveler, a
Frequnt Flyer, an assurance to the air industry that I
am good for business. Meanwhile, you wait impatiently.