Radio, Trains, and Bourbon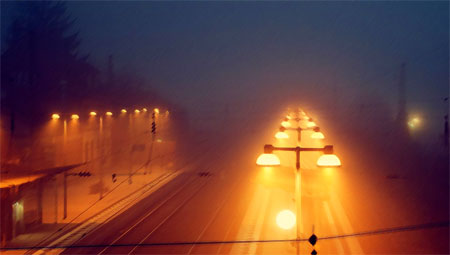 He told us more times than we could count
that he likes radio and trains, and I said yea you do,
along with expensive smooth bourbon,
tall women with long hands and fingers that can
make a piano cry like a sweet, abandoned baby.

He wanted to make a living in radio,
which was like pressing one's face up against
the screen of a window that overlooks a perilous gorge.

Boarded trains, buying cheap tickets
to cities three stops away, falling into silent steps
to bars where locals didn't look up when he came in.

I heard the train at midnight on the other side of town
where I lay in my bed listening to his midnight talk show.
There was clinking of ice cubes in a glass, the bourbon
coating the cubes like a warm mouth as the fog dissipated
into the spaces above the maples, floating like ghosts down
the streets, the river rushing over rocks and boulders,
the clacking of the train on the ice cold tracks
beside the window near my head.