KNOWN BY THE SOBRIQUET, WIZARD OF WHEREWITHAL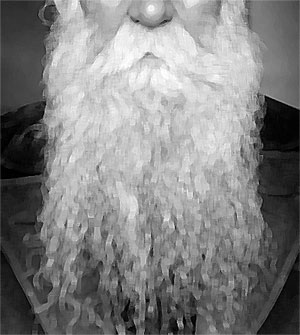 The long white beard affected verisimilitude.
It preceded and contrasted with
an old man's frightened eyes.
We, of course, were after his money
and a tad disdainful of the many, many stars
that fell like sand from his "I Want."
He sat wounded, one hand held outward
in acknowledgment of his frailty,
or was he signaling some watchful friends?
We had picked this spot because of its loneliness.
The monastery's decomposing stone harbored
many relics and myths of ancient powers.
This usually reliable quiet could only be disturbed
by us, a swarm of desperate evangelical fuckers.