Game of life!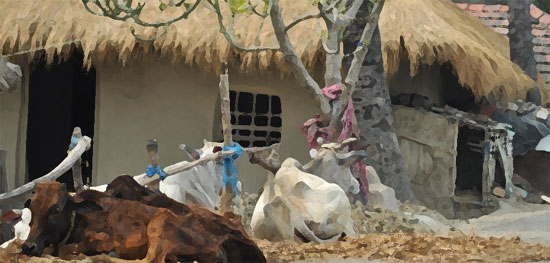 The narrow long road connects the highways on either side. One side leads you into the heart of the city, the other upcountry. The lonely road stands testimony to life that has sprung up on its either side.
Close to the highway, leading to upcountry, there is squalor, poverty, struggle incarnate in the thatched or tin-roofed single-room houses, in front of which naked babies play and chicklets follow the mother hen in search of food.
On the other end of the road, there are houses built by architects, wonders of modern construction. There is a portico, under which a tarpaulin-wrapped car stands and outside on the gate a notice is stuck, "The Center of Art and Culture, Run by Enterprising Ladies of the Locality."
On the other end, not-so-enterprising ladies work as mason's helping hand to construct a pucca house, for a 'nouveau riche', among the hutments. "Culture" thrives alongside, "life's struggle", depicting the modern times marked by social and economic disparity, somewhere in suburban India; or is it in this world, could be the 'newfoundland' or 'casterbridge', 'kolkata' or 'new york', where the poor struggle to survive as the rich explore life to find new survival games to spice it up!
As I walk along this narrow road taking down lessons in my memory of modern economics and sociology, I want to pass up my feeling of antipathy for the rich, but for once I WANT TO CRY AND ASK THE WORLD, "Why don't you the rich take care to iron out the glaring economic disparity?" But my voice chokes.
And I join the millions, who have walked away to the safety of conforming practices, giving the dissenting voices a pass-up!