A Short-lived Incursion into a Cave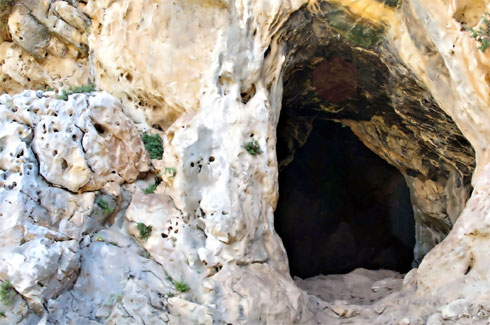 As dusk set in he set out on his trip
in line with the orders and directions
of one local lady prophet and herbalist.

In one of her burping trances, she stated,
"Listen, I unlock the secrets of the universe,
the mysteries that defy logic and science."

The seer advised him to tread into a nearby cave
and tug any creature he finds by the tail before
sprinting out whilst touching his troubled body part.

He wondered what cave dwelling animals he would find,
as he entered he discovered that humidity was high due
to low evaporation rates, oxygen levels were low as well.

During the day the entrance zone usually receives sunlight
but it was already shrouded in complete darkness as if he
had reached the deep cave zone -- which is the deepest part.

The true cave dwelling animals, the troglobits live in the deep zone.
In the dark he drifted and strained his eyes and guess what -- came
across an accidental, a visitor or an animal that seeks a brief shelter.

Was it a real person? If so, was the person running away from a predator?
Was he or she a speleologist? Was he looking at a wandering ghost?
When the shadowy thing edged toward him, he shrieked and sped away!