The Pen Is You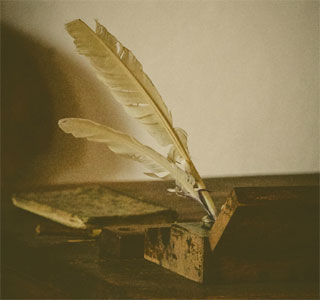 I worked on a story for several weeks using a specific topic I thought I was in love with and wanted to write on. All of a sudden, I wiped the whole story out completely from my file on a good day.
A blank document was in front of me. Nothing was wrong, at least I thought so.
The next minute I had started afresh on a new page, with a different story idea and with no explanation as to why I had deleted my previous work, changing ideas, style and characters.
But guess where I am now?
I'm almost done with the new story. In fact I already got a publisher that seems interested in the book. At last I'm thankful that my efforts were not wasted.
The story that cost me sleep, fun, and time was ready to reach the world.
I'm grateful I didn't give up even when I was supposed to.
"Remember I thought nothing was wrong."
Well, everything was!
First, I deleted words over thousands without any explanation and excuse.
Then second, I started to write immediately on a new story without feeding on the disappointment I certainly had and didn't want to admit, which made my previous act more weird.
My point is "disappointments and regrets can only be given wings by you."
It's very normal for everyone, especially writers, to feel stupid at times, when trying something new, like forming new ideas.
You are not alone, know this. Several others have been in this same spot you are in.
It's most dangerous to avoid what stares you in the face. Face the disappointment and regrets.
Yes. I completed my new story within a short time, but there was one thing I left out, and which was most important.
"I refused to admit my disappointments."
After writing my new story, I began to feel frustration and discouragement. I never knew that trying to avoid the challenges was impossible. I had them to face, because it was in my place to deal with. I then realized I'd lost confidence in my writing skills. I thought I was the worst writer on earth after reading my new story for the last time, before giving it to my publisher, who thought I was a good writer.
I was drowning ... Instead.
These are the issues we all have to go through, and only a few keep pushing their way through even when the odds are low.
Dear writers, it's not a crime to change a story idea if you think it's not flowing. Of course how do you expect readers to enjoy a book that you are not proud of?
Giving up along the way is the real crime, because you've just denied someone an opportunity to find a solution, which could have been in a form of entertainment for mind relaxation, or education.
Nothing is usually as bad as it seems on most occasions. On the surface, it might look too big and heavy. But remember "you have a vision of the prize you must win." And as writers, it is important that we know and believe positive words because writing is intense hard work. And others with great passion for using a pen will go through the many tests.
Also make it a habit of building up imaginations, make them stronger. This is the most important factor that makes a good story, because imagination is the seed of storytelling.
The stronger your imagination, the better the idea behind the story.
To my fellow writers, never stop writing. You were made for this. Keep using the pen, it belongs to you. And so allow it to stay in your hands and let the words flow like a river.