the bing and the bong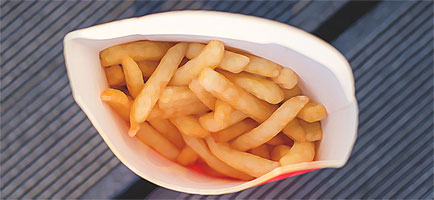 it's some London train station

and some office worker in a bad suit
goes marching over to the little Burger King kiosk

and just as he leans over the counter

there's this almighty BING BONG from above
and a sarcastic god's voice booms down at us:
WE ARE SORRY TO ANNOUNCE THE DELAY OF THE
NUMBER SO AND SO TO BLAH BLAH it declares,
rattling rafters and teeth

but the office worker?
he just talks through it.
his mouth yapping
and his finger wagging
throughout this sound-quake ...

the Burger King worker leans on the other side of the counter
looking at him, his face blank with patience under his yellow hat ...

and when the announcement's finally over
and the world's humming stops?
when the ringing in all our ears has subsided
and our teeth settle into our gums once more?
so too
does the office worker
cease his yapping
and put away his finger

then stands silent,
waiting.

the Burger King worker says: could you repeat that?

oh for god's sake / are you deaf or something / I'm going to be late / how hard
is it to take an order / idiot / I'm going to be late because of you / are you stupid
or something / fucking deaf idiot / it's not exactly hard, is it, doing what you do / I'm
going to miss my train at this rate / can see why you work here / stupid deaf
fucking idiot / actually even working here's too good for you / well I hope you're
happy I've missed my train now / fucking jesus christ you stupid deaf fucking
idiot / you just got me fired / are you happy now / idiot / are you?
the office worker says.

eventually he gets his chips.

but: it's too late now, he says.

have a nice day, says the Burger King worker, and serves the next one ...

office worker sits down.
he loosens his tie.
sighs.

fucking done for, now, aren't I? he asks his chips
as he puts them in his mouth.
cos of that idiot, he tells his chips
as he chews them around his mouth

and closes his eyes in ...
relief?