Aftertaste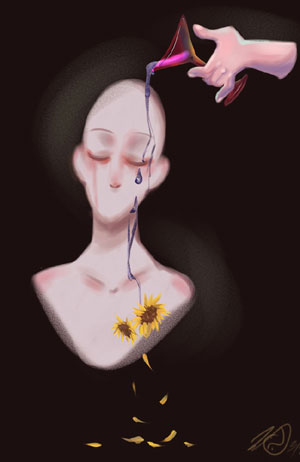 Sometimes the aftertaste can be wonderful.
But it can also completely ruin the experience.

You're offered a dish by a friend.
You accept the dish with glee,
And you take a bite.

Its true flavor is the best thing you've ever tasted,
But then in the back of your mouth you taste something that doesn't taste right.
You don't think much of it and continue to eat.
But the lingering bitterness increases after each bite,
And your lips purse in slight discomfort.

It's not hard to appreciate the dish from a distance,
The appearance is beautiful,
Effort was clearly put into making it.
It tastes good for the most part.
But the shadow of bitter that lingers in the dish, keeps you from wanting to continue on.

You realize that you can't continue to eat it,
Dread pools in your stomach,
As you see others around you enjoy the dish.
You decide that maybe you're just imagining it and continue to take bites throughout the night,
Only to be sorely disappointed each time.

You begin to feel bad for not liking the food your dear friend has given you,
And you don't want to ruin the occasion by saying you dislike the food.
So you say that you like it when prompted and don't mention further.


You don't hate the dish, you don't resent your friend for the dish either.
But you just can't handle that cooking.