Footprints
For Sue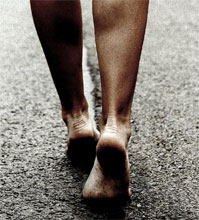 She walks
barefoot in New
York streets
shoes in
hand.
I argue
It isn't safe
to dare the odds
to blink/ to dare
fire to burn/to
walk amid the
contagion escaped
from fates' spilled
test tubes.
To traipse
as if alone
while men whistle
their sad desperation
in wounded catcalls
she smirks her
way past.
Bare feet
leaving DNA
all over the city
for scientists to recover
in another century
starved of perfection.