Frothy Sip of Glory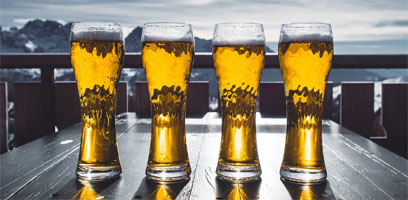 nothing energizes you more than a sip
of beer; it flows through you like an elixir
sent down to earth by the gods. the froth spells
good times, the first sip is a sign that
the hassles of the day are done and fun
can commence.

water only works on occasion, for some hydration to
battle the hangover, and coffee's booze's moron cousin,
the one you call when menial and hard labor is required.

just popping a top can give you an orgasm; that gentle fizzle promising
great things are to come should perhaps become an opera.

then, after a few tallboys, the rest of the brilliant family
comes; you've got bourbon, tequila, gin, various kinds of wine,
a worldwide family radiating wisdom and entertainment.

pick your favorite, have a few rounds with one of them, or all of them.
let loose, now's the time to party up. tomorrow doesn't
matter, next week doesn't matter. it's all about
tonight. look at all those people in the bar, they're your future
buddies, they just don't know it yet. perhaps, one of them is
your soon-to-be spouse.

even at home, most movies tend to be better after a few strong ones.
comedies are funnier, "deep" movies acquire new, undiscovered layers.

once you pop the first top -- probably thinking, I'll just have
this one, I can't have a hangover tomorrow -- brace yourself for
the torrent of fun and enlightenment coming
your way. the first sip merely stirs the undulating waters.
after a few tallboys, the ride can get a bit rough.

deep into the night, where the reason you didn't want a hangover
has been forgotten, you're traversing lush jungles concealing
forgotten cities. embrace it, relish it; nobody knows what you'll
find on the other side but you'll be better off for having been there.