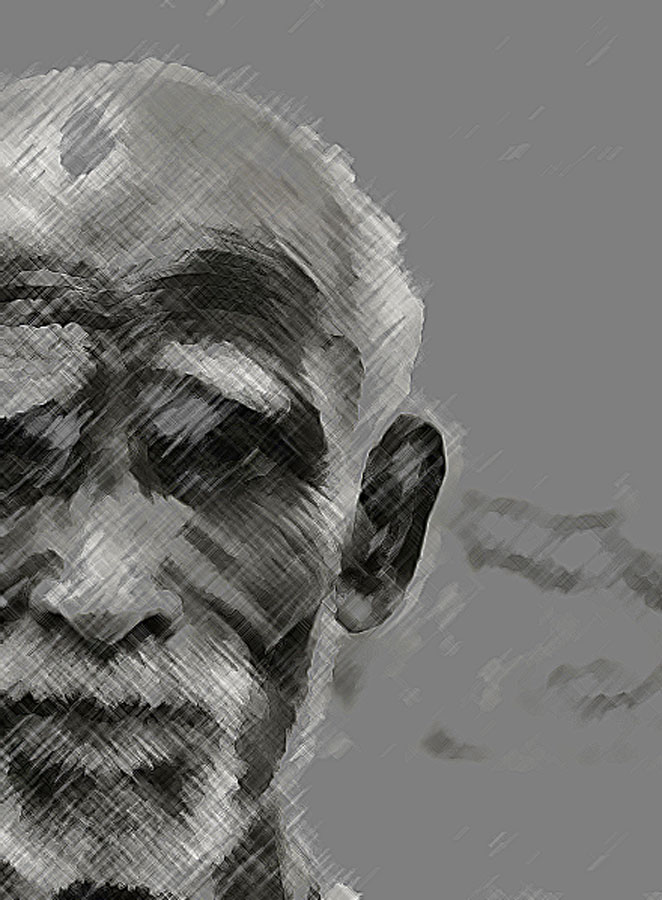 "Watch out dad!The path is a little steep," said Rathinam, holding his father's hand. He helped him get out of the car. "Step out carefully!"
"I can take care of myself. Leave me alone."
"But you'll trip over."
"It's fine. I'll take hold of your hand."
The old man grabbed his son's shoulder. The sun had risen above and dazzled his eyes. "Hey! Take those coolers out!" he said.
Rathinam signaled to his father to wait and turned to the driver, " Murugesan bro! There are coolers in the dashboard. Can you bring them, please?"
Receiving the sunglasses from the driver, the old man Siromani wore them on top of his spectacles. With naked eyes he'd been seeing only a white blindness. Now with the sunglasses on, many colored bubbles floated in front of his eyes. Slowly the path to the Office of the Inspector became clearly visible. It was all muddy and covered with pebbles. Lengthy tracks formed by rainwater ran from above.
"Watch out! There's a pit!"
"Is this the police station?"
"No, It's the inspector's office," said Rathinam. "Come along!"
Siromani uttered, "Amma! Mandakattamma!" as he walked slowly forward. Though his legs stumbled at first, as they began to feel the route, there came a harmony between his body and the ground.
When Siromani took his hand off of his son's shoulder, Rathinam said, "Hold me."
"No. Not necessary. I don't need assistance."
Siromani had to stop frequently before reaching the Inspectors' office, trembling and panting. Lifting his legs carefully, he continued to climb up the track .
The father and the son ambled toward the tile-roofed building that stood in a pit slightly away from the car parking lot. As they climbed down the path, the building that belonged to the old Travancore Period, with its stone walls, recently replaced tiles, and the limestone pillars that supported the great veranda loomed large over their heads.
Only on getting closer did Siromani realize that there were stairs to climb up to the veranda. But they were long, comfortable stairs, carved out of black stone. He waited at the footsteps for the tremor in his body to subside and climbed up the stairs supporting a hand on his knee. He was sweating profusely when he reached the veranda, which was in semi-darkness while the rooms inside were drenched in complete darkness. The noise of electric fans spinning was heard.
Siromani removed his black sunglasses and keeping them in his shirt pocket, he also removed the other pair of glasses, and wiped his eyes. He put them on again and continued to stare at the floor for a while.
The floor was made up of muddy tiles, a mass of worn-out grooves. A long bench had been placed against the stone wall. An old, heavy bench. On the wall, the papers stuck on the notice board fluttered in the wind.
"Wait here, dad! I'll go check if the inspector arrived," said Rathinam.
"Give me some water!"
Rathinam placed the water bottle next to him. At home, Siromani drank only boiled water. He carried it everywhere in a large amber glass bottle.
Siromani sat down. An old woman and a young woman who came with her were already sitting on the bench. Across the hallway, two villagers sat on the ground squatting, one of them keeping his closed hands on his forehead as if bowing to someone. The other was reading a stack of papers through thick glasses. Out below, many stood under the shadow of a neem tree. All were talking in low voices. Crows sat all over the tree and cawed sporadically. Dry neem leaves were scattered all over the ground. A man stood at a corner and made the veranda into a desk, writing petitions. A few stood around him, two of them women.
Rathinam came back. "Seems like the Inspector will be late today. Let's just wait here. You want some tea?"
"No."
Someone tapped Rathinam's shoulder. "Hey, Rathina Raju! What brings you here?"
The man wore sandalwood paste on his forehead. The large mustache was dyed and twisted; the lips were reddened by betel leaf. He'd pulled his black pants up his potbelly and had worn a leather belt around it. There were cufflinks worn on his white shirt. He might be a lawyer.
"Velu sir! How are you? We've come for an inquiry. What are you doing here?"
"My job's here. I've brought one of my parties for inquiry. What's the matter with you?"
"There was a theft at our house."
"A theft?"
"Yeah! A thief entered."
"Wasn't anyone in the house when it happened?"
"It was such a shame! My wife, daughter, and I were sleeping upstairs. My father slept downstairs in a room. His caretaker too was sleeping in the same room."
"He must be an extremely clever thief," said Velu.
"What should I say?" Rathinam lowered his voice. "It's a shame to speak of what really happened ... My dad has seen that fellow."
"What?" said Velu. "Did he call out for help?"
"Let me explain," said Rathinam. "My dad suffers from a sugar complaint and an issue with his nervous system. But he doesn't prefer to sleep in a bedroom with an attached bath. So his bed is placed in the side room closer to the common restroom. To go to the bathroom, he has to come to the living room and then make a roundabout turn. He visits the bathroom at least four times during the night. To make a visit to the bathroom, he'd turn on the living room light, slowly walk along the wall, use the loo, and come back. He saw the thief the other day during one of his bathroom visits."
"Where exactly did he see him?"
"On the staircase he saw someone sitting when he was crossing the living room. He asked the fellow why he sat there. The thief replied, casually, 'Uncle! I'm just sitting here for some fresh air.' Dad simply said, 'It's twelve o'clock, boy! Go back to sleep!', and went to the bathroom and returned to his bed."
"Unbelievable! Did that fellow look like you?"
"Sir, he was just a small boy. Dad says he might be around twenty. I am fifty."
"Then how did he miss the intruder?"
"I thoroughly enquired with my dad. I asked him who he thought was the fellow. He said that he thought the boy was some acquaintance. He couldn't remember who exactly he thought it was. All he could remember was a boy sitting on the staircase."
"This is atrocious!"
"You bet. In the morning, the backyard was open. The bureau was open. The clothes from the wardrobe were scattered on the floor. In the kitchen, my wife had kept a five sovereign gold chain in the pulses container. It was gone."
"How much is lost?"
"Forty sovereigns of gold. Sixty thousand rupees. A few silver vessels. Sixteen silk saris ..."
"A grand harvest! Such a clever criminal!" said Velu excitedly. "Inform me when you catch him! I want to see his face," Velu said, grinning.
"Why do you laugh? I'm suffering here though ..." said Rathinam. "Everyone's laughing. At least there wouldn't be more shame if my dad kept to himself what he saw. The police came in the morning. My dad told the inspector everything. I would've stopped him had I not been with the constable upstairs, showing him the bureau."
"It's real trouble now."
"Absolutely! The Sub-inspector didn't leave the matter lightly. He said it must be someone familiar who'd come. He kept drilling us with his questions. He asks my dad, 'A fellow was sitting inside your home. How can you ignore him?' My dad replies, 'Didn't he say he just came for fresh air?' The S.I was burning with impatience. 'Do you think someone would break into a house just for some fresh air? Do you have any sense?' he shouted at my dad. I tried to calm the S.I down but he didn't. He kept repeating his questions."
Both men turned their heads to look at Siromani. Siromani looked up at them. There were wrinkles around his eyes and his eyebrows were gray. His right eye was downturned and his mouth tilted to the right, giving him a permanent expression as his face was pulled to one side. His head kept shaking as if he were trying to remember something.
Velu turned away from him and stifled his laugh .
"What?" asked Rathinam.
"I can't control my laugh, looking at him. A thief entered the house, but he ..."
"Just leave it," said Rathinam. But he too felt like laughing.
Siromani heard the lawyer asking Rathinam, "What's his problem?" He looked up at them and then turned toward the neem tree.
"Many. Blood pressure, sugar ... neurotic problems. Everything started with his shattered nerves."
"Isn't he taking any treatment?"
"He's been taking treatment for thirty years now. We haven't seen real big improvement. We've given up all treatment lately."
"Oh, was he ill from a young age?"
"Did you know he worked as a civil engineer?"
"Did he really?" The lawyer turned to look at the old man.
"At forty-two, he was dismissed from his job. He was in jail for four years."
"What? Why?"
"He used to be in charge of the Solaiyar Dam. He wasn't as interested in accounting and office management as he was in civil engineering. He spent day and night at the construction site. He had assigned his senior clerk to look after the administrative work. My dad simply kept signing papers, without bothering to know what was in them. During that period alone, the senior clerk looted three and a half a million rupees. A few other clerks and accounting officers were his accomplices too. My dad was trapped. The documents, the evidence, all were against him. What could one do?"
The lawyer turned again to look at Siromani.
"The senior clerk was from Madurai. Name's Appasami. He had a strong political background. My dad didn't have any. He's highly innocuous! My grandfather did construction jobs. Since my dad was good at studies, my grandfather sold pieces of his land to provide for his education. In the eleventh grade, my dad came eighth at the state-level exams. Fourth in R.E.C. Got his job as an engineer straight in P.W.D. But he is guileless. Had no high-level connections. Got no external support. So he fell into the trap. Went straight to prison. That's where he became like this."
The lawyer turned for the third time to look at Siromani.
"I came up in my life because my maternal uncle helped me in my education. I'm well off because I married his daughter and am looking after his business."
Velu suppressed his laugh again and said, "Actually I pity you. But I can't control my laugh."
When Rathinam started, "You'd laugh, but ..." and he too laughed.
A jeep arrived. A few constables ran toward it. Many stood up.
"I think the Inspector has arrived," said the lawyer.
Rathinam and Velu moved forward and stood at the top of the stairs. When Siromani tried to get up, Rathinam signaled to him not to.
The inspector hurriedly ascended the stairs, turned around, and said, "Hey! You aren't supposed to write petitions here. Go somewhere else." Before entering his office, he simply nodded in response to the salutes of Rathinam and the lawyer. Constables followed him in except for the one who controlled the crowd. "Give way! You can't crowd here!"
The lawyer went inside and Rathinam came back to his father and said, "Dad, you stay here. I'll go check it out." He too went inside.
Siromani drank some water again. Right then a man with a lean body appeared from behind one of the pillars and sat down next to him on the ground. He said, "Hello, sir!"
"Who is it?" said Siromani. He thought it was a little boy. But he had a mustache.
"Don't you recognize me? It's me ... I was at your home."
"T.V repair?"
"No sir. I came to steal."
He remembered. His body trembled and throbbed. Hands shivered in anxiety.
The boy grabbed the old man's hands and pressed them together. "Don't be scared. I just came to talk. I didn't do anything the other day at your home."
The young man saw Siromani's hand rummaging through the bench, understood what he was looking for and held out the water bottle. The old man took it and drank from it a little. He felt relaxed.
"Sir, They've called you here to identify the thief. Sir, you shouldn't let me in."
"Why, dei?"
The young man laughed. "Why, it's not necessary! You look like my grandpa."
"But you stole! Didn't you take Saroja's jewelry?"
"But I did that because I didn't have money."
"How can you expect me not to tell the police that it was you?"
"Please don't! Just say you didn't see properly. I'd wrapped my hand with a polythene cover when I took things. So there'll be no handprint. They can't catch me unless you tell them."
"Even if I do tell them, you can deny the charge."
"They won't leave me. They'll beat me to death. They'll keep beating me until they recover the money and jewelry. I'll die."
"But you stole."
"What should I do for my expenses?"
"What expenses?"
"I have a motorcycle. I have to buy gas."
"You're right," said Siromani.
"The gas price is going up like crazy. What can I do? Please say you don't know," he said and turned to look at a girl who stood across. "Hey, di! You tell him!"
Siromani turned and looked. The girl was pretty. Must be at least eighteen. She had a thin body, large doe eyes and a set of uniform teeth.
"Who's she?"
"That's the girl I'm getting married to. She's a good girl. She learns sewing. Hey di, come pay your respect to sir."
She came and touched the old man's feet.
"Long live!" said Siromani. "Why do you marry this thief?"
She smiled.
"She's a good girl." the young man said. "She makes very beautiful stitchings."
"Dei, Why don't you try to live a respectful life?"
"I will, from now on. But grandpa, this time, you tell them you don't know anything."
"Dei! Why were you sitting on the stairs the other night?"
"I have to think, right? So I sat quietly in a place and was thinking."
"What were you thinking?"
"About where I should find money and jewelry ..."
"I saw you sitting on the staircase and wondered ..." said Siromani. "How could you sit there so boldly?"
"Had I tried to run away, wouldn't you have shouted for help?"
"Right, I would've," said Siromani. "You do have a good presence of mind."
The young man repeated the word presence softly to himself. He turned to look at the girl and laughed. Then he pressed the old man's hands and said, "Grandpa, just tell them you don't know, okay?"
"Man! Had I had your dexterity, I would've dragged that fellow Appasami into the court case. He would've been convicted. I would have retired with honor," said Siromani. "But it didn't occur to me to drag him into the case. I wouldn't have had the courage even if it did."
"But you need prrasantu for that, right?" said the young man.
"Yes, you do. Both in your mind and tongue. An easy-going person like you would have had the presence of mind in such situations. But I was stiff and forthright. So I broke down."
"Prrasantu is good," said the young man. "You're a good man, grandpa. You won't tell. The Inspector asked a few of us to be present here. I think there are eight of us. Just look back and forth at all of us and say you don't know."
"But, dei, how did you do that? How relaxed you were! I can't imagine doing that!"
"Grandpa! This girl has good prrasantu! You just blessed her. At least for her sake, you have to say you don't know."
"All right."
"Then all right! I'll move away. your son might come anytime now."
"All right dei! What did you say your name was?"
"Didn't say," he said. "A. Innasi, age twenty-three."
"You got parents?"
"Mom's there. My dad left us. My mom's an old lady with no prrasantu!"
"What's the girl's name?"
"Esther. Hey, di! Pay your respect!"
She bowed again.
"Good name! Good girl," said Siromani.
"He's coming," said Esther. Rathinam was returning from the Inspector's office, reading something from the paper in his hand.
"I'll move away," said Innasi, standing up.
"Come home often, dei!" said Siromani.






(Translated from Tamil by Jegadeesh Kumar)