Timber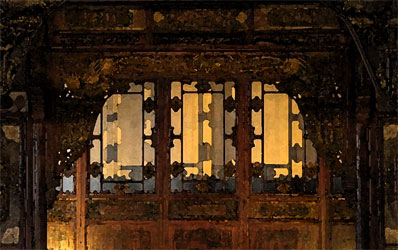 Voucher
for shower, room and meal
in triplicate.
The man behind the counter writes
on a voucher.
And then, his fingers smeared,
gives me the voucher and crumples the carbon
while pushing the black waxy sheet through a slot in the counter, Formica.
His fingers smudge the clean, white
top sheet
of another voucher.
I haven't moved, or moved
far from the counter. I remember him
filling out my voucher,
folded in half in my hand, thin carbons
rubbing together.

* * *

Dressed in her traveling outfit,
a jacket and skirt suit,

standing in a dimly
lit alcove,
behind lacquered wood rail

across the front of the alcove,
men and women
therein
drinking at a freestanding bar,

Mother hasn't got a voucher
for drinks,
unless it's in her purse,
that she's holding by straps at her side.

* * *

A briefcase falls over
next to Mother's feet in peep-toe flats,
waking me from the dream I was having about this place:
high vaulted ceiling, fixed and pivot casters clack on porcelain enamel tile.
Blades of light from clerestory windows rake the floor,
black specks
where the glaze is pitted and pocked.

* * *

Not mother looking right through me
stops me dead in my tracks.

* * *

Standing in front of the bar
men and women with relish forks
pick at sooty blocks of sweating aspic
on earthenware terrines, tear off bites that glisten.
Beetles suspended in gelatin.
A woman sucks the tip of her finger.
A man who looks younger
leans on the rail and works a pout
like he's going to spit something out.

* * *

From what I understand,
they're no longer together.

* * *

Not fear, this metallic taste in my mouth,
alloy of fear.
I don't need a voucher,
or a woman to look at as if it's the first time
I've seen one.
Off to the side of the alcove
a table for one
beckons.
Don't need
to want

I repeat
over and over again
to myself, silently, taking a seat at the table,
off to the side of the alcove.