St. Peter's Wife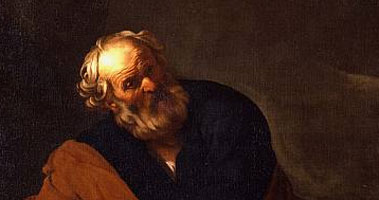 That night he did not get home.
They mentioned, he left his nets
to go after the carpenter's son.
I lost my perception
and went out into the streets
looking for him,
and days later, I came upon an excited Peter,
next to the young Jew,
passing bread and fish.
I thought he might
send few baskets home.

Three years, later on, one night,
he came home baffled
and left too soon in the morning,
for his big catch,
that was when, the Risen,
directed him to catch men,
he dropped his nets
and left outright.
I carried the nets home for my children.

One time, he called in
when my mother was ill
and the young Jew healed her,
while Peter grinned at me in triumph.
That is when he called me to his side
and said that,
he walked a couple of steps on water
and muttered,
possibly he will cross
a river one day.

When roosters crow,
women turn around to look at me,
as though, saying,
"your fickle-minded husband."

They say, he was crucified upside down.
Saint Peter was one of the Twelve Apostles of Jesus, and one among the first leaders of the early Church.